It's that time of year. You know the one, where your usual calm descends into chaos and all hell breaks loose care of having to organise a million and one end of year functions and Christmas parties. Oh god, the Christmas parties. The hardest part always seems to be finding a venue that, firstly, doesn't suck and, secondly, will feed the hangry masses with nosh worthy of being plated up at the finest of restaurants and last, but certainly not least, a flowing bar. We've found not just one, but a whole host of venues that fit the bill. Cue collective sigh of relief.
Allow us to introduce The Brisbane Racing Club. It's all beautifully manicured gardens and lawns, sprawling bougainvillea, trackside roses, and heritage listed buildings, and yes, you can hire them all. As much as we try to avoid clichés, it really is a Brisbane function venue unlike any other. Brisbane Racing Club is home to a veritable smorgasbord of venues spaces to suit any party size or shape, and they aren't short on charm and character. Your party can take place atop the grandstand, trackside or in a heritage listed hidden bar, or even sprawling out across Doomben racecourse.
Now the venue is sorted all you need to stress about is what to wear. Just kidding (sort of).
Here's our pick of the very best function spaces Brisbane Racing Club has to offer:
Eagle Farm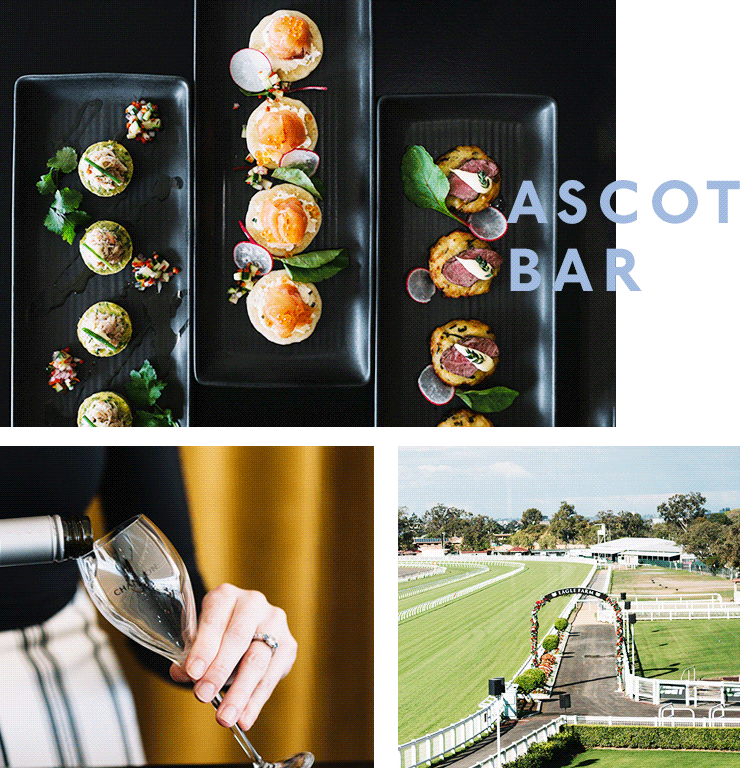 The Ascot Bar
For Gatsby era glamour the Ascot Bar is where it's at. A champagne bar decked out in lashings of gold punctuated with chesterfield couches, chandeliers and floor to ceiling windows looking out across the track, The Ascot Room is certainly cooler than us. The canapes are all kinds of delicious, and yes, there is caviar. Obviously.
Perfect for: dining events, cocktail events

Kentucky Bar
The Kentucky is a slice of the USA right in the centre of Brisbane, complete with buckets of beers on ice, burgers, and a whole heap of fries. There's hot sauce, there's Sweet Mama Ray's BBQ sauce and there's a lot neon—who doesn't love feeling like they're in New York?—and there's one hell of a view of the track. In true American spirit, you get the best view of the screen from here too. It's the biggest screen in the southern hemisphere, FYI.
Perfect for: casual dining, drinks, the best view of the big screen.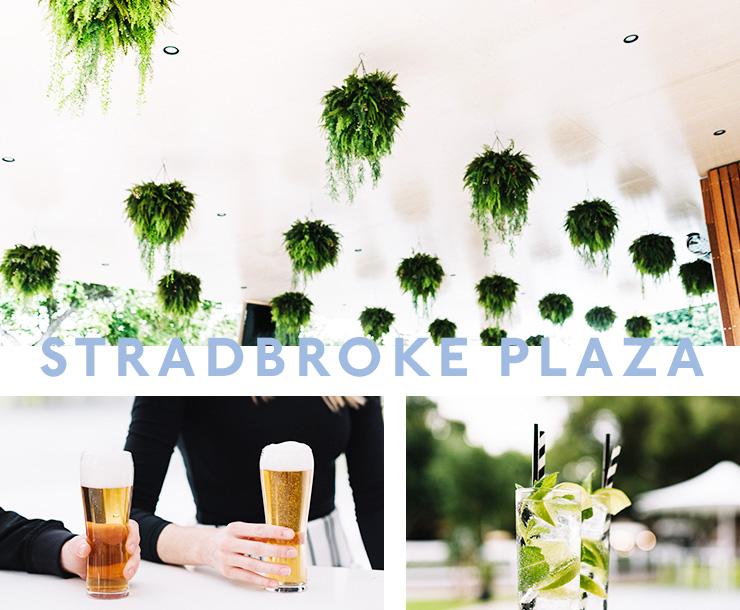 Stradbroke Plaza
If you're looking for a function venue with Sunday session vibes, Stradbroke Plaza is for you. With leafy hanging plants, dappled sunlight, cocktails and manicured lawns, this spot is perfect for open-air events. Who doesn't love dining alfresco?
Perfect for: cocktails, birthdays, parties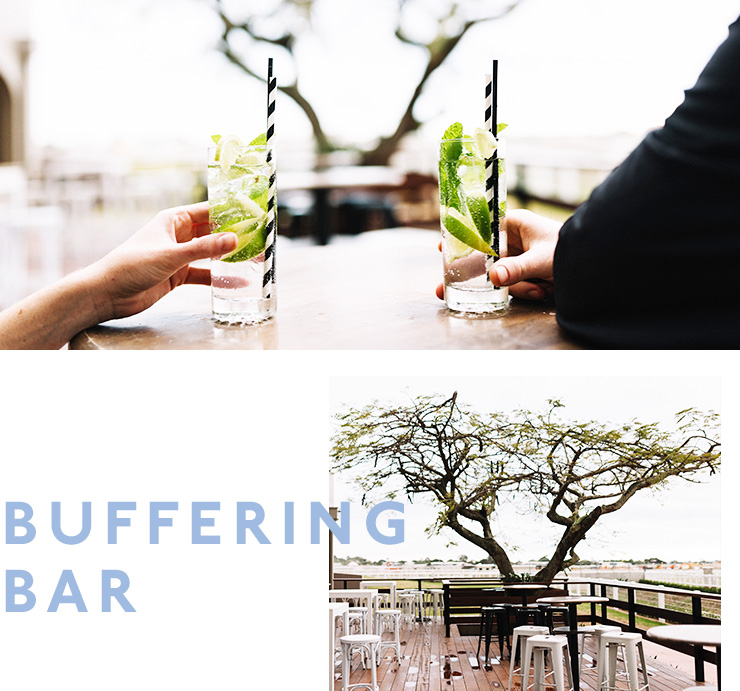 Buffering Bar
The Buffering Bar is pretty much the best seat in the house. There's unrivalled views of the track, and the historic Tote Room and is shaded by the iconic, sprawling fig trees. Perfect for a cocktail in the sun and a canape or two, or three. Or four. No judgement.
Perfect for: cocktails, presentations, parties
The Tote Room
The Tote Room is beautiful. There's not really any other way to describe it. It's banquet hall with a boat load of old world charm, like 18 foot ceilings, exposed brick walls and timber floors. Perfect for an elegant affair, your guests will love you when they see the venue.
Perfect for: weddings, dinner parties, presentations
The Laboratory
If you're into hidden, secret watering holes then The Laboratory is the venue for you. Hailing from 1889 The Laboratory is a delightfully styled function space hidden away in the grandstand: ornate furniture, a large deck, polished timber floors—you get the picture.
Perfect for: banquets, cocktails
Doomben
Champions Bar & Courtyard
Champions Bar & Courtyard is like your own private (trackside) bar. With a huge courtyard perfect for conversations over cocktails, natural light, a fully stocked bar and no shortage of good vibes, we're going to hedge a bet and say this might just be the function space you're looking for.
Perfect for: conferences, banquets and parties.
Chief De Beers
Aptly named after racing royalty, Chief De Beers has sweeping views across the Doomben race track. Hidden atop the grandstand, you pretty much have full reign here. With natural light, air con (so important!) and a private kitchen and bar you'll be pretty much set for life here.
Perfect for: cocktail party, meetings, dinner events
Satchel Room
The Satchel room has conference written all over it. Gifted with oodles of space, a bar and all of the electronics, the Satchel room is the spot you're looking for to host your next conference or banquet, without a trace of boring in sight. Oh, and there's plenty of space for a dance floor.
Perfect for: banquet, conferences and exhibitions
For more information on BRC's function spaces click here.
Image credit: Yaseera Moosa
This article is proudly sponsored by BRC and wholly supported by The Urban List. For more information on our editorial policy please click here.