This November, don't settle for same-old, same-old. A new month brings a slew of new Brisbane restaurants and bars for you to get your nosh, and your slosh, on at. Pool bars, nautical-themed watering holes, new healthy breakfast offerings, and Thai delights await you.
These are the best new Brisbane restaurants and bars for you to delve into.
Bagel Bar | Brisbane CBD
Fans of the Bagel Boys and their spherical delights will be stoked to hear that the boys have set up permanent digs in the CBD. Open every weekday and on Saturdays, The Bagel Boys new Bagel Bar features savoury and sweet bagels, with a host of fillings and schmears to suit any bagel fan.
Longtime | Fortitude Valley
Cheeky new Thai restaurant and bar, Longtime, hasn't been open for long (a mere weekend, actually) but has already made an impression on punters. With a menu that lends equal weight to traditional flavours and creative new flavour combos, Longtime's sure to appeal to Thai food fans, and barflies looking for cool snacks to sink with cocktails.
The Palms Mediterranean Bar and Grill | Garden City
Totally chilled Mediterranean, shared-style dining is the go at new Brisbane restaurant, The Palms, tucked into the leafy surrounds of Westfield Garden City's new dining precinct. An extensive wine list is the perfect accompaniment to the menu, which is heavy with drink-accompanying faves, like charcuterie, burrata, oysters, and ceviche.
Happy Boy | Spring Hill
Authentic Chinese and good wine in one location? No, it's not a dream, it's Happy Boy, the brand spanking new Chinese restaurant and bar in Spring Hill. Tucked into former Brisbane Japanese restaurant, and much loved dining institution, Little Tokyo, this restaurant is serving up regional Chinese delights and a boutique beer and wine selection.
Botanica Breakfast | Red Hill
The gluten-free delights of Botanica won't be new to any Brisbane foodies, but the breakfast offering from this Red Hill favourite will be. As you can expect from this healthy and fresh Brisbane café and bakery, the breakfast selections are equal parts wholesome and decadent, with the likes of breakfast crumbles, chia puddings, overnight oats, and sourdough tartines.
NEXT Hotel | Brisbane CBD
Cool hotels in town are few and far between, so the arrival of NEXT Hotel is news to be welcomed by both out-of-towners and Brisbane locals. A fab restaurant, Lennons Restaurant and Bar, and a very cool new rooftop bar, have put NEXT firmly on our radar. Brasserie style fare, cocktails, and a pool bar? Yes please! Make NEXT the next new Brisbane bar you check out.
Soleil Pool Bar | South Brisbane
A Brisbane bar made for summer, Soleil Pool Bar looks set to be the new Brisbane bar of the season with a swish cocktail menu, awesome bar food, and a Sunday session frequented by Brissy's good-looking set. Formerly the Bacchus bar, Soleil is the sexy result of a very new reno', and is now looking better than ever. When the temps soar you'll find us floating with a cocktail in hand at this swanky new drinking destination.
The Milk Factory | West End
We love dive bars, so news of new West End bar The Milk Factory—a nautical-themed watering hole with a tongue-in-cheek menu—is music to our drunk little ears. The always-changing bar menu is a creative take on the dishes you're likely to experience porting on foreign shores, with a pub-y edge. Tamarind chicken wings, a beef-brisket-stuffed pho bahn mi 'dipwich', which comes with its own pho dipping bowl, and a selection of High Sea sandwiches will have dropping anchor for an afternoon. The nightly live music offering will keep you here into the wee hours.
Lost Boys Café | Fortitude Valley
This new vegetarian Brisbane café is all about local, organic produce, and has an adorbs Peter Pan theme to boot (we're talking a rooftop canopy, and a rope bridge). As well as the tasty and fresh breakfast and lunch menu, Lost Boys do a ripper selection of drinks (the iced coconut coffee is a gem). And if all that goodness wasn't enough, Lost Boys is carbon neutral. Now they're just making us feel bad.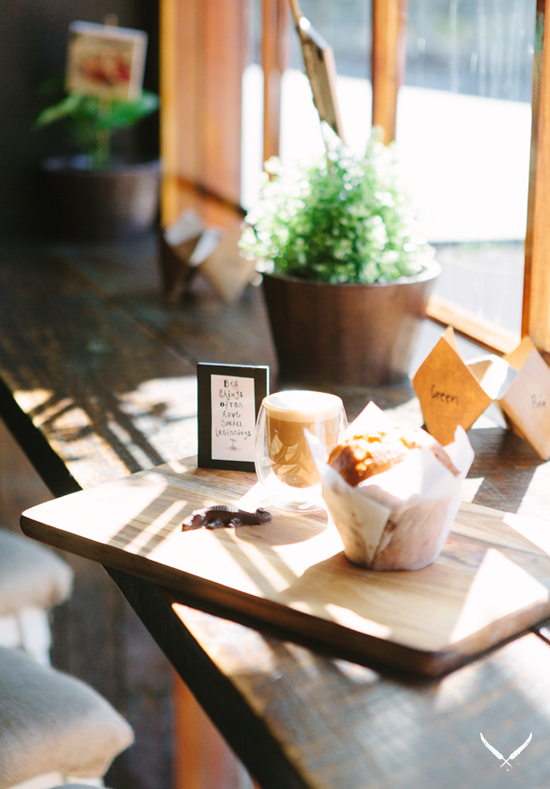 Click here for more of Brisbane's best new restaurants!
image credits: Jeff Andersen, Daniel Maddock