Brisbane's rolling landscape of eateries, drinking halls, and caffeine emporiums is bloody hard to keep track of. Just when you think you've caught up, a whole bunch of new openings burst onto the scene and your list of new places to try in Brisbane is replenished once again. To spare you the hunt, we've cobbled together a quick wrap of 9 new Brisbane openings for you to check out this month.
Don't get left behind, stay in the loop and check out these newbies currently blowing up our town.
Lulu Lucky
Brighton
A tangible gallery of flowers and pleasurables, Lulu Lucky is Kara Hynes's foxy Instagram account brought to Brighton. The floral studio is a concentrated den of inspiration, kitted out with lush greenery, succulents, bouquets and posies, as well as pots and baskets to house your leafy treasures. Check out the online store.
Walter's Steakhouse
CBD
Anyone strong enough to resist the allure of Walter's Steakhouse has evidently already knocked back one of their dry age New York Strips. For the rest of us, Walter's is that old school hunk we can't wait to sink our teeth into. Trading into the heritage bones of Alice Street's Old Mineral House, their menu is a classic array of oysters, steaks, and traditional accompaniments, which includes no fewer than four different potato sides.
Salon De Co
CBD
This drinking salon lives in the newly refurbished Ovolo Inchcolm and pays aesthetic homage to the likes of creative revolutionaries who defined the 20s, 30s and 40s. Guests could easily picture Gertrude Stein holding forth beneath the arched windows on the green banquette, while Hemingway and Matisse bicker over whose round it is at the cabinet of curiosities. With that kind of vibe you'd be mad not to order something classic for a tipple, but when hunger hits, be sure to check out Salon De Co ultra-modern plates.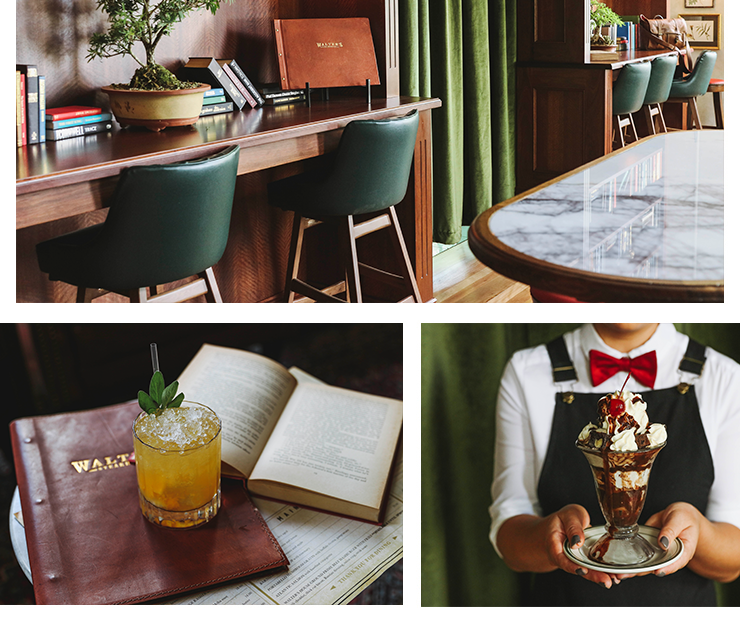 The Bardon Shed
Bardon
These guys are closing in on their first weekend of trade as Bardon's latest pitstop. Pantry provisions, local produce, fresh bread, flowers, and a banging deli are just some of the delights stocked at The Bardon Shed, while a tandem café operation takes care of everything from the morning pep to the afternoon pick-me-up. And they're open until 7pm every day which is bloody decent of them isn't it?
Penny Coffee Co.
Dutton Park
Brought to the streets of Dutton Park by a veteran of Melbourne's specialty coffee scene, Penny Coffee Co. flies under the banner of marrying together primo coffee with really, really amazing food, and staying open past 2pm on a weekday, the dears. Their lewk is pretty minimal, save for a Shani Finch mural, which just leaves more effort to be funneled into their slammin' espresso (which features Parallel Roasters' Shifting Light Blend on the reg and a bunch of guest blends on rotation) and premium nosh like miso-scrambled eggs or brioche French toast.
Macho Macho
Ashgrove
Since turning up in Ashgrove, Macho Macho wasted no time enhancing the local flavour in a vision of millennial pink. From the couple behind Artie & Mai, this café and bar brings hearty breakfasts and tasty shares under one convenient title. We're fanging for the croque madame and bacon and egg brunch burger for mornings, and few plates of halloumi sticks knocked back with something fresh off the keg when dusk sets in.
Blute's Bar
Fortitude Valley
With so many souped-up gastropubs on our scene, it's been said that what Brisbane's missing is a proper, old-fashioned pub. Modelled after the pubs of 1980s Australia, Blute's Bar has arrived to fill just that gap. If you want an artisanal cocktail jug just keep walking because Blute's is a veritable teleport to the 80s and all they've got is 14 beer taps and a bunch of wines. On food, Blute's have outsourced to the pros next door at Lucky Egg who will make their whole menu available through the pub as well as a pretty hectic parmy because what kind of pub would Blute's be without one? Open from 10am until late.
Little Black Pug
Mount Gravatt
Opened in March by couple Louise and Josh, Mount Gravatt's latest café is a testament to the top three priorities of the millennial agenda: coffee, breakfast, and pugs. Inspired by the couple's own dogs, Bowie and Mate, Little Black Pug is a casual pit stop where punters and their pups can fuel up together. The menu covers everything from smoothie bowls to savoury woofles for owners, while the four-legged can have their feast of puppycinos, doggy ice cream, meatballs, or liver treats.
Nom Nom Ramen and Sake
Fortitude Valley
They might share their name, owner, and Bakery Lane location with Nom Nom Korean but don't be fooled, Nom Nom Ramen and Sake is a completely different box of cheese. Designed to fill a gap in the Valley's dining options, Phillip Lim has opened Nom Nom and introduced two different kinds of ramen to the lane, a classic pork and a vegetarian option, well as fried chicken and a whole lot of saké. If you fancy yourself as a bit of fiend for the noodle soup, this one's for you.
Image credit: Grace Elizabeth Images for The Urban List