Feel that thickness in the air? That's humidity, and its arrival means it's time to start planning your Christmas party. Whether you're after a ginormous Brisbane venue for hire or a small and cosy party space to host you and your crew this Christmas, we have the picks of the bunch.
These are our picks of the Brisbane venues to hire for your Christmas shin-dig.
Intimate Do's
Hoo Ha Bar | South Brisbane
For a rustic, laid-back vibe, cosy atmosphere, and top-notch nosh at your Christmas party this year, South Bank bar and bistro, Hoo Ha Bar, is the perfect choice. Reserve a lounge or two for you and your crew, or the entire place is yours if you come en masse, then sit back and enjoy the celebrations.
Public | CBD
A diverse venue with various spaces on offer, Public makes for a superb venue for this years Christmas do. Depending on numbers, you may decide on the private dining room (seats 20 people) or for larger groups, Public's exclusive upstairs area holds 50.
Claret House | Teneriffe
Whether it's an intimate gathering of ten, or an extravagant, somewhat larger affair, it's hard to find a better venue for a relaxed-yet-sophisticated party than Claret House. With a covered deck area (hello, summer breezes!) and a romantically-lit interior dining room on hand for your event, plus superlative service from start to finish, you're guaranteed a great night.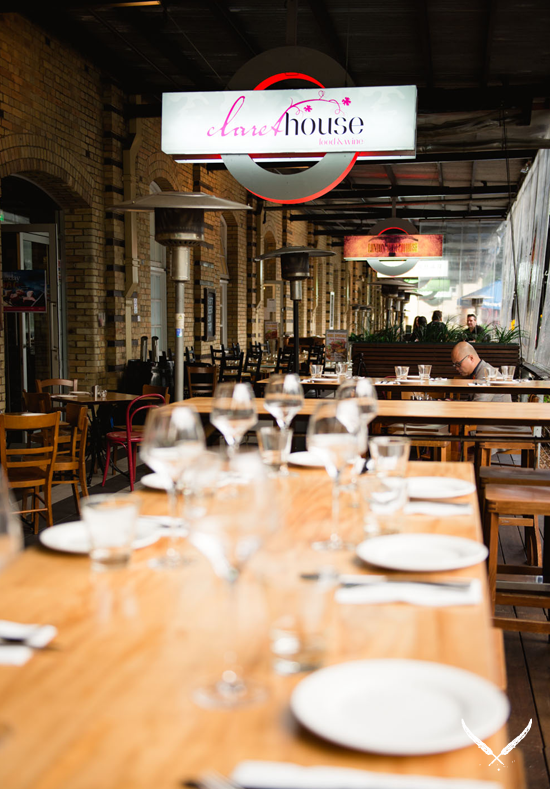 Soleil Pool Bar | South Bank
This Brisbane bar and venue for hire is so new it's not even open yet, but it's one you'll want to mark in your diary for your Christmas party this year. Why, you ask? Because Soleil will be pimped out with a pool-side rooftop bar, DJs, cocktails, and views of the sunset, the ingredients of a killer party. This new Brisbane bar is from the gang at Bacchus, so you know it will be swank city. Soleil Pool Bar is set to open in October, and available for hire for groups of 15 or more. Get in quick to score a spot!
Big Bashes
Hotel Urban | Spring Hill
Hotel Urban Brisbane has some spectacular views, and, lucky for you, some cracking venues for hire! The Panorama Room boasts floor-to-ceiling glass walls and 180 views, while The Loft space oozes fun, with equally breathtaking views and an open-air rooftop deck. And if you're hosting a smaller get-together, The Green Room has everything you need for chic private dining and cocktails with friends. Hotel Urban Brisbane is one of the most beautiful and has some of the most eclectic spaces in Brisbane for a Christmas bash.
The Wickham Hotel | Fortitude Valley
The newly refurbed Wickham (if you're yet to see the new fit out you need to get down there - we recently named it one of the best beer gardens in Brisbane!) is not just a great spot for chilled drinks and a cheeky night out. You can also hire the top floor of this iconic Brisbane pub for your own event, and party on down in privacy.
The Charming Squire | South Bank
With its high ceilings and minimalist architecture, new bespoke craft beer bar and venue for hire The Charming Squire is the ultimate Brisbane venue for Christmas celebrations. The cleverly designed space is perfect for larger groups, and it's so fresh on the scene you know it will be a hit with your crew.
South Bank Surf Club | South Bank
On the hunt for a chilled but revelry-inducing party venue? South Bank Surf Club is your jam. You're spoilt for choice at this bar and functions venue — SBSC has four fabulous function areas, which can cater to pretty much any party size. The friendly staff will ensure your event is a breeze, and the location ensures your party will be feeling the breeze!
The Garden's Club | CBD
Cute-as-a-button heritage listed cottage, The Garden's Club in the Brisbane Botanical Gardens is Brisbane's newest functions space, and the perfect spot for a Christmas party with a festive feel (the twinkling fairy lights and lush garden setting don't hurt, either). With space for 150 standing and 80 dining, and with celeb chef Alastair McLeod at the burners, you know your Chrissy get together will be a winner.
The Fox Hotel | South Brisbane
Featuring eight unique and newly-refurbished function spaces, The Fox Hotel is perfect for any occasion, and private functions are their specialty. From Dandy's Rooftop overlooking the stunning city skyline, to the gastro-pub delights of Fish Lane Bistro, The Fox Hotel has been transformed into a stylish and sophisticated venue, ideal for this year's Christmas party. Our pick is the Atrium, a smaller function space on the ground floor with a private bar.
The Landing | Dockside
Overlooking the picturesque Dockside marina, The Landing is well and truly up there among Brisbane's best venues for hire this party season. The tranquil setting, equipped with air-conditioning and a stunning water feature, opens out onto a private terrace, perfect for large, extravagant Christmas dos.
Iceworks | Paddington
Iceworks provides a fun and relaxed backdrop for all your function needs, offering an array of versatile spaces. With five unique venues housed within this one Paddington destination, including new warehouse-inspired space The Railroom, Iceworks is an easy choice for a Christmas soiree.
Habitat | West End
For a larger, more laid-back occasion, Habitat is the venue for you! Habitat's outdoor courtyard offers fresh air (and craft beer on tap!), while inside you'll find cosy booths and high benches. Secure a designated area for you and the crew, and settle in for a relaxed, and oh-so-merry celebration.
Click here for more of Brisbane's best venues for hire!
Image credits: Hannah McCawley