Contrary to popular opinion, the Minimalist Bride is not a plain bride, by any means. She understands that less-is-more, and applies this maxim to all aspects of her special day. The Minimalist Bride values small-thoughtful touches, clean colour palettes, and has designed her wedding day down to the last detail, though you wouldn't know it — hers is a day that seems effortless and easy.

Here are our picks for the Minimalist Bride: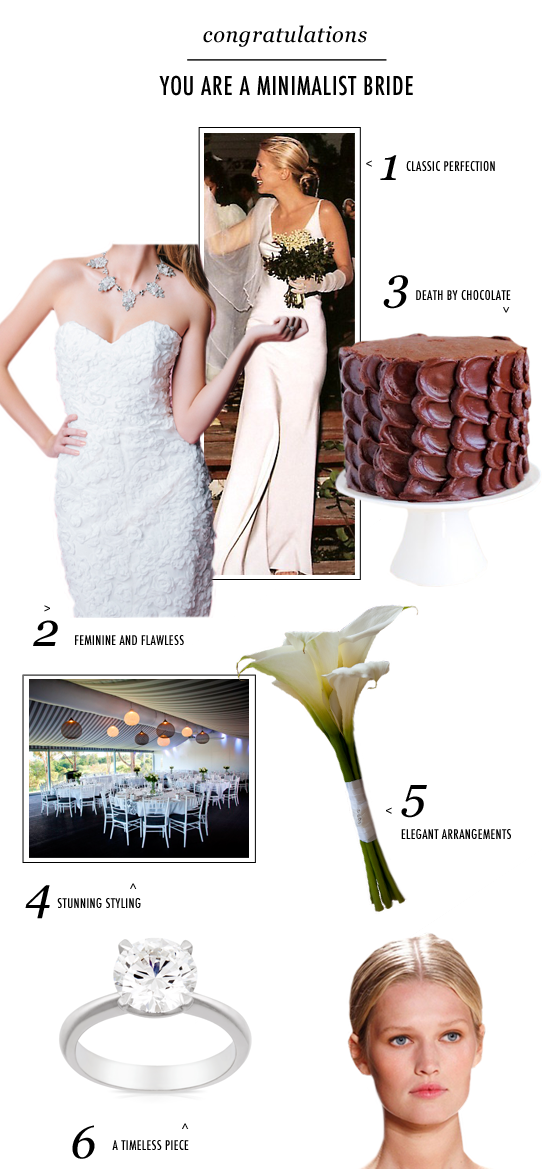 The Inspiration...

When Carolyn Bessette wed her preppy Prince JFK Junior in a bias-cut silk Narciso Rodriguez gown, two things happened. The then-unknown Rodriguez was catapulted into the fashion spotlight, and wasps the world over had a new standard for a simple, elegant wedding look.

The Dress | Jennifer Gifford

Cut to subtly accentuate your best assets, this embroidered dress by Jennifer Gifford is both simple and exquisitely detailed.

Jennifer can design a bespoke dress just for you, and also has gowns available in her studio, which she can tailor to suit.

The Honeymoon | Hakone, Japan

Wash away all that wedding stress in the gorgeous hot springs of Japan's Hakone. Then, when you're feeling suitably relaxed, head to Tokyo for a healthy dose of culture shock and shopping… because minimalist designer darlings Jil Sander, Calvin Klein, and Céline all have flagship stores here.

The Cake | Welsh Lady

The Welsh Lady's Death by Chocolate cake may not be the first thing that comes to mind when you think of minimalism, but unadorned, coated in a simple chocolate shield, this cake is all substance, minimalist style. The centre has the texture of fudge and—wait for it… is gluten free!

The Lingerie | Boudoir Chic

This gorgeous Lise Charmel strapless set by je reve from Paddington's Boudoir Chic is simple and sexy — ideal for the bride who likes quality, without unnecessary fuss. The lovely ladies at Boudoir Chic can help you find the perfect little piece both to make your dress 'work' or your wedding night a memorable one (wink wink).

The Hair | Papas & Pace
A simple centre part let's your natural beauty take the limelight (and works well with a veil!). Your mane will be safe in the hands of the gang at Papas & Pace, one of our fave tamers of tressers.

The Venue | Victoria Park
With views of the city skyline, personal event styling, a variety of venue spaces including a simple and elegant marquee with chandeliers, it's not hard to see why Victoria Park is so loved by brides.

There's a wedding coordinator on hand to ensure you big day is exactly to your liking, and an award-winning chef in the kitchen. They also offer cocktails and canapés or full, multi-course sit-down dinners.

The Flowers | Butterfly Lounge
With clean lines, and focusing in on one simple, elegant type of flower, the minimalist bouquet does not detract from the bride. The Butterfly Lounge recommends a gorgeous white tulip bunch, tied simply with white satin. Red Hill's The Butterfly Lounge take the time to fully understand the vision for your wedding day, creating arrangements that completely represent you and your personality.

The Ring | Hardy Brothers
This classic, totally timeless white gold diamond stylus ring is crafted from white carat gold, with a 1.06-carat diamond. It's a gorgeous and strong piece, without being flashy or OTT.
Want to know your bridal personality? Take our quiz!

Image Credit: Forbes