Planning a wedding can be stressful with a capital S. While all that mounting pressure might play havoc with your relationship (those poor grooms), it's also going to be messing with your skin. And really, there couldn't be a worse time for a breakout than before the big day. That's why we've asked the skin experts at Wilston's most luxurious day spa, 5th Avenue, for some tips on how to ensure your skin is looking its very best on the big day.
Timing is Everything
6 months out, it's time to start strengthening your skin with facials. 5th Avenue's high performance Luminous C & Sea facial is ideal for achieving that bridey glow. They recommend you schedule your last facial a few days out from the big day.
Not Just A Pretty Face
Don't forget the skin on your body you can't see! Your arms and back will most likely be as on-display as your face, so it makes sense that you would take as much care with these areas as your money-maker. A course of body wraps is just what the doctor ordered in the lead up to the big day, and will make all the difference to those trouble spots.
A full body exfoliation before the wedding will unearth your freshest, healthiest skin ever (and is completely necessary before your pre-big-day spray tan).
Speaking of your faux glow, 5th Avenue recommends a trial tan before the real thing, so you can gauge your ideal shade, and determine your ideal time between getting your tan, and walking down the aisle. When pondering your ideal tan shade, don't forget to take into account the shade of your dress (white is going to make your tan REALLY pop, possibly in a bad way). You should also take into account your groom's skin colour. You don't want to make the poor guy look pasty in comparison.
If bronzed-bride is not your thing, you might want to skip the tan and instead go for a revitalising body exfoliation and mango-passionfruit wrap, which not only sounds delicious, but will leave your skin poppin' fresh, no tan needed.
Beware Crash Diets
While it's pretty standard to go on a diet before your wedding, be careful to monitor the effect of your diet on your skin. Be sure to stay hydrated and eat plenty of healthy fats, like those found in avocado.
Last Minute Fixes
Waxing is an inevitable part of your pre-wedding beauty regime (consider it your wedding night prep). Eyebrow shaping, arms, legs, underarms and (eek) bikini, are all essential for clean, fuzz-free nuptials. 5th Avenue use a wax designed specially for sensitive skin, that not only makes the whole process less painful, it limits the chances of you having a reaction before the big day. 'Cause no blushing bride wants that!
For a full list of 5th Avenue's services, click here, and let one of their skin specialists help you and your epidermis prepare for your special day.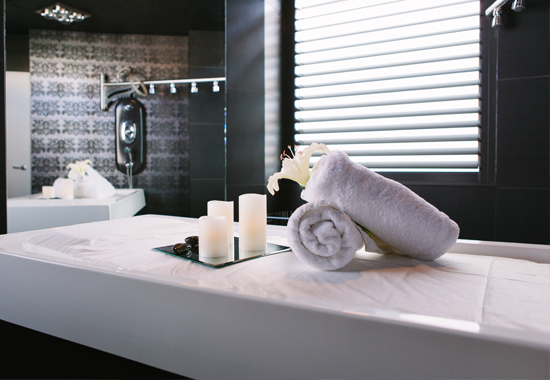 Image Credit: Daniel Maddock
TUL Note: Today's List Love post is proudly sponsored by 5th Avenue Day Spa and endorsed by The Urban List. Our sponsored posts will never be a secret - the List Love seal will be stamped on any sponsored material you see on the site. Thank you for supporting the sponsors who make The Urban List possible.