Buffalo Bar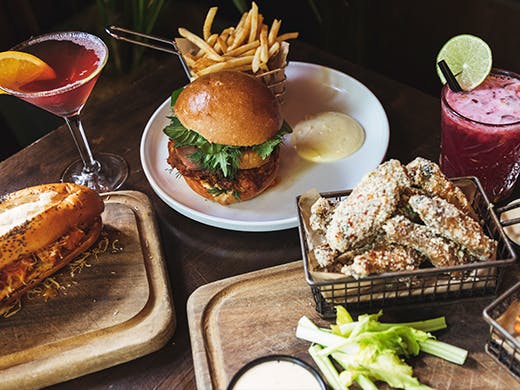 The Verdict
Bringing the best of the US of A down under in a big way, Buffalo Bar is one of Brisbane's most authentic modern American bars. With seating a-plenty both indoor and outdoor (gotta love a beer garden) plus all of the good vibes, it's the perfect place to get the crew together and take advantage of everything this CBD gem has to offer.
Hungry? Buffalo Bar will transport your tastebuds Stateside (without that exxy flight) and immerse you in hearty US-style dishes the likes of spicy wings, succulent ribs, grill and smoker classics and a boutique whiskey list that changes often. Those after something a little sweeter can't go past the deep fried maple ice cream with smoked butter popcorn and drunken rum and raisin sauce. Worth it? One word: yep.
Thirsty? Behold their boozy milkshake menu (we're willing to bet that got your attention). There are four to choose from, including a classic banana split spiked with Baileys, a cherry bomb laced with Malibu and (you guessed it) cherry brandy, then finished with vanilla ice cream, chocolate sauce, lashings of whipped cream, marschino cherries and Cherry Ripe, it's a complete #cuedrooling situation.
If you're up for a rejuvenating midday work break, our hot tip is Buffalo Bar's Feed The Beast lunch deal: between 11:30am and 3pm every day (yep, every. Single. Day), you can enjoy a juicy, cheesy, American-style burger and fries for only $15. (Excuse us while we accidentally-on-purpose forget our packed lunch from home).
Now if you're a fan of a food challenge (aren't we all?), you'll want to wrap your laughing gear around Buffalo Bar's monster hot dog challenge. Let us break this one down for you; they take a double foot long hot dog, add bacon (because everything is 147 times better with bacon), American mustard, smoked sour cream and (the best part) Hell Bound chilli sauce. Now for the challenge, if you down this bad boy in under 10 minutes (#yougotdis) they'll shout you your dog AND you'll also score a $50 voucher—along with a place in their hall of fame and guaranteed bragging rights for life. PSA, if chilli isn't your game, you can take the challenge sans the chilli to score a cheeky $25 voucher for your next hit.
Perched conveniently on the corner of Edward and Mary Streets in a beautiful heritage listed Edwardian building, Buffalo Bar is a hotspot for daily lunches, knock-off drinks or the weekend party. Yee hah!
Image credit: Tash Sorensen
---