Jocelyn's Provisions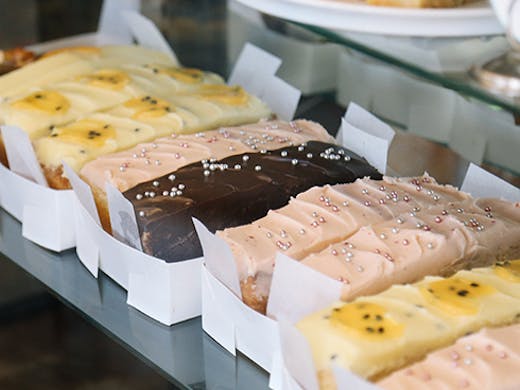 Good news for all you city folk who regularly find yourselves with an office sugar craving at 3pm in the afternoon—Brisbane's iconic cake purveyors, Jocelyn's Provisions, have landed in the CBD. Yes, that means those mouth-wateringly delicious chocolate sour cream cakes, gooey brownies, cookies and tarts will be just around the corner, waiting to cure all your sugar cravings.
Bonus, the new city store will have some brand new goodies on offer, with individual bundt cakes in flavours like lemon and ricotta, orange and yoghurt and cinnamon and pecan swirl hittin the racks every day, and loaded croissants available every Thursday. You'll want to make a calendar notification for these bad boys, because we're talking salted caramel filled buttery croissants dipped in milk chocolate, peanut butter, raspberry jams and peanut crusted choc dip and a deliciously light lemon curd and vanilla cream filled pastry dipped in white chocolate and freeze-dried raspberries. Cue the heavy breathing.
There's also a breakfast menu for those mornings when you just can't get up early enough to have it at home, with cheesy bacon and egg wraps, decadent croque monsieur and peanut butter and jam on sourdough toast on the line-up. Loaves of sourdough, dark rye and baguettes will be baked up on the daily, and the crew will be making mountains of sandwiches for a quick lunch.
Image credit: Victoria Cranstoun
---
You May Also Like
Food & Drink
Brisbane City, QLD
Just when you thought 2022 had delivered its last incredible foodie opening to…
Restaurants
Brisbane City , QLD
Taking over the space once occupied by OTTO before its migration across the river to…