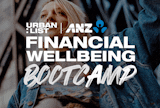 Congratulations on choosing to embark on the
Financial Wellbeing Bootcamp brought to you by ANZ!
In this four-week bootcamp, we'll be taking inspiration from ANZ's Financial Wellbeing Check-In, to serve you up helpful content, curated by the one and only Emma Edwards from The Broke Generation to help you nail everything from planning your budget to reducing expenses, spending more carefully and even help you save for a rainy day fund.
Plus, you'll also go in the draw to score $1,000 to kick-start your savings.
What's not to love?!
To sign up, simply fill in the form below and stay tuned for the beginning of class.
Click here for full terms and conditions.