Atlanta, Georgia is one of the fastest growing cities in the US and no, it's not just because everyone wants to get a glimpse at the Queer Eye loft which is sitting pretty in Cabbagetown.
A-town is big and bustling enough to satisfy city slickers' need for action and culture, but it has a more laid back quality to it. It's reasonably spread out and each neighbourhood has it's own vibe, with plenty of cafes, wine bars and boutiques that you'll wish were your locals.
And then there's the incredibly rich history of the city. Atlanta is the birthplace of Dr Martin Luther King Jr. and some say the birthplace of the entire Civil Rights Movement which makes for some captivating, if not unsettling, museum visits.
According to Expedia, Australian searches on Atlanta are up a whopping 130% year on year, so get in now before it's packed to the brim with other Aussie tourists.
Ready to book flights to our new favourite American city? Here's everything you need to eat, drink and do in Atlanta.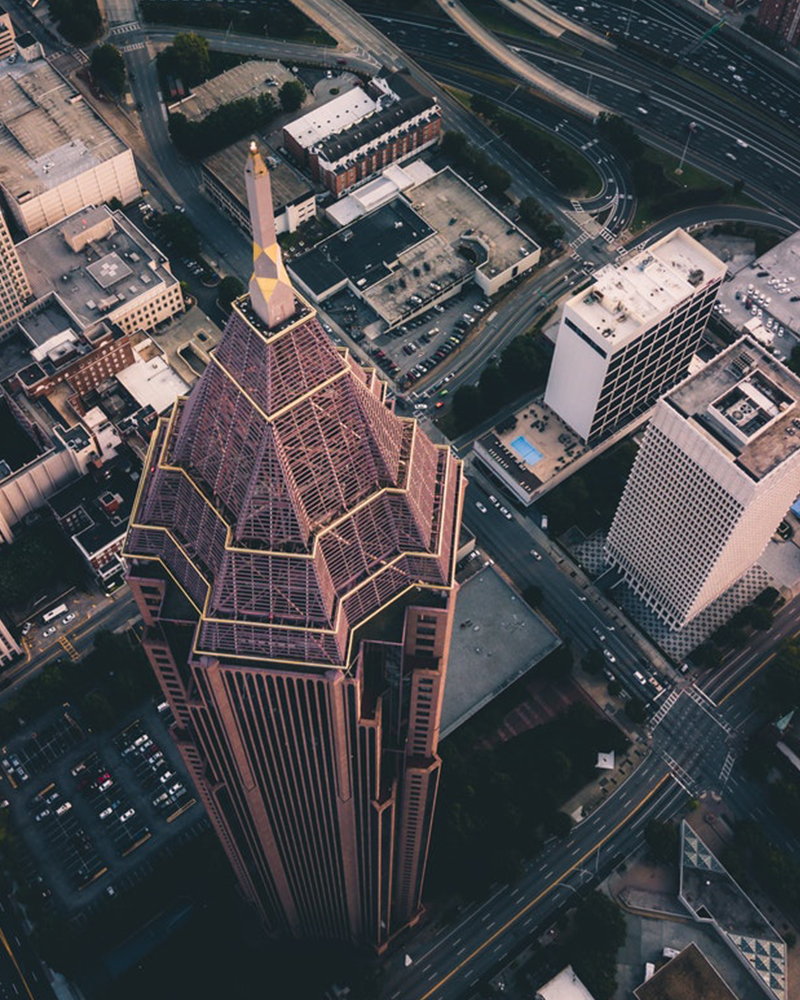 Where To Eat
Victory Sandwich Bar
While every Atlanta local will tell you the sandwiches at Victory Sandwich Bar are tiny and you need at least two, they're actually not that tiny, but they taste so damn good you will want two. Plus all of the sides. Plus a couple of their incredible cocktails or their famous Whiskey Coke Slushie. After all the fried chicken and waffles you'll undoubtedly be eating in Atlanta, the kale salad with Korean chilli and a miso-peanut dressing will hit the spot.
Paschal's
An old favourite of Dr Martin Luther King Jr., Paschal's menu is teeming with soul food and if you go for brunch on a Sunday, you can try all of them. Fried chicken, grits, cornbread and of course, a mouth-wateringly good peach cobbler, plus everything else you'd expect from a good brunch. Hit up the waffle station for some of the best damn waffles of your life.
West Egg Cafe
Looking for delicious food, ridiculous serving sizes and Coca-Cola cupcakes? West Egg Cafe is the place to find all of that plus more. There are classic dishes like shrimp and grits, biscuits or fried chicken hash, plus a few Mexican inspired dishes which are absolutely delicious. In case you missed it, Atlanta is the home of Coca-Cola so don't miss the cupcake, it really does taste like those little cola lollies.
Krog Street Market
While you're walking the beltline—an absolute must on a sunny day in Atlanta which we'll get to later—make a pitstop at Krog Street Market and you'll be spoiled for choice. There's bao, dumplings, sandwiches, seafood, pizza and more, but we recommend taking a seat at Recess for a kombucha margarita or at Hop City Bar to try one of the 60 beers on tap before making any decisions. The Hop City Beer & Wine store is also the perfect place to get some local drinks, because we all know alcohol makes for the best souvenir.
Colonnade
While it's almost blasphemous to admit this, our schedule simply didn't allow us to eat at Colonnade in Atlanta and every single local we encountered asked 'why the heck not?'. This place is an institution and dishes up the finest classic Southern food so we figured it would be wrong not to include it in a first timer's guide to Atlanta. We have it on good authority that the fried chicken is out of this world and the banana pudding is where it's at for dessert.
Where To Drink

Sister Louisa's Church of the Living Room & Ping Pong Emporium
Otherwise known simply as Church, this Atlanta dive bar will likely become your favourite bar in the world after one night. The walls are covered from top to bottom in irreverent art, you could go back every night of your stay and see something new. The drinks are simple, the music is good and the vibe is off the charts. Sign up for the ping pong tournament and try not to down too many beers before your turn.
VinoTeca
Looking for something a little more classy? VinoTeca in Inman Park is technically a wine shop, not a bar, but look out for tastings while you're there, or grab a bottle to go. The walls are lined with Spanish and South American wines from boutique vineyards and there's plenty of organic and natural wine to be found here.
The Sound Table
With a heavy rotation of local musicians, tasty bites and strong cocktails, you're just about guaranteed a good time at The Sound Table in Edgewood. Open from Wednesday to Sunday, be sure to check out their Facebook page to see who is playing while you're there.
Argosy
One for the beer zealots among us, Argosy has 30 beer taps which feature new, seasonal and local brews. The staff know what they're going on about, so tell them what you like and let them bring you the best. They also do killer pizza and a fantastic brunch on the weekends (with plenty of bloody marys and mimosas, don't worry).
Things To Do

Learn About The Civil Rights Movement
You can go and visit Martin Luther King Jr's childhood home and wander around the Martin Luther King Jr. National Historic Park for hours—and we suggest you do—but if you only have time for one museum visit, you absolutely cannot miss the new National Center for Civil and Human Rights. The museum is interactive, using sound, motion and videos to open your eyes to some of the atrocities that took place not so long ago. It's an eye-opening visit, and one you should probably pack your tissues for.
Go Behind The Scenes At CNN
Ever dreamed of being a journalist or just want to see one of the world's busiest newsrooms up close? Take the behind the scenes tour at CNN and if you're feeling brave, volunteer to read the teleprompter, it's harder than it looks. If you're really into journalism, take things up a notch with the VIP tour which gives you a better look at the hectic newsroom.
Walk, Run Or Skate The BeltLine
If you're wondering how the Atlanta locals manage to eat all that fried chicken, hit the BeltLine and you'll see everyone walking, running and roller skating from place to place, not to mention loads of amazing street art. Start at the Krog Street Tunnel and check out the street art (make sure you go down to Caroll Street to get there and spot the Queer Eye loft), before going under the tunnel to take the BeltLine Eastside Trail. The 4.8km section will lead you past Krog St Market where you should definitely make a pit stop and ends at Ponce City Market.
Shop Ponce City Market
Ponce City Market is a little slice of paradise in Atlanta. Located inside the old Sears, Roebuck & Co. building, you'll find amazing boutiques, a food hall like no other and a rooftop which is home to more amazing food, drinks and regular entertainment. Wander around the entire place but whatever you do, don't miss Citizen Supply which is home to international and local designers' small batch, handmade and sustainable wares. Inside you'll find a leather shop, plant store, bar, cafe and much much more.
Where To Stay
AC Hotel Atlanta Downtown
Hotels simply don't come better located than the AC Hotel Atlanta Downtown. Across the road from Centennial Park, walking distance from most of the big attractions and nice and close to a MARTA Station so you can catch the train wherever you might want to go. There's also an outdoor pool and bar if you don't feel like straying too far from your room.
Hotel Clermont
Hotel Clermont is a quirky but super stylish hotel in the Poncey-Highland neighbourhood—a neighbourhood that's close enough to all the action but not directly in it. Start your day with coffee and croissants at Cafe Clermont, drink the day away on the rooftop or at the lobby bar, and don't miss a meal at Tiny Lou's, the hotel's French-American brasserie with plenty of Southern flair. The rooms and suites are Instagram goals.
Grand Hyatt Atlanta
If you want to stay in Buckhead—one of the best shopping districts in the city—the Grand Hyatt Atlanta is where it's at. You'll feel instantly relaxed as you're welcomed by the Japanese zen garden and waterfall and that relaxation will only get deeper once you get to your room and are welcomed by some incredible views of Atlanta. This hotel is pet-friendly and also has some great dining options for those days when you just don't want to leave the pool.
Travelling around America? Check out our USA travel guides here.
Image credit: Kyle Sudu, Stephen Cook, West Egg Cafe, Sister Louisa's Church, Ronny Sisson, Emma Valerio and Hotel Clermont