When you're travelling around Europe, taking the train is more than just the romantic's top choice of transport. (Before Sunrise, anyone?)
While budget air travel has changed the game for financially conscious travellers, a growing movement of us are concerned about the environmental impacts of planes—especially if you're only going a short distance. Not only is train travel the most environmentally friendly transport option other than walking or biking, but the views across Europe are also fabulous, plus you may even find the train more time-effective in some cases, once airport transfers and laborious check-in processes are accounted for.
Perfecting train travel normally comes with just trying and failing, but here are a few need-to-know train travel hacks to start you off.
#1 Buy Tickets In Advance
This isn't always necessary, especially if you're travelling in the low season and have a lot of time to work with. Don't feel the need to plan your trip too rigidly if you can afford to be flexible.
But if you're enjoying a well-earned Euro summer or if you're on a strict schedule, you will want to buy your tickets before they book up. Buying in advance offers two main benefits: 1) like plane tickets, train tickets tend to increase in price closer to your departure date, and 2) you won't have to worry about not getting a seat, which can be a risk if you're getting around on weekends, holidays or in the summer season.
For rail pass holders, "buying tickets" or reserving seats is slightly different. Read on for those details.
#2 Get A Rail Pass
If you're a non-European national, you're most likely considering a Eurail pass. There are a number of different Eurail passes that can be purchased for travel within one or multiple countries, and for a certain number of travel days. There is also a Eurail Global Pass, which covers rail travel over 31 countries across the continent.
So, why get a pass? Well, the main appeal lies in its ease of use and flexibility. Rail passes can allow you to travel on multiple trains, in multiple countries without the hassle of buying a ticket for each separate trip. Eurail passes are also priced per day, not per trip, which could work out more economic depending on your trip.
On the topic of price, there are a few major benefits to consider:
If you're doing a lot of day trips, transfers or tackling multiple rail journeys in one day, a pass is definitely a great option due to its day-by-day pricing model
If you're over 18 but under 27 years old, you will receive a decent discount. Kids also travel free, and there are potential partner offers on hotels, sites and activities
Consider where you're spending most of your time. If you're going to more than one country, work out if it's better to get a Eurail pass for each place/region, or if you get a pass to cover you for just one or two countries, and buy your other Europe train tickets separately.
Take note, regional passes are offered for travel in Switzerland, Germany, the UK, France, Spain, Austria, Scandinavia and Eastern Europe.
Finally, ticket prices do rise considerably the closer you are to your travel date. So, a pass could save you bucket loads on last-minute, spur-of-the-moment trips
There is a slight misconception some have about the Eurail pass, which is that you can just jump on any train wherever you are, without a seat reservation. This is only partially true. Most trains in central and eastern Europe do allow you to get on with just your pass, and the on-board ticket officer will check your pass and itinerary. But there are some exceptions to the rule, which brings us to…
#3 Sort Out Your Seat Reservations
If you're buying individual train tickets, the seat reservation should be included. However, if you're a rail pass holder, you will need to make separate seat reservations for some trains, including:
Sleeper trains
Premium trains (e.g. Switzerland's Golden Pass train) or high-speed trains (like Thalys or Eurostar lines)
International trains
Trains in some countries, including France, Spain and Italy
Reservations can often be made online or in-person at a train station. The online option is better for advance planning and securing the seats you want, whereas the station option is occasionally cheaper. Yes, seat reservations will cost a small fee, even if you have a rail pass.
#4 Download Rail Apps
A lot of people love the Omio app, which helps you compare prices across multiple modes of transport. CityMapper is also helpful for more local timetables.
If you have a Eurail pass, we recommend downloading their Eurail Rail Planner app, which offers more tailored information for pass holders.
Plus, if you've scored your tickets off Klook, download the app for easy access to to your tickets, vouchers and passes on the go. Pro tip: remember to purchase your rail passes before you travel, as some of these might need to be delivered to your address.
#5 Always Double-Check Your Ticket And Your Map
Sometimes station names in Europe can be tricky for English speakers and you may need to know specifically if you need the "north", "east" or sometimes "mid" version of that station! The moral of the story here is to make sure you double-check the precise name of the station you need, and which station is closest to your accommodation (or wherever you're going).
Also, while not pertinent to rail travel, downloading an offline map for your destination is always a clever move. Even though many European cities have famously excellent public WiFi networks, you never really know when you're going to get stuck.
#6 Check Your Carriage
The platforms in Europe tend to be much longer than the trains themselves, so don't think you're going to cleverly avoid crowds by situating yourself at the very top or bottom of the platform. Your train might not even stop close to you and you'll be left running for your carriage. Also, it's not uncommon for a train to ditch a few carriages along the way, so it is important to follow the precise car number on your ticket.
You might have a screen at your station with more information about where your carriage will land. Otherwise, you might find a number or letter code signposted on the platform that corresponds with carriages. And sometimes you'll simply have to try to figure it out yourself!
Class carriages are also a thing, so make sure you're on the right one. When booking, don't be fooled into thinking all first-class options are ritzy, Orient Express-type situations. There often isn't a lot of difference in the class cabins, except perhaps on more premium trains or sleeper trains. The only way to know is to research your train type and carrier.
#7 Suss Out Your Station—Stops Can Be Quick And Stations Can Be Massive
The downside of an amazingly efficient and reliable train network is you often don't get a whole lotta time to get on and off!
Sometimes a station stop will feel like an eternity, other times you're in and out of there in less than a minute. It's always a good idea to know when your train or stop is coming so you can grab your bags and get ready. Also, arrive at a station with plenty of time to find your platform and potentially go through security checks. Similarly, keep this in mind if you're transferring trains. Some stations are massive, multi-level labyrinths, so it's best to give yourself more than 15 - 30 minutes to get from one train to another—just in case!
Finally, this seems like a good time to mention that a shocking number of stations in Europe, particularly the smaller ones, aren't equipped with easy access routes other than stairs (which means you'll be lugging that hefty suitcase up and down). Make sure you arrive at the station with plenty of time to work this out or do your research and make arrangements beforehand.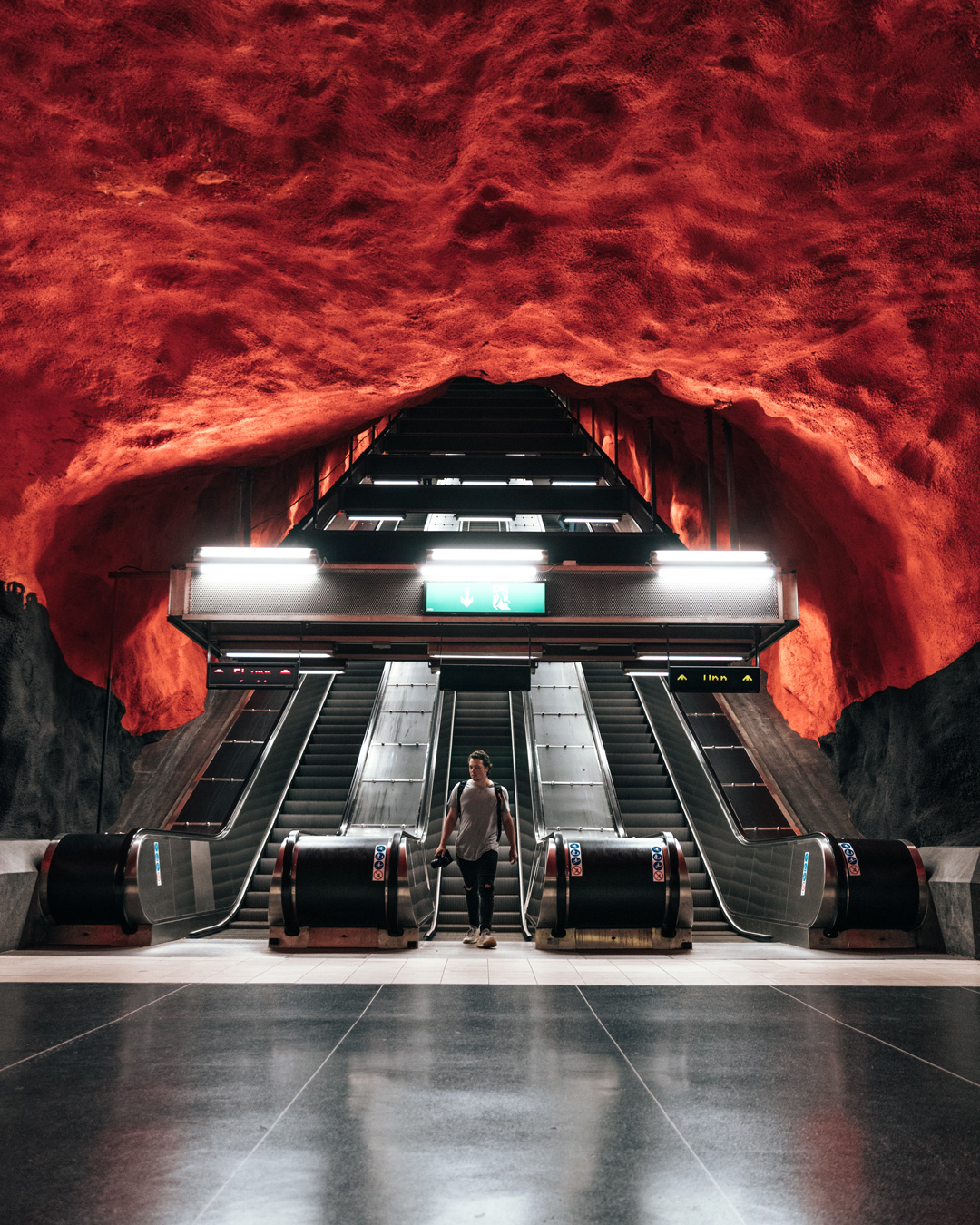 #8 Be Prepared To Lift
Speaking of heavy lifting, luggage storage on "ground level" isn't guaranteed on trains. You'll usually have to store your bags in racks above your head, which means being able to lift your stuff is a necessity! Depending on the type of train, there may be a small amount of luggage space near the door (get in quick!). Otherwise, you may find yourself stuck in a cabin or seating area with four other people and no leg room, so you'll all have to work together—beyond the limits of language barriers—to hoist your 20 kilogram Samsonite into an overhead storage compartment.
#9 Take Snacks
A lot of trains have a dining cart or roaming vendor, but we've been caught on long (like, really long) train trips where this hasn't been the case. Basic, local trains don't tend to have this luxury, and even at the best of times, snack options are limited, particularly for those with dietary restrictions. We always recommend carrying a contingency snack and (reusable!) water bottle.
#10 Stay Safe
Local trains and train stations can be hot spots for petty crime, like pickpocketing. This doesn't mean you need to live in fear—the vast majority of tourists will never have an issue. It just pays to do your due diligence.
Apart from checking station maps and arranging yourself and your belongings before getting on or off a train, our next best tip is to just keep walking and look like you know where you're going until you find a secure place to get info or regroup. Don't wander around looking lost or stand in open space with your eyes fixed on your phone.
The good news is, if you're smart and secure you will likely breeze on through. Other times, getting something nicked is just bad luck and a risk we all take when globetrotting. This is where good travel insurance, spare cash and cards, and a good sense of humour will help you through.
Rail tickets for Europe can be purchased here.
If you're after more eco-conscious travel ideas, check out these 11 zero-waste travel hacks.
Editor's note: Urban List editors independently select and write about stuff we love and think you'll like too. Urban List has affiliate partnerships, so we get revenue from your purchase.
Image credit: Madeleine Ragsdale, Raja Patel, Spencer Davis