It's good news all-round for Queenslanders and West Aussies as Tasmania eagerly awaits your long overdue visit. But with interstate travel having been off the cards for so long you may have forgotten how it all works, so we thought you could probably use a little help planning. Enter: Only With Urban List in partnership with Itineraries, a collection of luxurious curated, bookable vaycays, created by us, for you. And, this time around we're releasing a new batch of wanderlust-inducing 7-night Tasmania escapes (with flights included!).
Score one and you can expect luxury accommodation in the heart of Hobart, Launceston and Coles Bay, a tantalising wine tasting at Josef Chromy, MONA and Posh Pit ferry tickets, plus so much more, with every detail taken care of.
What does this exclusive Tassie vaycay include?
Over 3 nights in Hobart, 2 nights in Launceston and 2 nights in Coles Bay, you'll enjoy:
Return flights to Hobart (Economy);
3 nights at luxury hotel MACq 01, Henry Jones Art hotel OR Moss Hotel
2 nights at the Verge Launceston
2 nights at Freycinet Lodge, Coles Bay OR Piermont Retreat, Swansea
7-day car hire;
Tickets to MONA and the Posh Pit Ferry; and,
Wine tasting at Josef Chromy winery, all from:
Exclusive Only With Urban List rate
Editor's tips and picks on where to eat, drink and explore;
All this from $2,499 per person, twin-share for Queenslanders and from $2,999 per person, twin-share for West Aussies. Travel until 30 November 2021. Book by 30 September 2021 to claim.
Ready to pack your bags? Fill out this form to receive a quote for our exclusive package.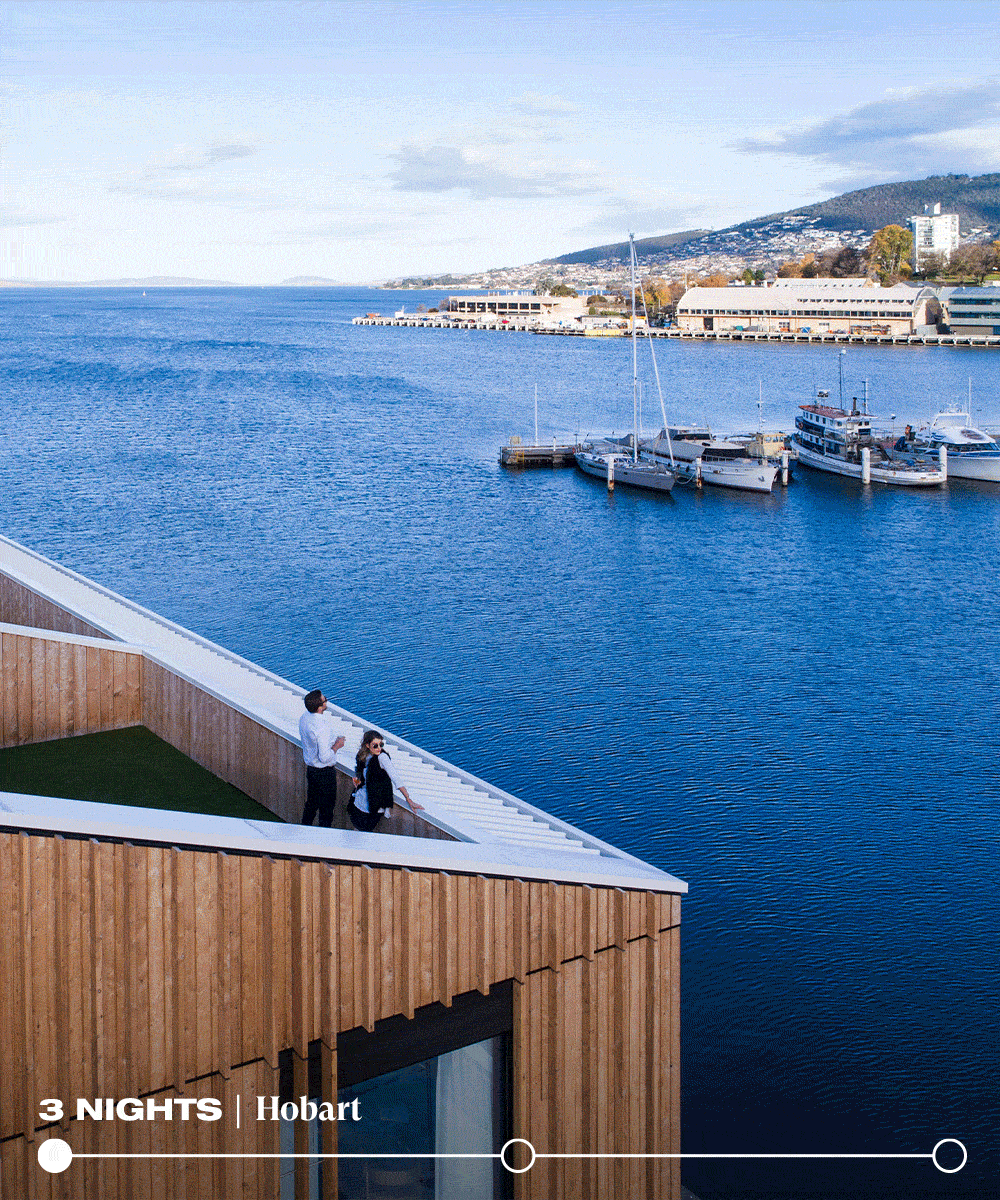 OK, how can I book?
We know the word "exclusive" is used liberally these days, but when it comes to this vaycay, we actually mean it: the accommodation and experiences are hand-picked by one of our UL editors and organised by our partners to give you a once-in-a-lifetime experience that you won't soon forget. Sound good? You bet it does.
If you're ready to score this fabulous (and super limited release) vaycay, fill out the form below and an Itineraries Travel Consultant will be in touch shortly with your quote.
Image credit: Freycinet Lodge, Macq01, MONA, Josef Chromy Wines, Matthew Donovan, Tourism Tasmania, Luke Tscharke, Henry Jones Hotel. Gif image credit: Macq01, MONA, Henry Jones Hotel, Moss Hotel, Verge Launceston, RACT Destinations, Freycinet Lodge, Piermont Retreat. Design credit: Kate Mason.
This Only With Urban List exclusive package is in partnership with Itineraries Travel Consultants. Our Urban List editors have handpicked the ultimate getaway, curating stuff we love and we think you'll love too. This experience is brought to life by Itineraries Travel Consultants, a licensed travel agency based in Brisbane with over 30 years' experience.
All prices are subject to selected travel period and availability.
If you decide to book an Only With Urban List exclusive package, Urban List will receive a small fee. Thank you for supporting partnerships that make Urban List possible.