Can you hear that? It's acai shakin' in its boots cos there's a new bowl getting around town, just as tasty, just as healthy, and fast becoming a staple among the best breakfasts on the Gold Coast.
Pitaya, a sexy hot-pink variety of dragonfruit, not only tastes the bizz but is a bona fide superfood too. Known to fight diabetes, reduce signs of ageing, lower cholesterol and blood pressure, and suppress arthritis, it is also chock full of vitamin C, antioxidants, and fibre. What a little superhero!
If you're yet to part with your beloved acai bowl, we're pointing you in the direction of nine awesome spots dishing up the pink goods.
Garden Kitchen & Bar
One of the newest and arguably one of the most gorgeous spots to grab some of the best breakfasts on the Gold Coast, Jupiter's Garden Kitchen & Bar offers some superb pitaya bowls. Topped with fresh fruit and muesli, these little cuties will definitely fuel you up before putting it all on red! (Or should that be black?)
Where: Casino Drive, Broadbeach Island, Broadbeach
Cardamom Pod
When their business is vegetarian and vegan food, you can be assured this is one establishment that'll be crafting next-level smoothie bowls. Broadbeach's Cardamom Pod is doing just that with one of the prettiest pitaya bowls on the Gold Coast, bursting with fresh fruit garnishings and almost too pretty to eat. Never!
Where: Shop 1/2685 Gold Coast Highway, Broadbeach
Niche & Co.
Southerners can get their pink pitaya fix from little Kirra nook, Niche & Co. Grab a possie out front in the morning sunshine and reward yourself after that walk/swim/run/sleep-in.
Where: 7/74 Musgrave Street, Kirra
Burleigh Social
Burleigh Social's refreshing acai bowls won us over long ago, but their new pitaya bowls—mixed in their dedicated Vital Bar—are giving acai a serious run for its money. Topped with their yummo house-made granola and fresh fruit, anything these guys do is a treat in our books.
Where: 2 Hibiscus Haven, Burleigh Heads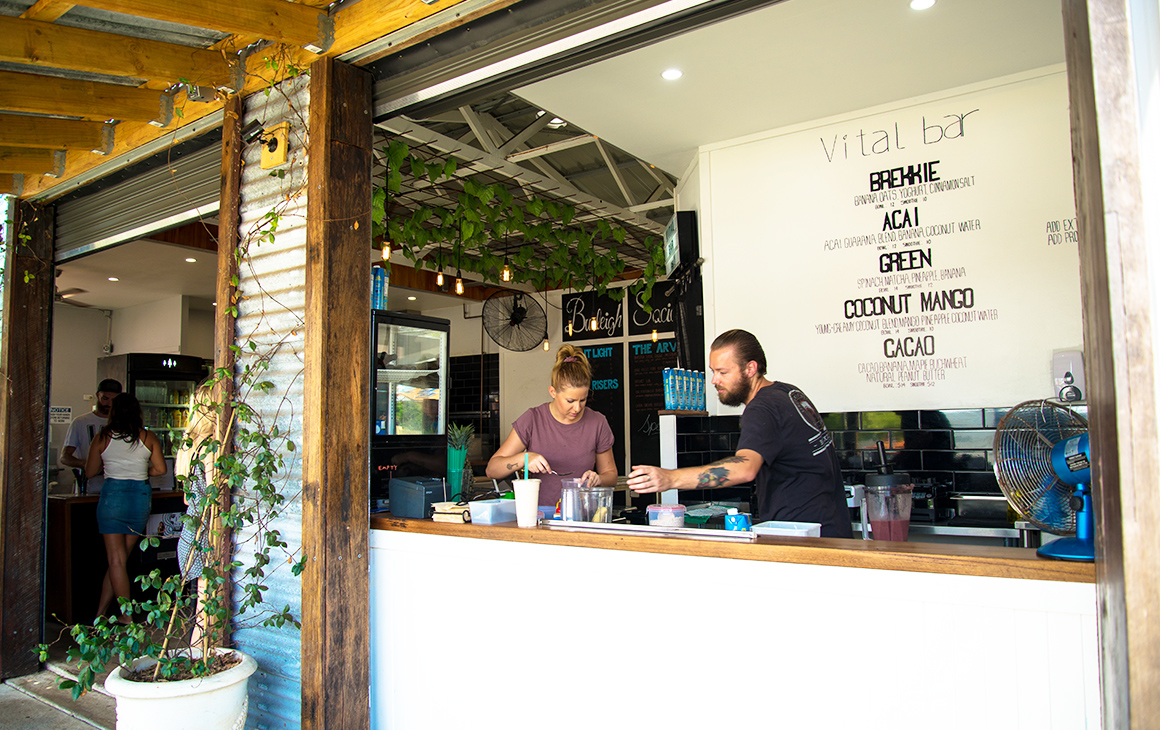 Raw Expresso
Southport's fab Raw Expresso is taking care of the pitaya cravings for the northerners among us; wash your smoothie bowl down with one of their excellent coffees and thank us later. Hot tip: this café has a special "doggy menu" so take your pooch and treat Fido too!
Where: 59—73 Meron Street, Southport
Helen's Heavenly Wholefoods Café
Helen's Heavenly Wholefoods Cafe, everyone's favourite Burleigh one-stop shop for healthy treats, is aboard the pink pitaya train. Make that the smoothie bowl train in general, with a whopping 10 different variations on the menu. Grab one of their pretty-as-a-picture pitaya bowls to enjoy as you window shop your way down James Street.
Where: 29 James St, Burleigh Heads
Bam Bam Bakehouse
The cleverly-named "Barbie Bowl" (cos it's pink, get it?) is Bam Bam's take on the pitaya bowl and it's delish. Blended with banana, mango, bee pollen, and coconut and topped with chia crumble, it's totally Instagram worthy and high on our growing list of the best breakfasts on the Gold Coast.
Where: 2519 Gold Coast Highway, Mermaid Beach
Beach House
One of our favourite health-conscious cafés on the Coast, Beach House has a seriously impressive menu but we're telling you to head straight for the hot pink bowls of goodness. Blended with coconut water and low-fat sorbet, the Beach House's pitaya bowl is impressive to say the least and one of the best breakfasts on the Gold Coast.
Where: Shop 31, The Strand, 72—80 Marine Parade, Coolangatta
Feather and Docks
When travelling down the Gold Coast Highway and through Palmy, see to it you make a pit stop at Feather and Docks—a fave hangout of PB locals. Grab a sunny spot outside and enjoy pink pitaya for all… oh, and the coffee here will rock your socks off too.
Where: 1099 Gold Coast Highway, Palm Beach
Still married to your acai bowl? Here's where to find our fave acais on the Gold Coast.
Photo Credit: Brooke Darling, Daniel Hine and Edmond Tsang for Metropolist