In case you've been living under a rock—craft beer is all the rage right now. And the Sunshine Coast, not one one to be left too far behind (hey, there's a limit), is totally dominating.
Local beerpreneurs have jumped at the chance to shine a light on their booze of choice, and boutique-style breweries have been popping up across the region.
It's an exciting time, folks! Because, while we don't know about you, we'd much rather be sipping on a local, hand-crafted beer made with love and passion; over an average-tasting, mass-produced brew owned by some random-rich dude who's taking all our hard-earned beer-money.
Feel the same? We've compiled a list of seven Sunshine Coast breweries you really oughta hit next time you make a trip up the Bruce.
Brouhaha Brewery
Maleny
If you haven't heard of Brouhaha Brewery yet, then there's something wrong with you. Taking the Sunshine Coast Hinterland by storm, these guys are fulfilling all our boutique brewery dreams with great beer (of course), excellent coffee and incredible food. Their industrial-style interior will leave you with #interiorenvy and the lush hills of Maleny will make you want to set up camp on the sprawling deck permanently. Pouring from their sleek wall taps is an impressive line-up of brews and the best way to sample all 10 brews is to order the Tasting Card for a little over 30 bucks. If getting through 10 schooners of beer isn't going to be possible, this is the next best thing.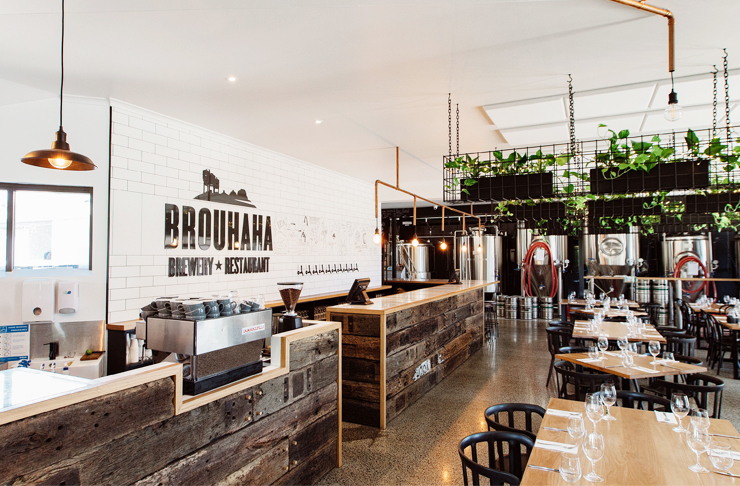 Bonsai Brewhouse
Cooran
After closing its doors unexpectedly in January and moving out of the old, ramshackle space in Pomona that locals had come to know and love, we're so freakin' pumped that owners Cass and Matt decided to continue with their dream, albeit somewhere else. And after hanging out at the new Bonsai, we can personally vouch that it retains the same ol' rustic charm. Taking over a space in Cooran in the Noosa Hinterland, about a 10-minute drive from Pomona, the new Bonsai Brewhouse is spacious and kitted out with plenty of tables, a huge bar and most importantly, loads of in-house beer. With floorboards, old windows that open onto bush and an enclosed veranda lined with bonsai, we're pretty confident you and your drinking buddies are going to love it.
Land & Sea Brewery
Noosaville
Although craft beer can be a scientific process, Land & Sea Brewery take a simple appoach; letting their creativity flow to allow for a unique experience. The fact this gem is located in Noosa just adds to the perfection of the place. We love the beachy aesthetic, smooth craft beer, epic noms and good for the soul vibes. It's possible that we've located paradise with this place.
10 Toes Brewery
Alexandra Headland
When 10 Toes Brewery opened, they had two goals: Build brewery. Make beer. They've more than succeeded in both. With a focus on creating a beautiful space to craft some great local beer, they've stolen our hearts and our beer-lovin' tastebuds with their open-plan tasting room. They're also promising us a great feed on the weekend evenings from some local food trucks and catering companies—so be sure to follow them on Facebook to see what's in-store.
Your Mates Brewing Co. & The Basement
Moffat Beach & Nambour
Having launched out of their shed in Moffat Beach, Your Mates Brewing Co. was born out of a wild idea and is being driven purely by organic growth. Self-taught and self-funded, co-founders Matt and Christen are distributing their tasty brew to a whole heap of venues across the Sunshine Coast—does the name Larry ring a bell? He's theirs! Plus, since launching Your Mates the boys have also opened their very own grungy bar, The Basement in Nambour. It acts like a kind of shopfront for their Moffat-made brews and is the perfect homey space to chug a few.
Moffat Beach Brewing Co.
Moffat Beach
Touted as Australia's only beachfront brewery, Moffat Beach Brewing Co. is the perfect place to chillax, sip on a schooner and enjoy some panoramic ocean views. These guys specialise in handcrafted ales, which are freshly brewed out of the already well-known Black Water Trading Co. (who also serve some mighty good grub). And once you're done appreciating their clean, crisp, refreshing brew, you can go on and appreciate the great names they go by—such as the Deadbeat Boyfriend Cream Ale and the Iggy Hop IPA. They also rock some amazing live performances on Friday nights and Sunday arvos, so we expect to see you bunch there this weekend.
Sunshine Coast Brewery
Kunda Park
The Sunshine Coast Brewery is one of the old boys. Around since 1998, it originally started as a ginger beer producer. No lie! After a change of ownership, this family run business now focuses on perfecting their large range of craft beers; drawing on international influence, and spreading their passion for a boutique beverage over a mainstream tipple. Their range of award-winning beers includes a popular mid-strength summer ale; and they also have a few unique brews such as a chilli beer (with a bit of bite!) and a Rauch Bier—made with smoked grains and smelling like a smoked winter's roast. So many choices, so little time.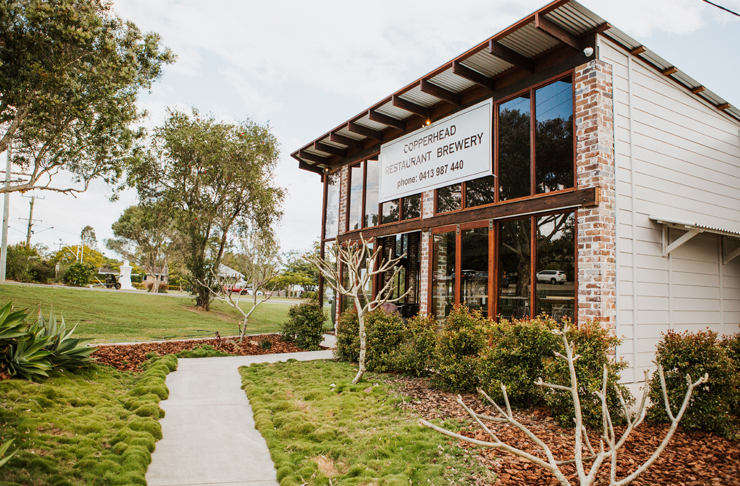 Sunshine Brewery
Maroochydore
Summer ale, pale ale, IPA, stout, sparkling ale, saison—Sunshine Brewery in Maroochydore does it all. A relative newbie to the Sunshine Coast, having opened its doors in early 2017, these self-labelled salty sea dogs are ready to pour you a beer, Wednesday through to Sunday from 10am to 7pm. Time it right—AKA keep an eye on their Facebook page—and you can line up your visit to coincide with a food truck appearance, because we all know how well cheap eats go down with a couple of frothy ones.
Copperhead Restaurant & Brewery
Cooroy
You'd be forgiven if you thought were in some kind of chalet the moment you step inside Copperhead Restaurant And Brewery. This purpose-built building is ridiculously stunning with loads of timber, high ceilings, gorgeous chandeliers and a whole lot of room to gather your fave people for a chinwag over some high-end pub food and housemade beer. Choose between loads of quaffable ales, perfect for a chilled arvo session, as well as a few more experimental options for hardcore beer enthusiasts to get all snobby over. The menu is giving us some serious love, too; it's focused on great produce and shared feasts with mates. And if you're up for a real experience, make sure you book ahead for the Brewer's Table—where you and your foodie friends put yourself in the hands of the chef and you'll be served a tasting menu of the best local produce, matched with craft beers.
More of a wine drinker? We've found the best wineries on and around the Sunshine Coast.
Image credit: Daniel Hine and Chevaune Hindley for The Urban List, and Aaron Shum