If you thought the Brisbane chow scene peaked last year then you are in for one heck of a surprise. 2017 saw an influx of leisure with a bevy of European eateries, some mellow community characters, and all the shared dining you didn't know you were missing. We're thrilled and grateful and foaming at the mouth so let's get cracking on this list of our favourite restaurant openings this year.
Because life isn't over until you run out of things to eat.
King Tea
Paddington
When it comes to rollicking, wine-fuelled dinners King Tea has it on lock. This tapas and wine bar offers incredibly tasty share plates, mostly of authentic Spanish cuisine but with a few cheeky wildcards thrown in (you seriously have to try their fried chicken) as well as a neat, uncomplicated selection of cured meats and cheeses.
Vaquero
Albion
What King Tea offers in regional cuisine, Vaquero does in elevated fine dining. Named after the mounted cattle herders, the shared menu includes a wide variety of meats from venison and cured duck to jerky and chicken hearts (rest assured, it tastes better than it sounds) that have all undergone the Vaquero treatment. Despite the entrenched tradition, Vaquero jazzes up their menu with some left-of-centre inclusions (kimchi, wasabi and black garlic all get a mention) and a pre-dinner cocktail goes down a treat in their courtyard.
Electric Avenue
Woolloongabba
Billed as a British-inspired bistro, Electric Avenue isn't afraid to pump up the jam a little bit. Their dinners feature classic dishes invigorated with seasonal ingredients, and the best smoked potatoes anywhere. When it comes to lunch nosh, this bistro doesn't take themselves too seriously. Electric Avenue's midday offerings feature some classic feeds like fish and chips, steak frites, and burgers, all spruced up with some of that gastro flair they've become known for.
Italian Food Restaurant
Spring Hill
We're calling it; Italian dining is on it's way back in (did it ever really leave?). Leading the charge is Italian Food Rstaurant, the casual trattoria-style eatery that's taken over the space in Spring Hill formerly taken up by Happy Boy. In great news, IFR is from the very same crew—those Votan brothers really know how to open bangers, don't they—so expect authentic dishes and a wine list that won't quit.
Cheeky Poke Bar
Newstead
Ahh, Cheeky. Where have you been all our lives? Opening in the stunning new Haven development in Newstead, Cheeky Poke Bar has raised the, er, bar when it comes to poke bowls and Asian-fusion food. For starters, the decor is an interior designers wet dream—all navy walls, marble and wood table tops (a few fiddle leaf figs) and bulk grown up feels—but it's the menu that will keep you coming back. Poke bowls made from the freshest market fish, incredible flavours and ingredients, oh, and they invented poke tacos. Mind. Blown.
La Lune Wine Co.
South Brisbane
Anytime you feel like you don't have your life together, go to La Lune for dinner and be recalibrated. La Lune's European-style dinner menu is constantly changing to suit the seasons, and each dish is designed to complement one of their incredible wines so the pairing is faultless. Dining here evokes the same inner harmony Holly Golightly got from visiting Tiffany's.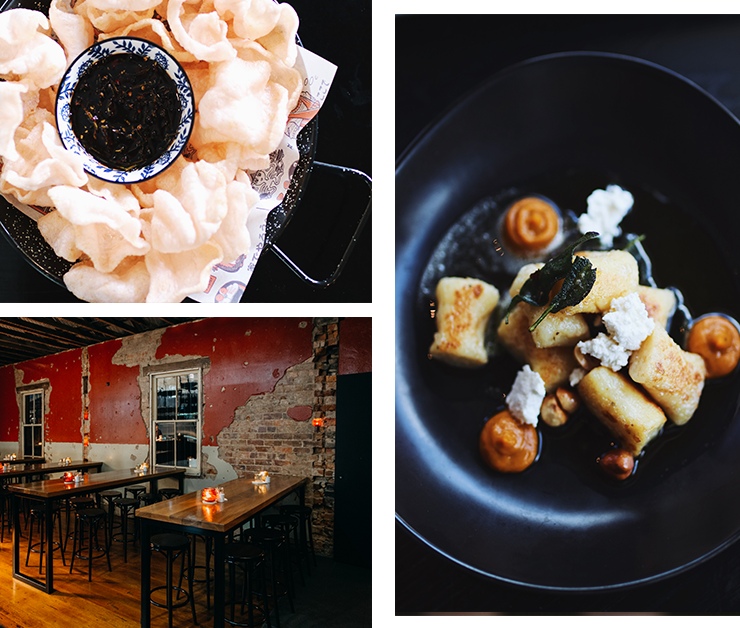 Neighbourhood Pizza
Kenmore
This new pizza parlour lives up to their name with a local, community feel, as well as the effortless cool of someone who can pull off wearing sunglasses indoors. The ethos behind Neighbourhood's menu isn't one of tradition or tenure, just great pizzas with flavoursome ingredients and all the bally pineapple you want. Sound radical?
Jessie's Girl
Petrie Terrace
Relaxed lunches, refreshing sundowners, and long ass boozy brunches, is there anything this gal can't do? Nup, Jessie's Girl is the soft-lit haven for all your sipping and munching needs. In the evenings they offer hearty share plates like croquettes and meatballs that make you feel all nourished and fuzzwuzzly like being at mum's house for dinner. Ever more so on their Wednesday lasagna nights: a weekly highlight and definitely worth planning your life around.
Junk Boat
South Bank
Taking dishes from the street stalls of Asia and bringing them to the shores of the Brown Snake, Junk Boat is the hero we needed but definitely did not deserve. From pork dumplings and Peking duck to Korean fried chicken, make sure you keep Junk Boat in mind the next time a heckin flavour craving hits.
Little Big House
South Bank
If only all lock-ups were like this. Little Big House is the permanent house party where the parents never come back from holiday and you never run out of booze. For snacking, forget party pies and pick up a couple of their incredible chicken parmy spring rolls. On drinks, LBH has a bunch of fun summer cocktails including frosé as well as lashings of their limited edition, ultra-Queenslander collaborative brew with Young Henrys that'll stir the cockles of any red-blooded resident of the sunshine state.
Margo Restaurant And Bar
Paddington
When Montrachet upped and left Paddington, Margo swooped in to fill the European bistro-shaped gap. Their menu preserves the integral glory of the best and freshest seasonal ingredients while simultaneously injecting a creative spin, case in point: the peach marquise with tarragon meringue.
Drum Dining
Newstead
And just when we thought Brisbane was done for the year, this cheeky little rat-a-tat-tatter sidled up. Drum Dining is perfect for a long lunch or special dinner with a versatile menu pretty much guaranteed to impress everyone in your posse. Not to mention the hectic cheese situation you would do well to get around.
Need to burn off all those calories? Here are all the best places to learn how to surf this summer.
Image credit: Hayley Williamson, Grace Elizabeth Images for The Urban List