You might already know Tassie for its famous Salamanca markets, legendary gourmet food and plethora of cosy pubs stuck in a delicious time-warp of open fireplaces, bistro-style meals and local brews.
But what you might not know is that almost half of this glorious state is made up of national parks, reserves and World Heritage Sites. And what does that mean? A bajillion adventures for you to conquer, obviously.
And lucky for you, we've done you all a solid and put together a list of the very, very best because we're nice like that.
Here are 11 of the best outdoor adventures to have in Tasmania.
Slide Through The Forest
Embrace your inner kidult and slide your way down a 110 metre slippery dip through the Tarkine Forest, a huge area of rainforest, sand dunes, rivers and mountain ranges. Located at Dismal Swamp (forget the name, this place is anything but) in north-west Tasmania, this slide, which will see you fly from the treetops all the way down to a maze of boardwalks should be on your adventure bucket list.
Go Aurora Chasing
Switch up your dream of watching the Northern Lights for Australia's very own night light show, the Aurora Australis—hadn't heard of this one, had you? Otherwise known as the Southern Lights (and a helluva lot cheaper to visit than flying all the way to Alaska) this is peak 'gramming potential. So where can you watch this dancing rainbow of colour? Let us tell you. You'll want to head as far south as possible and hit up the South Arm Peninsula, speckled with a heap of bays to guarantee some epic reflections. You can also witness this sky phenomena at Rosny Hill, Seven Mile and Cockle Creek #options.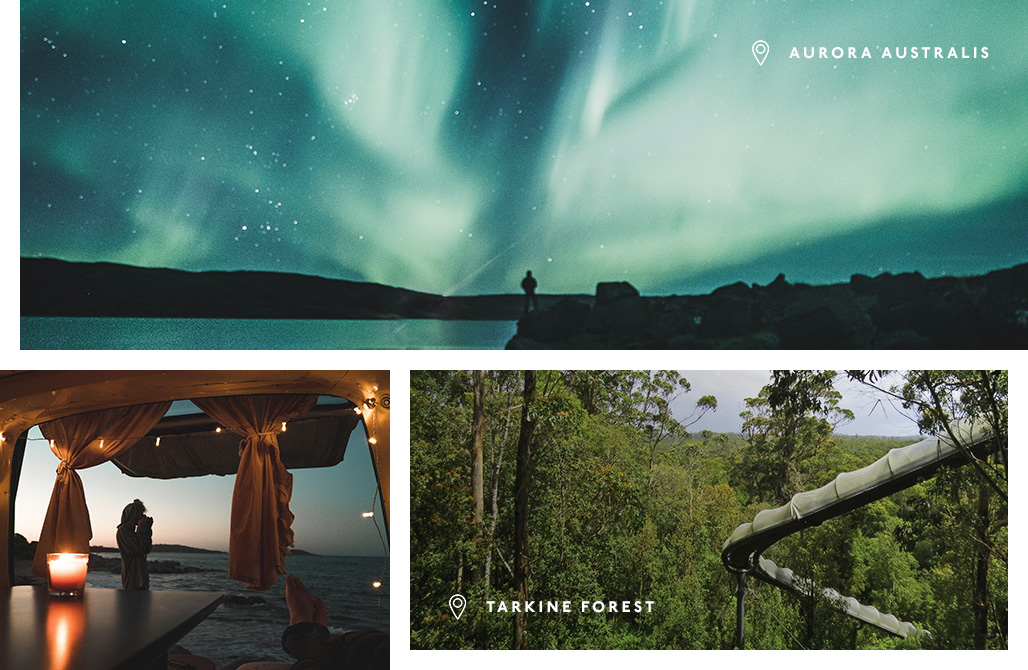 Sunset Kayaking In Coles Bay
Step up your usual sunset watching repertoire by kayaking around the heart of Freycinet National Park. By far the most summery and beautiful area of Tassie, you'll be in for some pretty scenic vistas come sundown with pink granite mountains, white sandy beaches and turquoise water all around you.
Bike Around Maria Island
Take a day trip across to Maria Island National Park and bike around this insanely beautiful stretch of paddocks, past sweeping bays, painted cliffs (patterned sandstone rock formations) and coastal plains. And the best part? There are no cars and no shops (so pack some snacks) and make the most of the serenity. You can bring a bike over on the ferry or hire two wheels once you land, and definitely bring swimmers and a towel because you'll want to take a dip at the surrounding beaches and heaps up, these shores are regularly visited by seals and whales.
Explore Cradle Mountain
Cradle Mountain is iconic for its crazy-ass vantage points, alpine ranges and serious beauty. The ultimate route to take is the Dove Lake circuit which will take you on 6km (that's around two hours or walking featuring a number Insta stops) of absolute natural perfection and it also means you're in for glacier rocks, glassy lake waters and a damn picturesque boatshed.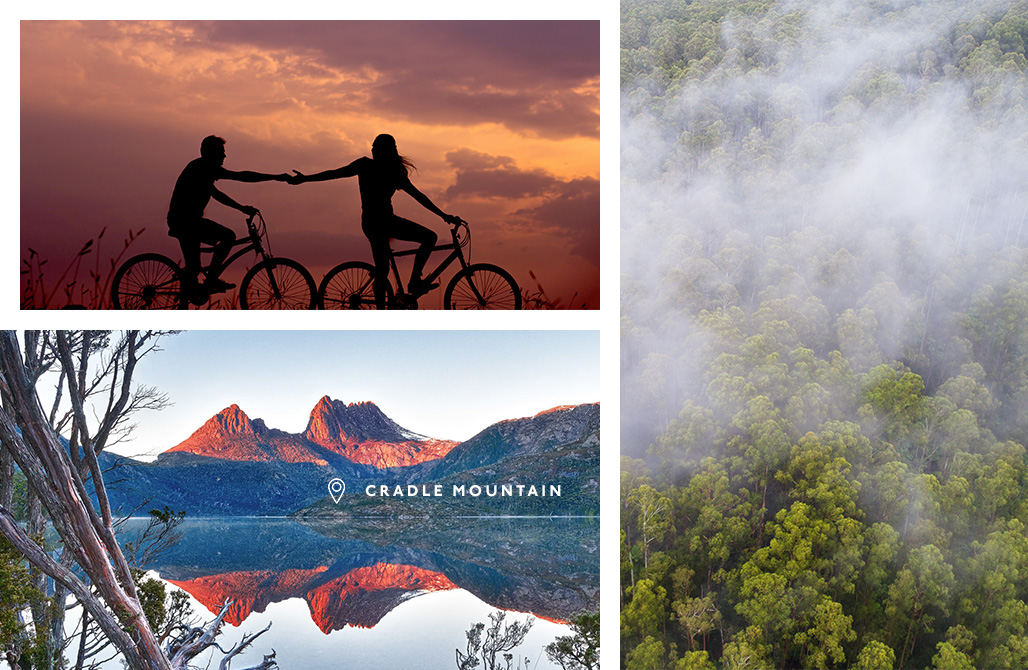 Take A Flight Around Wineglass Bay
From the ground, this fluorescent lagoon is all sorts of gorge and is the base for a tonne of hiking trails, cruises and ATVs, but everyone knows the best way to take in this ridiculously pretty horseshoe bay is in the air. Depending on your preferred mode of aerial transport (there are seaplanes and helicopters at your disposal), you can catch some sky-high glimpses of one of Australia's most stunning national parks.
Camping In Honeymoon Bay
So while you're around these parts, you should really think about ditching #hotellyf and taking to the bush (but FYI, Honeymoon is oh-so much more than just bush). It's basically a bay within a bay, within the Freycinet Peninsula of Tasmania. You can pitch a tent above this enticing cove, which is propped on a picturesque grassy knoll. Hot tip: this one's only open for the summer season.
Check Out Montezuma Falls
Head over to the west coast of Tassie to take in the epic Montezuma Falls, the highest waterfall in the area. The track follows an abandoned tramline all the way to the base of the falls which reaches an insane 450 metres and has a super narrow suspension bridge to wet your pants over.
Tahune Forest Airwalk
Yep, it's 1.6 million hectares of World Heritage listed forest that you can stroll at your own leisurely pace. You'll be a good 20-30 metres above the forest floor, passing overhead rivers on swinging bridges—just think of the content.
Frolic In The Lavender Fields
Look, we'll take any excuse to frolic in a sea of flowers and here it is in all its beautiful and purple form. Run, walk and get lost in endless curved rows of lavender blooms, a staggering 200km of pure flower magic if we're getting technical. There's no surprise that this is one Tasmanian spot that everyone loses their collective shiz over, plus don't forget to treat yo'self to a jar of their signature lavender honey and some gourmet lavender tea.
Chairlift To The Top Of A Volcano
In the north-west of Tasmania, there's a little (actually, it's pretty frickin' massive) thing called The Nut. You could totally climb up if you're into all that 'I hiked a volcano' bonanza, but FYI the chairlift gives you super spectacular views across the Bass Strait beaches and over the little seaside town of Stanley. It also takes like a quarter of the time #timesaving. Once you've reached the peak, you can check out the plateau and do the circuit around the top (which takes around an hour).

Travel bug biting hard? Check out The Urban List Travel and plan your next adventure.
Design credit: Isaac Smith