If you've been watching the latest season of Survivor Australia, you'll know that rather than flying the contestants to a remote island this year, the TV show was filmed right here in outback Australia—in north west Queensland to be exact. And if you've caught some of the spectacular scenery and outback sunsets on the show, and thought maybe you needed to put outback Queensland on your bucket list, we totally agree.
There's no need to start reverse image searching screenshots from the show—the new season was filmed entirely in Cloncurry and Mount Isa, way up in north Queensland near the Northern Territory border. While a lengthy four-wheel-drive road trip (caravan in tow) is undoubtedly the best way to see this region, there's plenty to see and do on a long weekend—and even in a two-wheel-drive hire car.
So wrap a bandanna around your head (for the full Survivor look—though let's be real, a hat would be far more practical) and prepare to explore the great outback—here's everything you shouldn't miss on your trip.
Mount Isa
With the largest airport in the area, the mining town of Mount Isa will most probably be your first port of call if you're flying in. We say town, but it's actually a city—the largest in the world by sheer area (it's bigger than Tasmania), in fact. The mammoth mining stacks are one of the first things you'll see as you approach the town but don't be fooled—the air here is heavily quality controlled. If you can time your trip right, the Mount Isa Rodeo is the biggest event of the year here, and worth planning ahead for—the whole region turns out to watch bull riders and horse wranglers battle it out in the dust, and it's a truly electric experience. You can even glamp for the duration of the event, so circle August in your calendar if you can.
The Essentials: Mount Isa Hotels And Restaurants
If you're not one of the hordes of grey nomads bringing their house on wheels with them, there's plenty of Mount Isa hotels to choose from. Our top picks in the centre of town are the Redearth Boutique Hotel and the Burke & Wills Motel, but if you'd rather be a little way out of the action, Sunset Top Tourist Park has comfy cabins to stay in (and their weekly soup nights are famous round these parts). If you need some Mount Isa restaurant suggestions, make sure you hit up the Rodeo Bar & Grill for a steak, but be sure to book a table in advance—they're mighty popular. For breakfast, head for the The Xtra Mile Cafe, while Giuseppe's Cantina is for anyone in need of some city-worthy tapas and a margarita (you are on holiday, after all).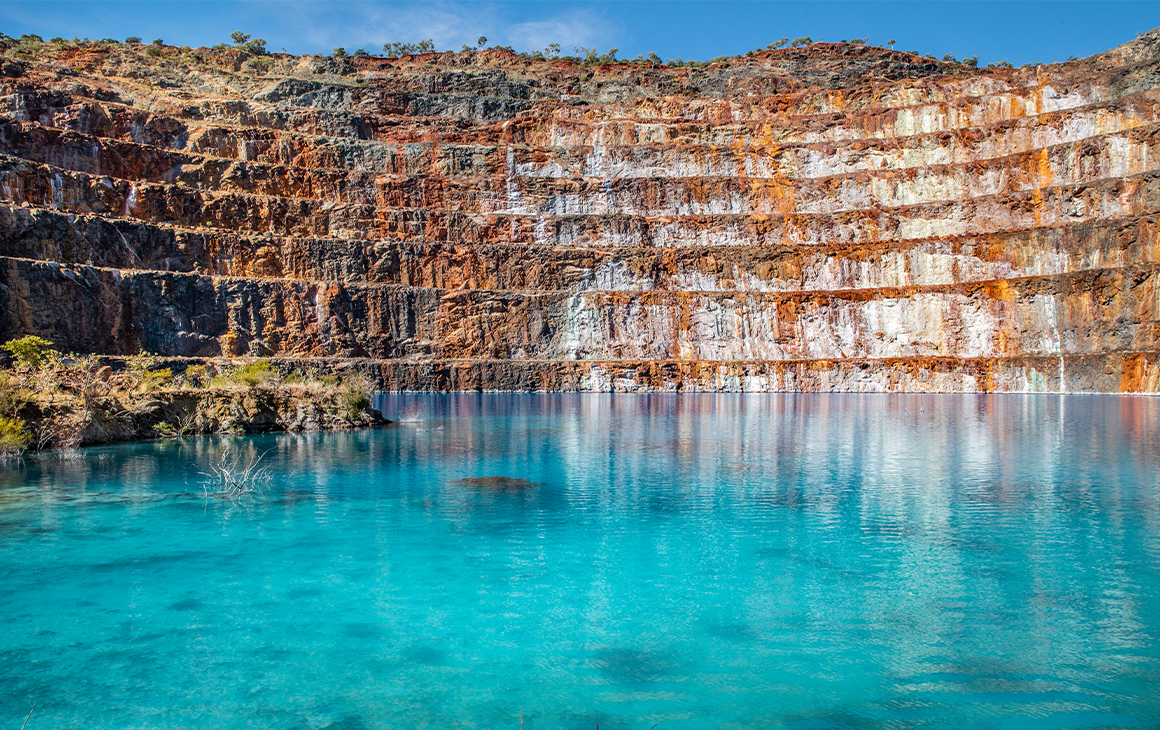 Things To Do
Old Mary Kathleen Uranium Mine Tour
One of the most impressive sights in the region, the Old Mary Kathleen Uranium Mine is an open pit mine that shut down decades ago, and has since filled with rain water to become a rather Instagrammable blue lake. We wouldn't advise swimming here of course (uranium IS radioactive, people) however it is worth a drive. Access is by 4WD only, so if you're in a two-wheeler, jump in a tour with North West Tours instead. This four-hour tour will also take in the Mary Kathleen ghost town, which was packed up and abandoned when the mine shut down—all that's left is some concrete slabs and the odd smashed ceramic toilet bowl. If you do have a 4WD, be sure to drive the Ballara Mining Heritage Trail just across the highway as well—you'll find the gorgeous, rock-lined Fountain Springs, old ghost towns and even an abandoned train tunnel along the route.
Outback at Isa
While you can't go down into the actual working mines of Mount Isa (would you even want to risk getting lost in 1600kms of tunnels?), you can get the full mining experience at Outback at Isa's Hard Times Mine. Though dug specifically for visitors, these tunnels will still have you feeling claustrophobic as you descend by lift in your hard hat and overalls. The tours are run by ex-miners and give you the chance to see (and try) how they did things before robotic machinery took over. Just don't wander off...
Feed The Camels
Right on the outskirts of Mount Isa, you'll find a herd of camels in an open paddock. They're not wild, they're actually the 'pets' of one Mr Paul Keegan, who rescues camels from being culled from local cattle stations—and they absolutely love carrots. Take a big bag along and walk up to the fence and you'll soon have a herd of camels running your way—just don't waste any time in feeding them or they'll get cranky. Can't find them? Just ask a local for directions.
Mount Isa Underground Hospital and Museum
Back in WWII, when air raid drills were the norm and the Darwin bombing had just shook the nation, there were concerns that Mount Isa would be next. In order to hopefully protect their patients, the Mount Isa Hospital dug themselves an underground tunnel, which was equipped with everything they'd need if the worst happened. These days, it's a fascinating museum and trip back in time, having been fully restored to how it was when first built after being caved in and lost for decades.
Lake Moondarah
In the summer months, Lake Moondarah is where you'll find Mount Isa residents spending their weekends, swimming, fishing, kayaking and picnicking. For visitors, it's a scenic spot to spend an afternoon, and there's a pretty spectacular lookout from where you can take a wander across the dam wall too.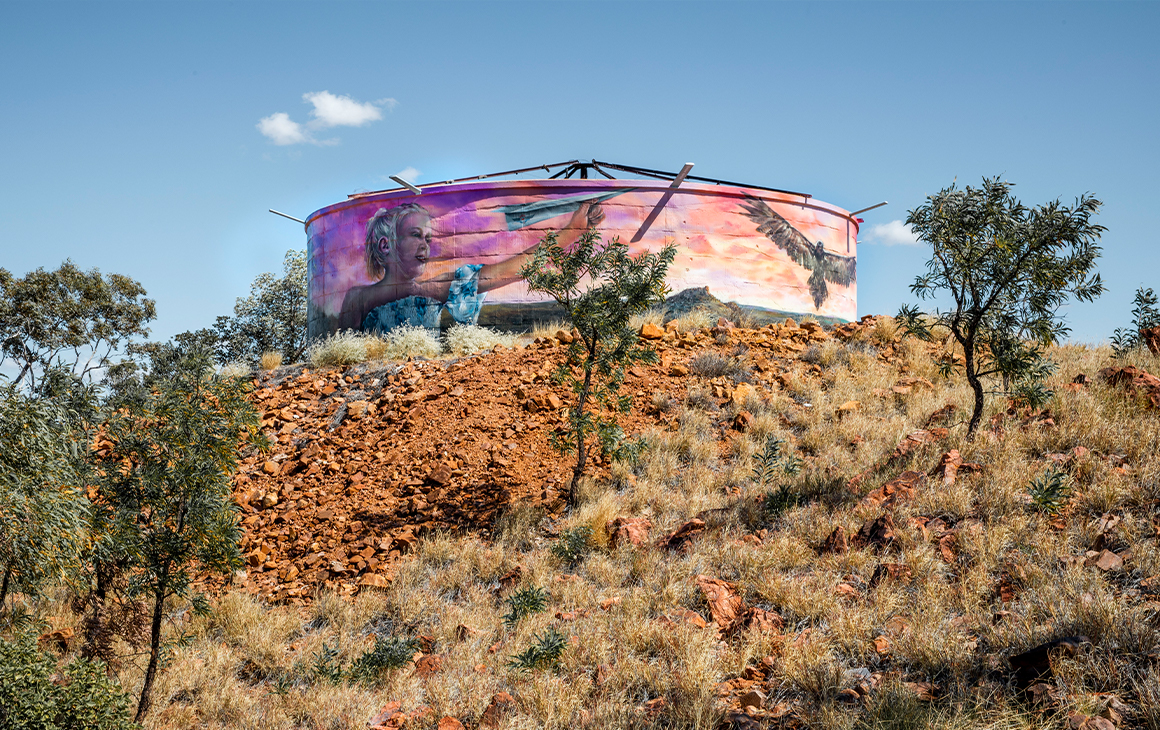 Cloncurry
Cloncurry is most definitely a country town—complete with an epic country bakery where you must stop for a cream and jam-filled doughnut. Affectionately known as 'The Curry,' it's the kind of place where everyone knows everyone—so don't be concerned if you get some stares when you hit the pub for lunch.
The Essentials: Cloncurry Hotels And Restaurants
Book yourself a room at the Gidgee Inn—this sprawling motel was built using rammed earth, keeping it warm in winter and cool in the summer, no air conditioning necessary. There's two good Cloncurry pubs to choose from for a restaurant feed—the Wagon Wheel Motel, which happens to be the longest serving licensed premises in North Western Queensland, and the Central Hotel Cloncurry, which has its own beer garden out the back. For breakfast, stop in at the Red Door Cafe and grab a brekky wrap to go—this community hub was created to train young people for a variety of careers.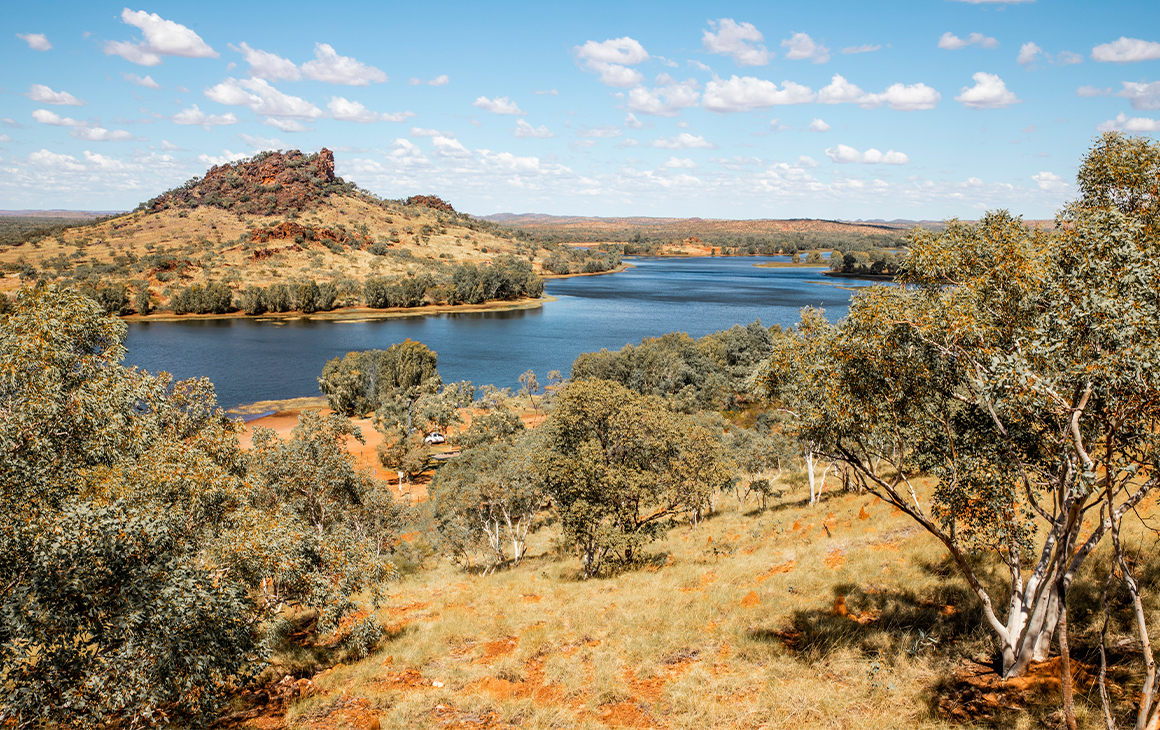 Things To Do
Chinaman Creek Dam
This stunning dam-made lake was a major filming site for the new season of Survivor—not that you'll see any sign of it now. Even if you won't catch the tribal council here, it's still a beautiful spot for pitstop, whether you want to picnic by the water's edge, do some fishing or just make your way up to the lookout.
Visit McKinlay
A tiny town about an hour south east of Cloncurry (and we mean tiny—about 12 people live in the township itself), McKinlay's claim to fame is the Walkabout Creek Hotel. Yep, the very one that was featured in the Crocodile Dundee movie. Out the back you'll even find the original bar set, along with plenty of paraphernalia inside. Make sure you grab a pint while you're there—the owners love any and all visitors. Oh and take a detour to see Queensland's smallest library just around the corner too.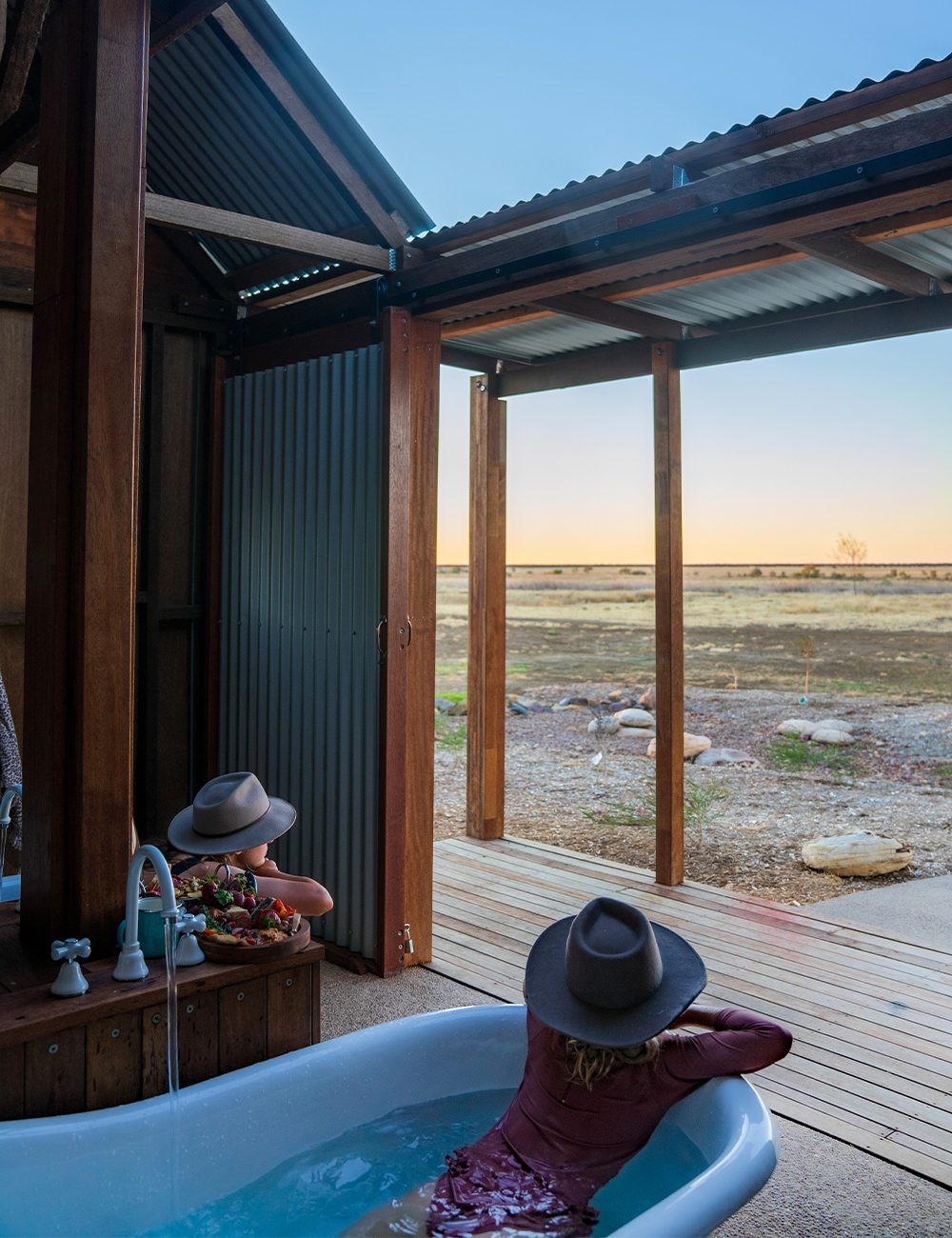 Julia Creek Caravan Park Artesian Baths
You might want to spend an entire night in Julia Creek for their famous artesian baths at the Julia Creek Caravan Park, but you can also just book in for the day—it's about an hour and a half drive from Cloncurry. It's worth the drive for a long soak in the warm waters of the Great Artesian Basin in the comfort of your own private bathhouse, with views of the plains from your tub. You can even order a cheese platter, and BYO drinks to sip while you bathe. Seriously, words cannot describe how incredible this experience is—put it on your bucket list. If you've got time, stay for lunch or dinner at the Julia Creek Top Pub—the food is exceptional.
John Flynn Place Museum
Can you imagine living and working on a cattle station, 10 days travel from the nearest doctor or hospital? Neither can we, but that was outback life before the Royal Flying Doctor Service was created. This Cloncurry museum takes you through the creation of the service, enabled by the invention of motorised flight and two-way radio, and is full of fascinating stories about life in the outback, far from medical help.
If you're planning on staying up that way, venture east to check out Cobbold Gorge.
Image credit: Tourism and Events Queensland