Her feathered avant-garde creations have walked the Melbourne and New Zealand runways, and now Cheremene Castle is just hours away from debuting her designs at Paris Indigenous Fashion Week.
Cheremene, a maori contemporary designer and artist based on the Gold Coast, is the perfect example of someone who made the leap and found global success—and she hasn't looked back since. Her extravagant 20-piece series titled Karetao will be the closing show in Paris, with a former Miss Universe, Ashley Callingbull wearing her designs down the runway.
We stole a few moments from her hectic schedule to talk all things Paris Fashion Week and how staying true to your design aesthetic can get you a priority boarding pass to success.
YOU WERE BORN IN NEW ZEALAND AND ARE A PROUD MAORI, HOW HAS YOUR CULTURE INSPIRED YOUR DESIGNS?
It's given me an identity and purpose for staying true to my roots as a designer, holding strong in my beliefs and letting my spirituality and intuition guide me. It's something that I think a lot of designers can resonate with no matter what their origins are.
Our Maori culture is also very visual and we connect a lot of what we do back to nature. The feathers are an example of this. Birds hold a lot of significance for sending messages and signs to those in need and a lot of my garments tell this story.
WHAT INSPIRED YOU TO TAKE THE LEAP AND START DESIGNING?
I've always been creative from a young age but while completing my Bachelor in Maori Arts with Toimairangi, School of Visual Arts, I really began to explore the use of mixed textiles and incorporating unconventional materials into my designs. It started as experimental, I used to fuel my creativity to go beyond the sewing machine and really draw inspiration from childhood fashion idols like Alexander McQueen and Balmain Pierre. They are designers who follow an avant-garde approach to their pieces and push the boundaries beyond the general runway.
One of the first series I started was The Golden Korowai; a feather series on canvas using individually sculpted feathers to give the illusion of real ones. One painting in particular had 1,200 embedded on the canvas. I'm carrying a bit of the korowai series through to my upcoming collection for Paris Fashion Week, but a reinvention using new materials.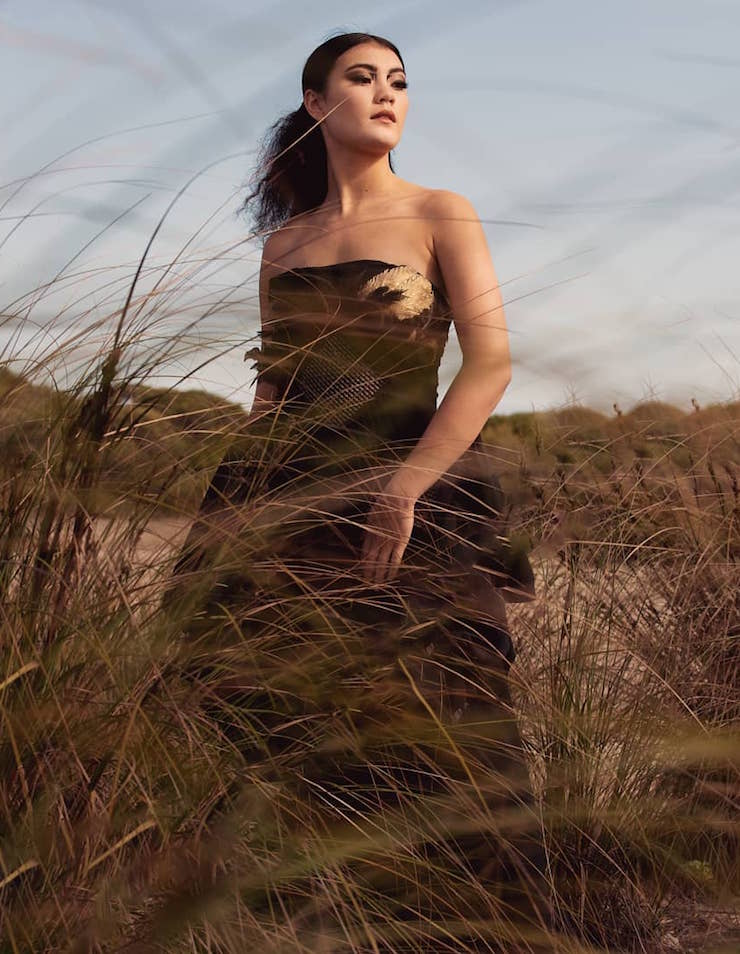 WHAT PROMPTED YOU TO USE KARETAO AS A COLLECTION NAME?
Karetao is a traditional puppet, carved from wood. It was an expression that really resonated with me personally that made me question: are we puppets in modern society or are we masters of our own journey? My journey has been a lot like the latter. Not following the norm and really creating my own path and identity as a fashion designer.
HOW DID YOU GET YOUR FOOT IN THE DOOR?
It wasn't easy. I've probably had the same amount of applications denied as I have accepted. The first being in 2017. I had tamed and softened my designs for an avant garde show, assuming that taking a mainstream approach was what they were looking for. It was a big lesson for me to just own my style. My intuition was telling me that I needed to be in this show, so I re-submitted my designs and encouraged the organisers to reconsider their decision. I've had a great working relationship with Global Indigenous Management since, appearing in two of their 2018 events.
TELL US ABOUT PARIS FASHION WEEK AND WHAT IT MEANS FOR YOUR CAREER
For me it's another stepping stone in my career, banking more experiences and refining my concept to runway process. I've dreamed of doing something like this from a young age and it's surreal that its finally happening. Just being included in an international designer pool and being able to showcase my Maori heritage abroad is a career highlight.
WHAT DOES YOUR FUTURE IN FASHION LOOK LIKE? WHAT COMES AFTER PARIS FASHION WEEK?
New York Fashion Week is definitely on the bucket list. I want to mentor and inspire up-and-coming designers, especially those who have a flair for incorporating indigenous elements. I'm surrounded by a collective of creatives who have believed in me since I relocated to the Gold Coast. My success is their success too and I want to be able to keep that momentum going with others who have a passion for fashion and art.
WHAT WOULD YOU TELL SOMEONE WHO WAS LOOKING TO ENTER THE FASHION INDUSTRY?
Firstly, collaborating with people and networking is vital. It's a big part of building your
profile which is key in our industry. Secondly, start local - there are plenty of events and shows who support up and coming talent. Lastly, there are Quitters, Campers and Climbers in the world. Be a climber but don't lose your identity or creative abilities along the way.
To keep on top of everything to do with side hustles, amazing jobs, and money, head to our Career & Money section.
Image Credit: Global Indigenous Management