Now that you've all recovered from the long weekend (ie. slept off a Queen-sized hangover), it's time to look forward to Melbourne's next dose of work-free fun. You only had a 4-day week, people, no excuses not to fire up again this weekend.
With everything from boozy dinners to cabaret festivals, cheese pop-ups to WHISKY PARTIES, there's no excuse not to get off the couch. Unless you want to binge the new season of Orange. That sh*t gets pretty intense.
All Weekend
'Threshold' Arts Exhibition by Stacey Korfiatis
Melbourne artist Stacey Korfiatis is known for painting outside the frame, and this weekend she's welcoming the public to view her collection of sculptural, oil-on-canvas female nudes. You'll need some serious deep thinking vibes for this one. It's literally images painted outside the frame. Now that's some creative pot of awesome.
Where: Gallerysmith Project Space, 170 Abbotsford St, North Melbourne
When: 1am – 5pm, Tue – Sat, 15 June – 1 July
For more information, click here.
Feel Good Cheese Pop-Up
This cheesy pop-up is for all the ladies out there (don't worry, lads, you can still eat the cheese). The Pop Up was constructed in response to a survey that suggested one in ten Aussie women feel guilt when eating cheese. Cut that nonsense, girls, you are beautiful and so is cheese. So go and feel gouda. Take a bite into a fab array of local Australian cheeses, courtesy of Dairy Australia. Limited tix, so get in while they're available.
Where: 350 Bay St, Port Melbourne
When: Varying times, Friday 16 June – Sunday 18 June
For more information, click here.
Open Cellars Winter Weekend
The Artisan Hills region is doing a shout out to all wine-lovers this weekend. Escape the city hustle and go explore 10 award-winning, family-owned boutique vineyards. This wintery weekend away is the perfect combo of warm wood fires, fine wine samples and live music. The wineries will be open over the weekend for you to leisurely plan your countryside wine field trek (yes, the country, don't be scared you city slickers). Bring a DD or get good at spitting wine into those gross silver bucket things. Stay safe guys.
Where: Artisan Hills Wine Region (several locations)
When: 11am – 5pm, Saturday 17 and Sunday 18 June
For more information, click here.
William Eggleston at NGV
This weekend is your last chance to see one of the most important photographic artists of the twentieth century. William Eggleston's pics have travelled all the way from London to be shown at this Australian-exclusive exhibition. We're trying to tell you this is a BIG DEAL. Eggleston is famous for his use of colours and images of the suburban life in the Southern Unite States. Go and get some culture up ya while you still can.
Where: NGV, 180 St Kilda Road
When: 10am – 5pm Friday 16, Saturday 17, Sunday 18 June
For more information, click here.
Truffle Melbourne Festival
Truffle season has arrived in Aus, and we're getting a super fungus-y festival to celebrate. The Truffle Melbourne Festival is taking over Queen Vic Market for two days of truffly goodness. Expect to see live cooking demonstrations, celeb chef appearances, food stalls, live entertainment and FREE admission. You'll also be happy to know this selection of truffle products and produce won't cost your two month's rent #realtalk. Go learn about the delicacy of truffles and flirt with celeb chefs, because you know you want too.
Where: Queen Victoria Market
When: 10am-4pm, Saturday 17 and Sunday 18 June
For more information, click here.
Friday 16th June
STARWARD Whiskey Party
World Gin Day is sooo last weekend. Turn your attention to this insane Whiskey Party that's happening at STARWARD distillery. The guys will be celebrating ten years in the whiskey world, and it's going to be a big one. Expect live music, curated cocktails and the opportunity to taste a rare expression whiskey. There will be limited bottles going, so you might have to battle it out for a taste. Weekend whiskey fix sorted.
Where: STARWARD Whiskey Distillery, 50 Bertie St Port Melbourne
When: 1pm – 9pm Friday 16 June
For more information, click here.
Rippon Lea 1930's Soiree
Rippon Lea is taking you back to 1930's this weekend. For those of you who were born when an iPhone in your hand, this is your chance to get a glimpse into a simpler time. The Georgia Brooks Swingtet (dope jazz vocals) will be transforming the Rippon Lea Ballroom for a night of tunes, cocktails, performances and even a vintage photo booth (none of these mainstream insta stories). You can also tour the Night Life Fashion exhibition, which will feature over 50 gowns and accessories from the 1930's.
Where: Rippon Lea House and Gardens, Elsternwick
When: 7pm – 9.30pm, Friday 16 June
For more information, click here.
Passion For Caramel Pop-Up At Fed Square
Australia's most ridiculous tart is coming to the CBD this Friday. You might have seen it on Masterchef (in fact, if you avoided all those ads, please tell us your secret). It's the Passion For Caramel tart from master chocolatier Deniz Karaca, Australia's #1 chocolate type person. He's teaming up with Popstic in Fed Square to sell slices of his 51-step epic Masterchef slice (or you can go all out and buy the whole thing for $60—no judgment).
Where: Popstic, Fed Square
When: 11am – 6pm, Friday 16 June & Saturday 17 June
If you want to take a crack at the recipe, click here.
Apparition Street Art Exhibition
Say what you like about graffiti, Melbourne's street art scene has never been better. Apparition Media are showcasing a collection of the city's best urban artists this Friday night in the CBD, turning Rose Ln into one big, outdoor gallery. It's 100% FREE, open for one night only, and feature pieces from prominent local artists like Sam Yong, Jason Parker and Nicole Evans. You'll even be able to pick up prints of the exhibition artworks on the night. Nice one.
Where: Rose Ln (corner of Lonsdale St) in the CBD
When: 6pm –9pm, Friday 16 June
For more info, click here.
REMI & Sampa The Great
Here's a gig tip for your Friday night. Local sensations REMI & Sampa The Great will be playing their hometown this week. It's all part of their Fire & Sign tour. There'll be a handpicked mix of supporting acts (think Thando and MZ RIZK). If you heard the collab REMI and Sampa did on Divas and Demons last year, you'll know you're in for one hell of a set (if you haven't heard, Youtube immediately).
Where: 170 Russell, Melbourne CBD
When: 8pm, Friday 16 June
For more info, click here.
Damselfly Pop Up Sale
Want to get your hands on some sweet Damselfly goods for a sweet price? Well, this Friday and Saturday you'll get your chance. Head to Damselfly HQ to grab discounted candles, jewellery, body products and much more. Oh! And everyone gets a free gift with any purchase.
Where: Damselfly HQ, 1/458 Bridge Road, Richmond
When: Friday 16 June, 11am - 5pm, and Saturday 17 June, 10am - 1pm
For more info, click here.
Saturday 17th June
Winter Solstice Festival
Gather the fam and your Kathmandu puffa, because this winter festival is bringing the goods. The Winter Solstice Festival is celebrating its sixth year, and they've got this event down to a fine art. There'll be live tunes to keep your body temp up, delish food, mulled wine, fire entertainers and (of course) the star of the show: an enormous sculptural bonfire. Escape the CBD and head out to the burbs for a little bit of winter magic this weekend.
Where: Edendale Community Environment Farm, Eltham
When: 3pm – 9pm Saturday 17 June
For more information, click here.
AFL Women's Under 18s
Attention, footy lovers! You're in for some killer entertainment this Saturday for absolutely zero, nada, zilch dollars. This Saturday at Simonds Stadium, you can watch the brightest rising stars in the AFL Women's under-18s league battle it out in Round 1. Come along to see Vic Country face the 2016 Premiers Vic Metro for FREE. Food and Drink will be available at the venue kiosk, because if you get through a full game without a lukewarm pie, have you even BEEN to the footy? If you'd rather be spending your Saturday afternoon in bed (no judgment from us), you can stream the game live on the AFL Women's official YouTube channel.
Where: Simonds Stadium, 370 Moorabool St Geelong
When: 2.30pm Saturday 17 June AEDT
For more information, click here or check out the live game on Saturday here.
Basement Comedy Club
There's nothing better than a laugh and a pint on a Saturday night (hey, it rhymes). And you can get both of life's great pleasures all in the one place this weekend. The Basement Comedy Club is Melbourne's newest weekly comedy night, and they're pulling out the big guns to impress. Big names like Stephen K Amos (UK), Tony Martin and Tom Ballard have all tested the basement stage. This is the real deal peeps. Go check it out.
Where: European Bier Café (downstairs)
When: 8pm – 9.30pm, Saturday 17 June
For more information, click here.
Sunday 18th June
Stadium Stomp at MCG
Are you so over your typical fun run? Then this little gem is sure to get you movin'. The Stadium Stomp (No this is not Step Up 5) is being held at the MCG, and it's gonna test your stair running skills to the max. You can take on a run between Levels 1 and 4—over 7,300 stairs in total. A bit of a change from our traditional Sunday morning sleep-in, but hey, the rewards (and bragging rights) when you finish more than make up for any sleep loss. There's also a junior stomp, so take the lil ones along for a runaround.
Where: MCG
When: 7am Sunday 18 June
For more information, click here.
For The Diary
Melbourne Cabaret Festival
Queen of Cabaret, Dolly Diamond, is bringing you 10 nights of Australia's premiere shows. There'll be plenty of homegrown talent to admire, and you can expect to see a program filled with impressive feather-boa'd acts. Think Australia's Boys of Motown, Queen of Broadway - The Ethel Merman Story, Ginger and Tonic: For Love or Money, Doll by Babushka Cabaret and heaps more. Be sure to check out the program for your personally selected cabaret night.
Where: Varying Venues (Chapel Off Chapel Loft or Chapel Theatre)
When: Tuesday 20 June – Sunday 2 July
For more information, click here.
Young Gun of Wine People's Choice Dinner
Australia's Young Gun's of Wine are coming to Melbourne. The Top 12 young winemakers in the country will be making an appearance for one night only, and you're invited to taste. This is a chance to meet the best and the brightest in viticulture and chat all things wine (If you're a bit of a wine novice, just let them do most of the talking and jump in with 'terroir' whenever there's a lull). Each young winemaker will showcase two wines, so you can help decide their fate. Belotta Kitchen will be serving up some insane canapés to go with the plonk, so it'll be good times all round.
Where: Bellota Wine Bar & Prince Wine Store
When: 6pm – 9pm, Monday 19 June
For more information, click here.

Don't Miss
Jungle Vibes At Campari House
Live entertainment, delicious rum cocktails and a paired food menu are in full swing at Campari House this month—there's a pop-up tiki bar and you should be damn excited about it. Order the Appleton Estate dark and stormy at the bar, then order the Jamaican-themed jerk chicken, and settle down to enjoy all of the goodness. That should keep you pretty entertained, but in case you need even more, then head down on Friday 16 June for live entertainment, which will take those jungle vibes up another notch.
When: Monday 5 June – Monday 3 July
Where: Campari House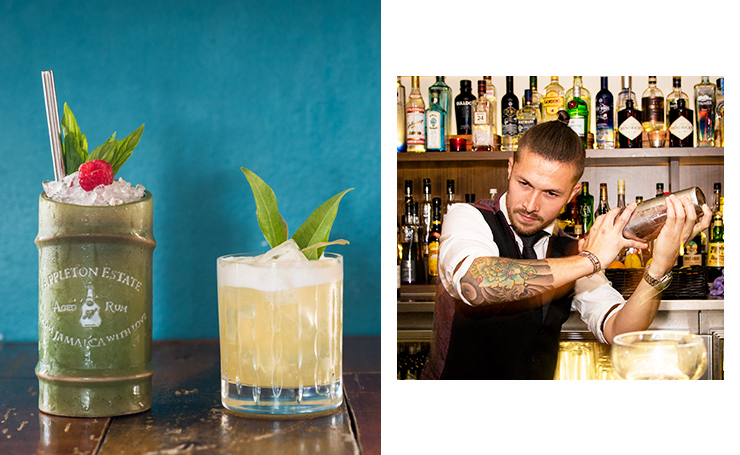 Want more info on that ridiculous caramel tart situation? We got you covered.
Editor's Note: Appleton Estate's event is proudly sponsored by Campari and endorsed by The Urban List. Thank you for supporting the sponsors who make The Urban List possible. Click here for more information on our editorial policy.
Image credit: Dairy Australia