In a perfect world, camping is all about breathing in fresh air, drinking hot chocolate and wearing nothing but flannel shirts. In reality, it's all of the above, but with a whole lot of swearing as you try to put your tent up and trying not to die on your way to the 'toilet' in the middle of the night.
Thank god glamping is taking the world by storm so we can have the best of both worlds. It's nature with a little electricity and zero fights about who didn't pack the tent pegs. Win!

So if you fancy yourself the glamping sort, we've got your ultimate bucket list. Here are 28 of the most amazing glamping spots around the world.
Moab Under Canvas
Utah, USA
Moab Under Canvas looks like it could be straight out of any wild-west movie. It's a bit country western, a bit native American and very, very cool. With views of the Corral Canyon for days, you'll never want to leave.
Aman-I-Khas
Ranthambore, India
This is pretty much a five-star hotel that just so happens to be located in the Ranthambore National Park. You thought glamping was posh but you ain't see nothin' yet. Aman-I-Khas is the epitome of dreamy!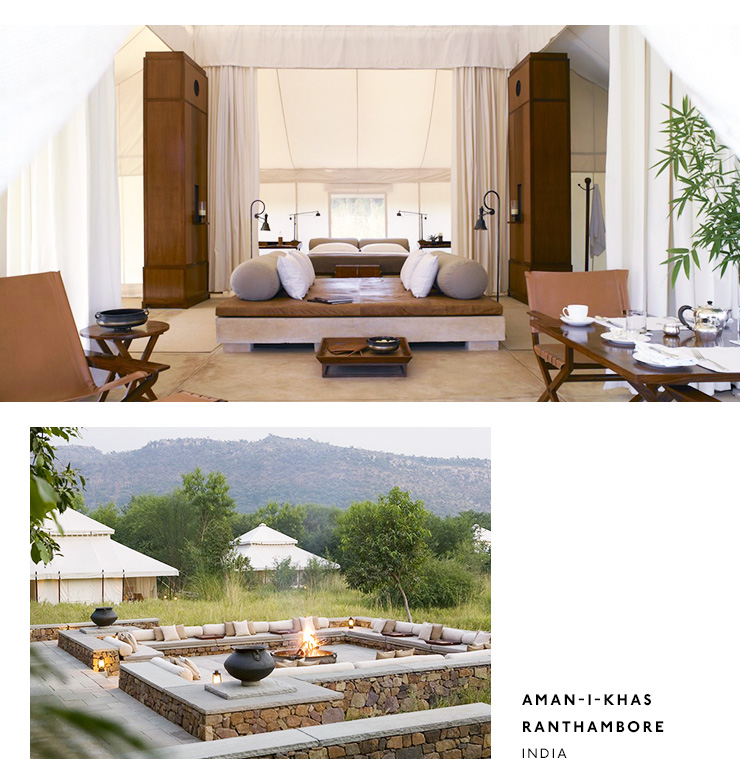 The Vail Collective Retreat
Colorado, USA
Your day will begin with horse-riding along the mountains and finish with ho-cho by the campfire. The Vail Collective Retreat is the all-American ranch and no matter what you're into, you will not be disappointed!
Flash Camp
Oceans Shores, NSW
A little different to the others on the list but glamping never-the-less—Flash Camp is the pop-up bar version of a camp site. Festivals, weddings or just a weekend away, you choose the site, Flash Camp sets you up and leaves you to your serenity. Done deal.
Atlantic Surf Pods
Cornwall, UK
Located on the British coast line, the Atlantic Surf Pods are Grand Designs meet Hobbit Town and cute doesn't even begin to explain. Loaded with things to do, this is outdoor activity glamping. Now all you need to do is manage the weather!
The Resort At Paws Up
Montana, USA
We feel like this is where Nicholas Sparks must have gone to write The Notebook. That or he's just really good at imagining the perfect setting for Ryan Gosling in singlets and campfires. We hope you've got your riding boots because between the Rocky Mountains and glaciers, The Resort at Paws Up is cowboy territory.
Longitude 131
Uluru, Northern Territory
It doesn't get more Australian then waking up to the sun rising against Ayres Rock. Boasting stunning designs, the 'tents' at Longitude 131 are prettier than our entire houses. This really is the spirit of Australia.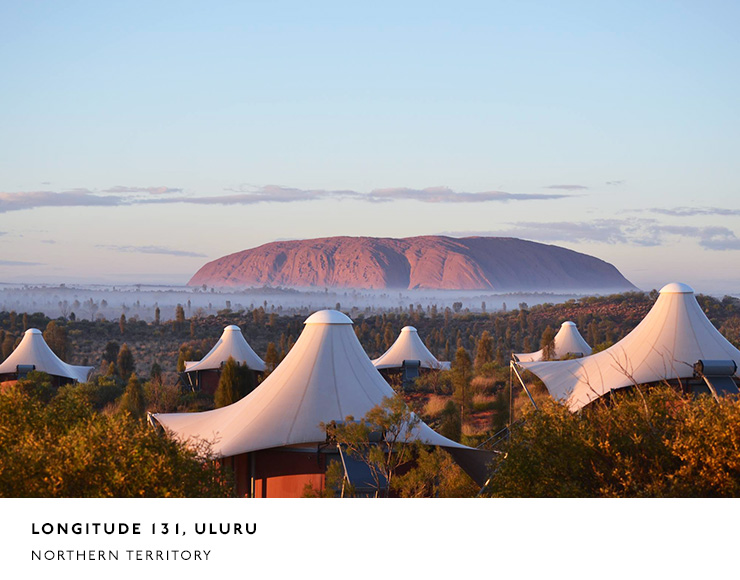 Mad Dogs And Vintage Vans
Herefordshire, UK
We're not sure if the campervan thing equates to glamping, but anywhere that gives us toasted marshmallows wins a special place in our hearts. The Mad Dogs and Vintage Vans glampsite is tucked away in the Wye Valley—so with your pot of tea and a floral bed spread, you'll feel like Elizabeth Bennet in no time.
Sandat Glamping Tents
Ubud, Indonesia
Probably the nicect place you'll ever stay, the only thing camp like about Sandat is the lack of walls. But tie it up with a bow, bring us breakfast in bed and we'll take it!
Pampered Wilderness
Washington, USA
You know you're glamping when your tent comes with floor boards, a chimney and a leather rocking chair. But don't get too comfortable, while it's only an hour South of Seattle, Pampered Wilderness is in the wilderness indeed!
Spicers Canopy Ecosite
Queensland
Entirely run on solar, Queensland's 'Nature by day, luxury by night' ecosite will have you dreaming of moving to the country. Spicers is our home among the gumtrees at its absolute finest.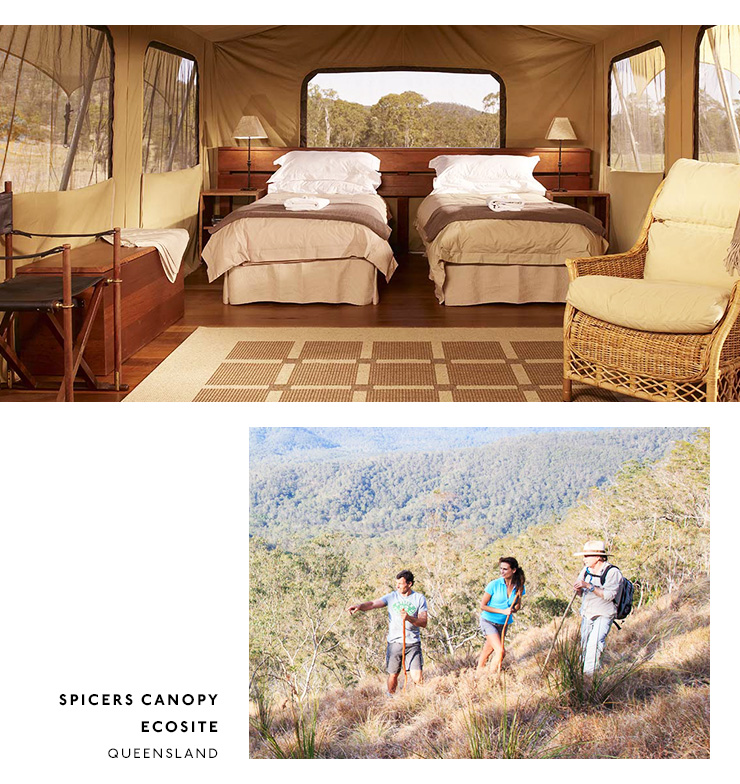 EcoCamp
Patagonia, Chile
Strap on your boots team, we're going trekking! Wake up to the white peaks of Torres del Paine National Park and find your tour guides who will show you the surrounding beauty on horseback. If one thing's for sure, it's that it's definitely not hard to fall in love with Patagonia when you're staying at EcoCamp.
The Holidays
California, USA
The Holidays will provide you with enough Instagram pics to make everyone jealous for years. Grow your hair, buy some bracelets and practice your yoga moves as the sun rises. This spot is straight out of the 60's and is a hippy's dream.
Clayoquot Wilderness Resort
Vancouver, Canada
With all that poutine and Lululemon, like we couldn't love Canada enough. And then we discovered Clayoquot. All we're wondering is whether they offer time share for obsessive regulars.
St Jerome's The Hotel
Melbourne
This is something we like to call 'pretend glamping for city folk' and we're really really into it. Rooftop bars: check. Rooftop movies: check. Rooftop camping over the Melbourne skyline: ah…check! St Jerome's we love you.
Glamping Canonici di San Marco
Mirano, Italy
Chandeliers, exposed brick, Italian food and wine, chocolate and close proximity to Venice…need we say more? All those things are lovingly combined at Glamping Canonici to create heaven, or close enough to it anyway. Did we mention the food?
Green Acres Glamping Retreat
Texas, USA
In case our love affair with Texas isn't obvious, we'll just say this: can someone please get engaged, book Green Acres for your wedding and invite all of us? Great, thanks!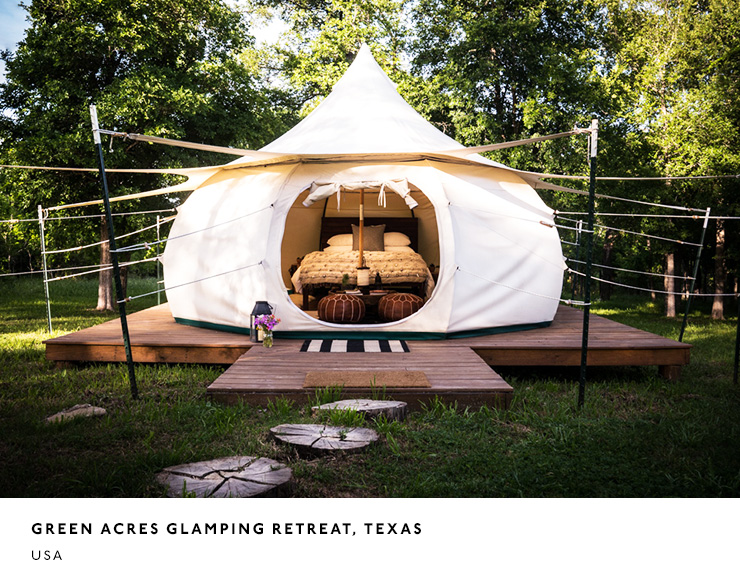 Kakslautten Arctic Resort
Finland
We've blurred the lines between glamp site and igloo, but no one likes the camping police (also saying igloo is pretty fun). In addition to seeing the Northern lights from your li'l hut, you can also go on a reindeer safari when you stay at Kakslautten Arctic Resort. We'll just repeat that: a reindeer safari. So um, where do we sign?
Piney River Ranch
Colorado, USA
It's decided. If we had someone to propose to, this is where we'd do it. Under the stars, on Piney Lake, rugged up, singing James Taylor and discussing Green Cards so we never have to leave.
De Etchyngham At Glottenham Castle
Sussex, UK
In the fields of a medieval castle nests De Etchyngham. Self-sustainable, retro eco-domes in the British countryside. While you sip on the home-brewed cider and freshly baked bread, we'll be catching up on some Jane Austin.
Damodra Desert Camp
Rajasthan, India
Once you've booked your glamp site, the only thing you'll have trouble deciding on is whether to choose the camel trek, Jeep safari, sand-boarding or wildlife walk. So screw it, just call in sick, change your flight and book an extra night or two at Damodra.
Outpost Co
Toronto, Canada
It's a toss-up as to what's better at Outpost Co: the private chef or the handmade wooden canoes at your doorstep? Of course Canada—a country of doers—has managed to create an isolated glampsite that's only available via a float plane. Oh Canadaaaa.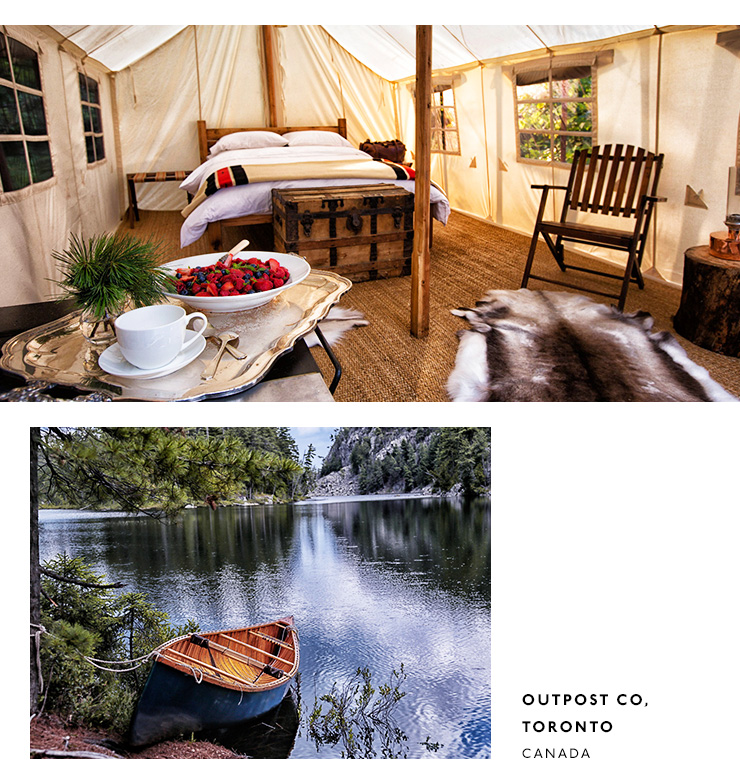 Cabanas Cuatro Cuatros
Baja California, Mexico
If you're anything like us, there are three things in life that make you the happiest little Vegemite. One: tacos. Two: wine. Three: tacos. The solution then? Cabanas Cuatro Cuatros. Nestled in among the vineyards and overlooking the ocean, things don't get much better than this.
Grand Canyon Under Canvas
Arizona, USA
Glamping under the Grand Canyon sound like your idea of paradise? Us too. We say glamping for a reason. This is a bedroom straight out of an interior designer's home so you can explore one of the seven wonders in pure 3,000 thread count deliciousness at Grand Canyon Under Canvas.
Nightfall
Lamington National Park, Queensland
Nestled among the Lamington National Park, Nightfall is a hand built, secluded glamp site under the stars. Just take our credit card now and call it a day.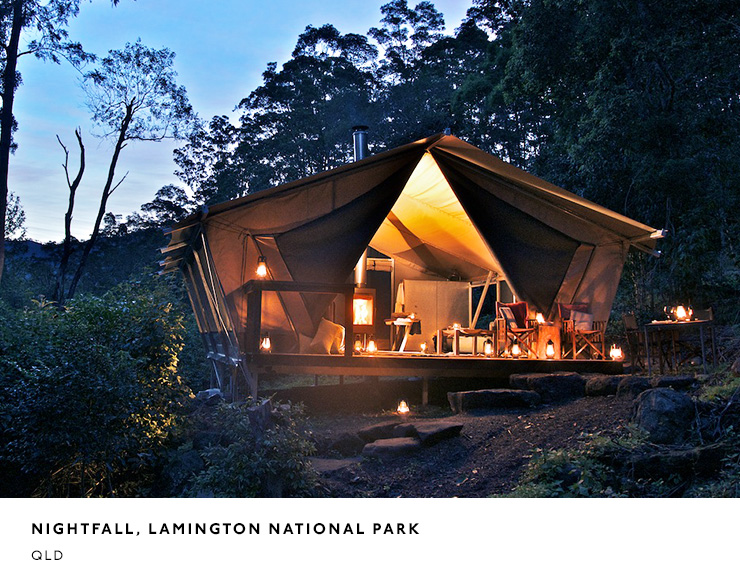 Sal Salis
Ningaloo Reef, Western Australia
Like this list wouldn't include Sal Salis in WA! managed they've manged to make even the corrugated iron look fancy. This is coastal Australia at its best, so snorkel your way through Ningaloo Reef, wake up to the ocean breeze and soak in all that the West has to offer.
Ithaca By Firelight Camps
New York, USA
After all the time you'll spend in the concrete jungle that is New York City, who wouldn't love a little nature? And when your accommodation is held together by logs of wood and comes with smores, you know you're making really good life decisions. Ithaca we're coming for you.
Crafty Camping
Dorset, UK
Bringing to life our childhood dream to live in a tree house, Crafty Camping has entered a whole new realm of glamping. If you're not into the whole tree thing, they also have lil bungalows on the ground. Everything here has been built by hand by the guys taking the woodwork classes during the day. Go on holiday, come back with a hobby? Win.
Want to stay closer to home? Check out our favourite beaches in Australia.
Image credit: Longitude 131 | Design credit: Gabby Stjernqvist