You can do winter in one of two ways: in all black, looking like the star of a moody film noir, or as a joyful, bright firecracker, wrapping yourself snuggly in the colourful summer spirit all winter long.
We know which sounds more fun.
To help you on your journey to bringing colour to the dark months of the year, we've found the brightest pieces to spruce up an outfit of neutrals or, if you're really courageous, to be worn all at once.
#1 Giambattista Valli Cotton-Jacquard Coat
Black wool coats can be so same-same, which is why we adore this painterly departure from the expected by Giambattista Valli. Boxy with cropped sleeves, and a pattern of yellow flowers with creeping, inky stalks, this coat would be super elegant over a black merino turtleneck, skinny blue jeans and a pair of pointy suede loafers in plum.
#2 Reformation Marsanne Maxi Dress
The key to wearing a floating maxi dress in the bracing chill of winter is layers. Wearing a pair of lace-up Doc Martens, a worn out chambray shirt and leather jacket over the Marsanne Dress by Reformation makes this summer dress warm for winter, not to mention a little weird, and a lot cool.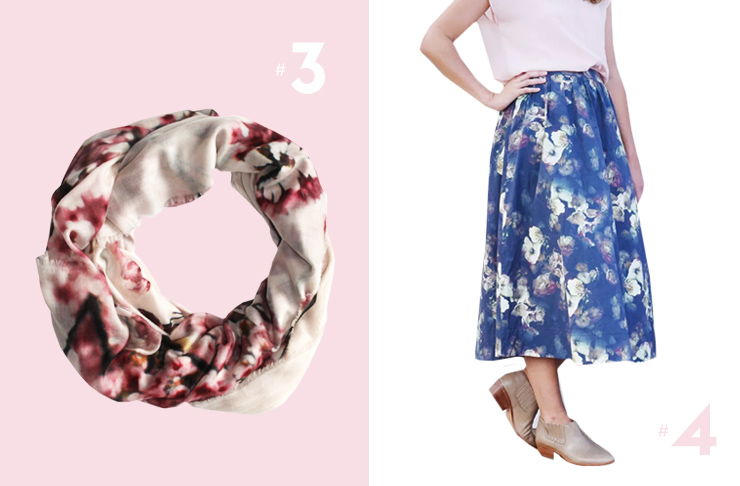 #3 Get Me To New York Sakura Scarf
Sometimes all a winter outfit needs is a reminder of spring, like the Sakura cashmere scarf by Get Me to New York. Fairy floss pink on bone white, this cherry blossom printed scarf is taller than the average woman, so you can wrap your neck in swathes of lovely cashmere, protecting against the biting wind while you look forward to spring.
#4 Hubble And Duke Floral Midi Skirt
The folks at WA's Hubble and Duke have collaborated with floreographer Ashley Woodson Bailey on this gorgeous floral midi skirt. We love the eerie effect of the cream flowers peeking through a haze of navy. While floral skirts can err on the side of too ladylike, this skirt can look more off-duty-model worn with a pair of ankle boots and a crop top. Bonus for Mums and bubs: there are matching pinafores, rompers and vests for little girls. Twinsies!
#5 Linjer Cross-Body Bag
Oslo's Linjer is a Kickstarter darling, with its minimalist high end leather bags at honest prices. The bags are made in the same factories as luxury brands and use the supplest leathers, but because they don't have bricks and mortar stores, Linje sells its bags for a quarter of the price. The cross-body bag, dyed in the colour of spilled wine is the perfect little day bag, and the colour will pop against your black jacket, if you still insist on wearing one.
#6 Wool And The Gang X Aurelie Bidermann Chunky Embellished Jumper
While many Wool and the Gang jumpers have a DIY and ready-made option, the collaboration with Parisian jewellery designer Aurélie Bidermann is strictly ready-made. It's crafted ethically by hand from soft, "Crazy Sexy Wool" and embellished with a necklace of brass chain and braided cotton. Waiting to finish knitting this divinely soft, lipstick red piece yourself would be unbearable, so we're grateful it's ready-made.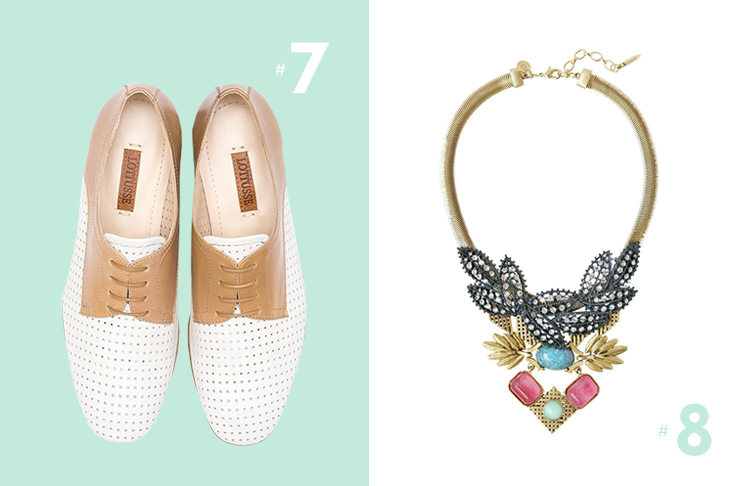 #7 Lottusse White And Tan Brogues
Lottusse made-to-order brogues are shoe perfection. Handcrafted from vegetable dyed, super soft leather, I can personally attest to the tenderness with which these shoes caress your feet. The perforated white and tan leather give a winter outfit an unexpected lift, and when summer comes around again, they'll go nicely with a drop-waist sundress for days spent drinking craft cider at the lawn bowls.
#8 Calista Statement Necklace
Winter ensembles, with all their layers and heavy fabrics cry out for a chunky necklace like the Calista Statement Necklace by Loren Hope. The components are a vintage mash-up of gunmetal and Swarovski crystal leaves, gold lattice and vintage glass shapes from Japan and Germany.
Now go forth little firecrackers. Light up the dark.
---
Image credit: Jessie Obialor