You open a door. There's three doors ahead. Behind each of those doors is another door, which creeks open to reveal an abundance of doors.
In your rational (slightly panicked) heart, you know that doors are a finite concept, that they can't last forever. If only you could find the right one...
Closing a door here doesn't open a window, it just leads you further into the twisted mind-labyrinth of installation experts Christian Wagstaff and Keith Courtney.
If the names ring a bell, it's because Christian and Keith were the guys behind the upside-down crosses at Dark Mofo, as well as last year's House Of Mirrors (an installation so trippy and terrifying some people actually broke down inside).
This year they're back with a new concept: 1000 Doors. And it's open in the Arts Centre Forecourt from today.
1000 Doors is part of the Melbourne International Arts Festival (you may have seen something about The Botanic Gardens being set on fire. That's the same deal). If you hadn't guessed, it's an endless labyrinth of doors, screens, portraits and gateways. Anyone with a phobia of doorknobs, do not apply.
We sat down with Christian Wagstaff and asked him why he wants to trap people in a world of nightmarish doors.
How'd you get the idea?
"That's a hard question to answer. Ideas come together over many years. There are things that impact your life, things you see when you're a kid that inform ideas in your adulthood. The doors idea really came from House Of Mirrors—we wanted that project to be non-digital, we didn't want to do projections on buildings or AI or virtual reality or anything. We wanted to do something optical. And this one's a step further. Something optical with no illusions."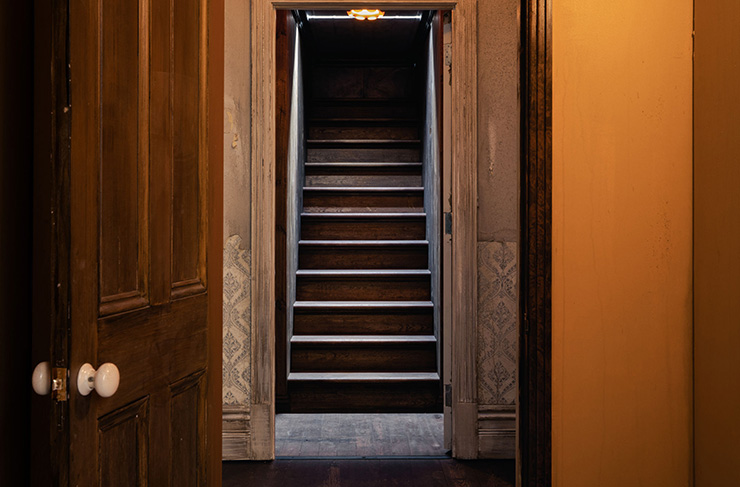 Are there actually a thousand doors in there?
"Do you know what? We don't actually know how many doors are in there. We may hang more or less. Every door leads somewhere...or nowhere. There'll be spaces that people walk through that mean nothing to them, and then a space that subtly blows them away."
Where'd you get all the doors from?
"We sourced the doors from all over Victoria. Over the last 18-months, we've dropped into different yards. Some were given to us, some were randomly found and some we pulled off hinges. It had to be done over time—each door had to trigger a memory in our mind. There's a randomness to it too. We're letting it fall together over time, which is how real spaces occur. It's not a theatre piece."
Do you think people will get trapped?
"You can definitely get trapped. People were stuck in House Of Mirrors for two hours. We were closing in Adelaide one night, and this guy popped out and was like "I've been stuck in here for ages". There's plenty of dead ends in 1000 Doors. You'll go through and experience different things than someone else. But there's always help if needed."
If the idea of being lost in somebody's mind palace appeals to you, 1000 Doors will be popping up at The Arts Centre forecourt from Tuesday 2 October to Sunday 21 October. Tickets are $10 a pop.
We scare, because we care.
The Details
Where: Arts Centre Melbourne, Forecourt
When: Friday 28 September to Sunday 21 October
For more info, click here.
Feel like a road-trip this month? Here's everything going on in regional VIC during October.
Image credit: James Morgan