The guys from Arbory don't much around. As soon as the mercury tops 20 degrees—BAM—out come the pontoons and the gin cocktails. It's Arbory Afloat time.
Following from its massive 2017/18 summer success, Arbory Afloat is back for another al fresco run, and the doors officially opened today. The team are calling it their "re-berthing" (badum-cshh).
So what can we expect this year? Well the Mediterranean beach club theme is back, which means lots of Amalfi umbrellas and the off wink to nautical kitsch. This year the floating deck space will be even bigger—a whopping 69 metres long. There's going to be multiple areas to kick back and relax, daybeds to get your tan on, DJ booths and even a fully grown orange tree.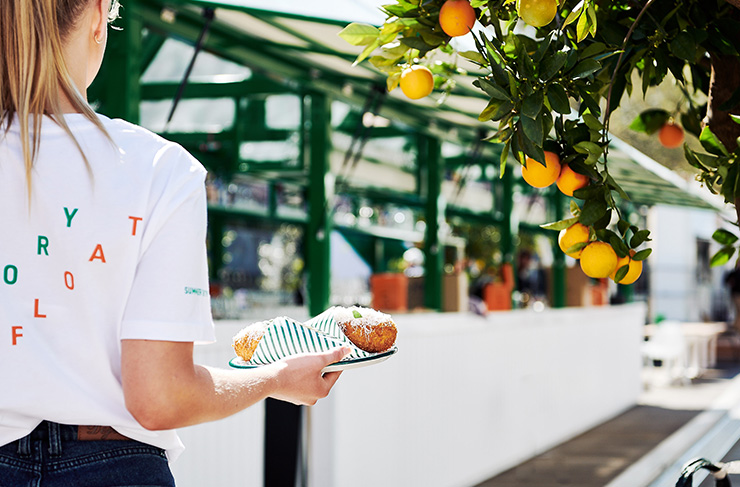 The plan is to run this thing seven days a week (including Christmas Day and NYD) from 11am to 1am. It's all part of Park Vic's grand plan to use The Yarra to its full potential, as opposed to, you know, a storm water drain and occasional tip.
This year Arbory Afloat has been designed by Lucienne Hemmingway from Curious By Design. Last year's theme was all about the blues, but it looks like Lucienne's going for a greener feel this year, inspired Cinque Terra citrus trees.
You'll also be happy to know that Executive Chef Nick Bennett has tailored a seafood-y menu, with "special attention given to oyster saucing". That's easily one of our Top 5 favourite kinds of saucing.
You'll be able to get Neopolitan pizzas and Italian-style mains, cooked on-board in the open kitchen (there's even a proper wood-fired pizza oven on there). Eventually Arbory won't need its land-based restaurant, they can just build a bigger and bigger float, until you can graze your way from Southbank to South Yarra without getting your feet wet.
The Details
Where: 1 Flinder Walk, Melbourne
When: 27 September – April 2019
For more info, click here.
Arbory Afloat isn't the only thing coming this summer—Melbourne's getting a giant floating moon sculpture.
Image credit: Simon Shiff