Boasting some of the best beaches and waves in the world, it's no wonder that surfing is heavily ingrained into Australian culture. So whether you're an experienced surfer, you're just starting out or you're simply after some picturesque locations to work on your base tan, here are Australia's best surf beaches.
Queensland
Noosa Heads, Sunshine Coast
Both a holiday hotspot and surfer's dream, Noosa Heads is home to some great surf beaches. Its National park status means the headland is largely unchanged, making the trek through to some of its hidden beaches, one to remember. This place is a beginner's paradise and longboard heaven, with some steeper, hollower surf found at Tea Tree about 15 minutes walk through the national park. Make sure to venture over in low tide to luck into a barrel.

Noosa Heads (image credit: Luisa Denu)
Kirra, Gold Coast
Those in search of hugely powerful tubes and lengthy ride lengths, look no further than Kirra on the Gold Coast. Perfect for the advanced surfer, Kirra is home to some of Australia's biggest and most consistent swells from February to July and peaking from March to June. For something packing a little less intensity, head to Snapper Rocks a little over one kilometre away.
Burleigh Heads, Gold Coast
Taking a place on every surfer's bucket list is Burleigh Heads. Point breaks here are a barrel rider's heaven with waves suited to advanced and beginner surfers depending on the conditions. Burleigh Heads is the perfect getaway for when Kirra and Snapper Rocks are too packed and there's plenty of cafe's to pop in at after your surf.
New South Wales
Black Rock, Jervis Bay
Otherwise known as Aussie Pipe, Wreck Bay or Summercloud Bay, Black Rock in Jervis Bay is a favourite amongst advanced surfers, sporting some of Australia's most hollow and photogenic waves. Located in the Aboriginal community of Wreck Bay, this spot is about to become the first Aboriginal surfing reserve in the world, so there's no denying it holds a very special place among locals and visitors alike.
Narrabeen, Northern Sydney
Located in Sydney's Northern Beaches Narrabeen is known for being the most consistent waves in Sydney. A surfing hot spot since the 1960s, Narrabeen has been the scene of competitive surfing's finest moments. Receiving a mix of groundswells and windswells, this beach has good surf at all stages of the tide.
Crescent Head, Port Macquarie
Located north of Port Macquarie, the waves at Crescent Head are suited to both experienced longboard riders and beginner surfers. With four perfect right-hand point breaks, you can expect to ride for anywhere up to 200 metres, revered by longboarders around the world. If you're still after more action head to the nearby Point Plomer or Delicate Nobby.
Crescent Head (image credit: Yun Huang Yong)
The Pass, Byron Bay
Byron Bay is bursting with surf spots, but the best can be found at the end of Clarke's Beach, The Pass. It's no wonder this place is often packed with surfers, with long waves that roll on and on. Once you're finished with your surf make sure to head up to the lookout to take in the marvellous view of the bay.
Angourie, Yamba
Found on the north coast of NSW near Yamba, Angourie holds a very special place in the heart of the community as the first national surfing reserve listed in New South Wales. Abundant in rolling waves and natural beauty, this place is pure magic for surfers. Although Angourie isn't a swimming beach, it's still worth checking out to simply watch the waves and for the picturesque walk out the grassy headland.
Victoria
Bells Beach, Torquay
Hosting Australia's oldest and most prestigious surfing event, the Rip Curl Pro, each Easter it's no wonder Bells Beach is the home of Australian surfing. Boasting powerful swells and outstanding surf sometimes reaching over five metres, this beach is a must-visit for experienced surfers and avid spectators.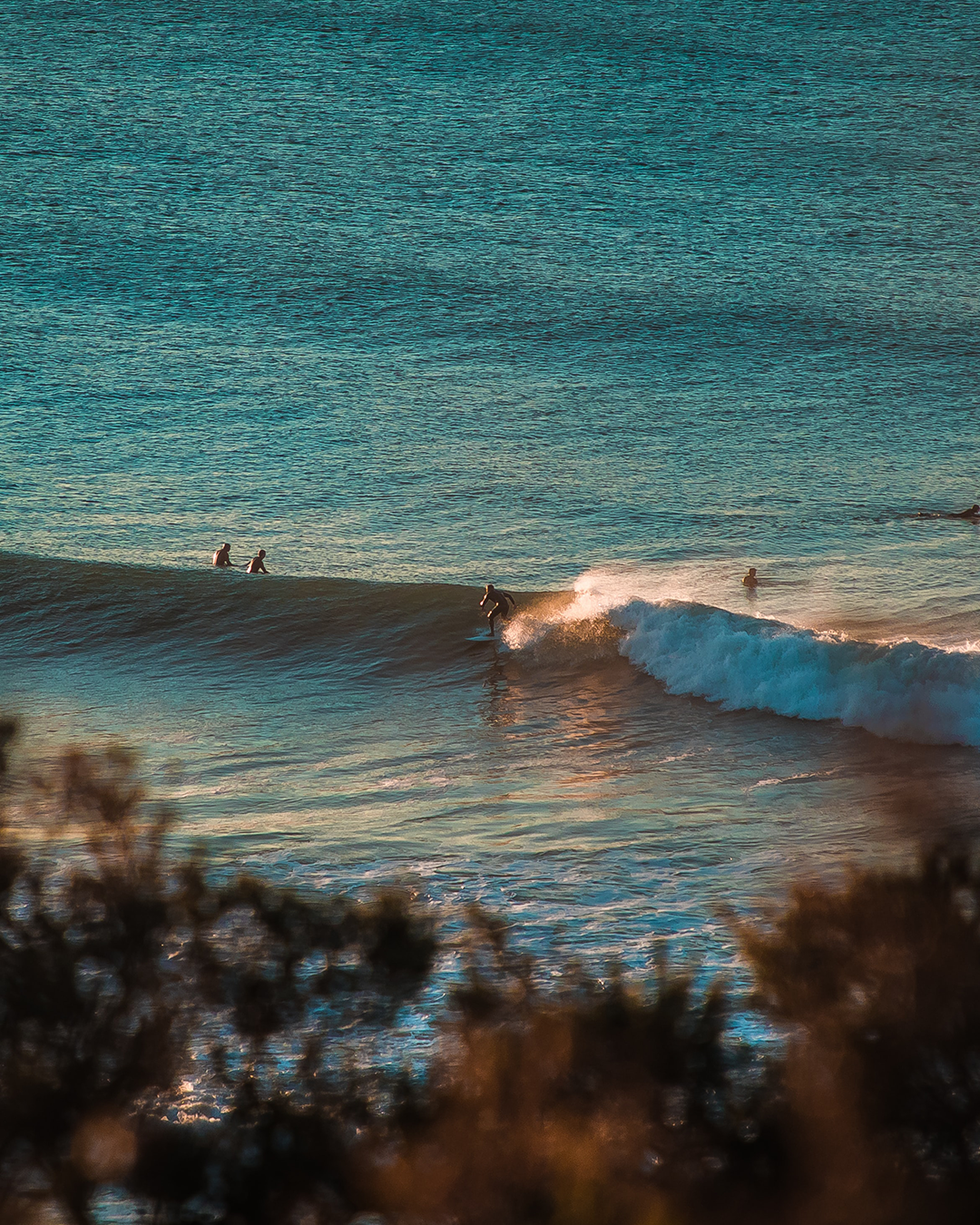 Bells Beach (image credit: Jamie Davies)
Johanna Beach, Great Ocean Road
Located a short distance from Cape Otway, the waves found at Johanna Beach are the creme de la creme, so much so it played host to the World Surfing Championships in 1970. Best accessed via car from the Great Ocean Road, the journey will prove to be worth it with distinct bars, rip channels and waves averaging over 1.5 metres high. This beach is best for experienced surfers, so be sure to check out other Great Ocean Road gems like Easter Reef and Gibson Steps.
Western Australia
Main Break, Margaret River
Margaret River is loaded to the brim with surfing hot spots, most notably Main Break. This offshore reef isn't for the faint-hearted, with super-heavy hollowness, bowls, bumps and a powerful swell mixing up to be a full-on surfing experience, even for the most experienced. If you're feeling out of your depth, journey to the car park vantage point to watch the pros tackle some 20-foot waves.
Prevelly Bay, Margaret River
Home to all kinds of watersports, Prevelly Bay is popular among longboarders, surfers, kite surfers, swimmers and sunbathers. Exuding a true beach atmosphere, this bay is at the heart of surfing culture in Western Australia, conjuring spins of up to six metres. Beginners need not attempt these crushing waves, with some surfers even opting for surf helmets.

Margaret River (image credit: Lasthib)
No matter your surfing experience or wave preference, it goes without saying, we're pretty spoilt here in Australia when it comes to beautiful surf beaches.
Image credit: Josh Withers