While most Balinese getaways entail laying on a banana lounge next to a pool and not moving for a week, we reckon your next trip to Bali should include at least one of these epic hikes and treks.
With seriously incredible views of waterfalls, rainforests and lakes, it's pretty damn likely that you'll be 'Gramming, more than you're actually hiking, but hey, you do you.
So, with that said team it's time to chuck on your joggers and get walking (don't worry, your cossie will still be there when you're done living that #fitspo life), some of Bali's most spectacular spots are waiting.
West Bali
West Bali National Park
The treks found in the West Bali National Park are somewhat out of the way, but definitely worth checking out. The mountainous forest is home to heaps of wild animals including iguanas, snakes, deer and over 300 bird species. If you're not in any rush, it's recommended to do the 7-hour hike through the entire park, finishing off your day with a snorkel and swim just off the coast – count us in!
Time taken: 1 – 2 hours or 7 hours
Grade: Moderate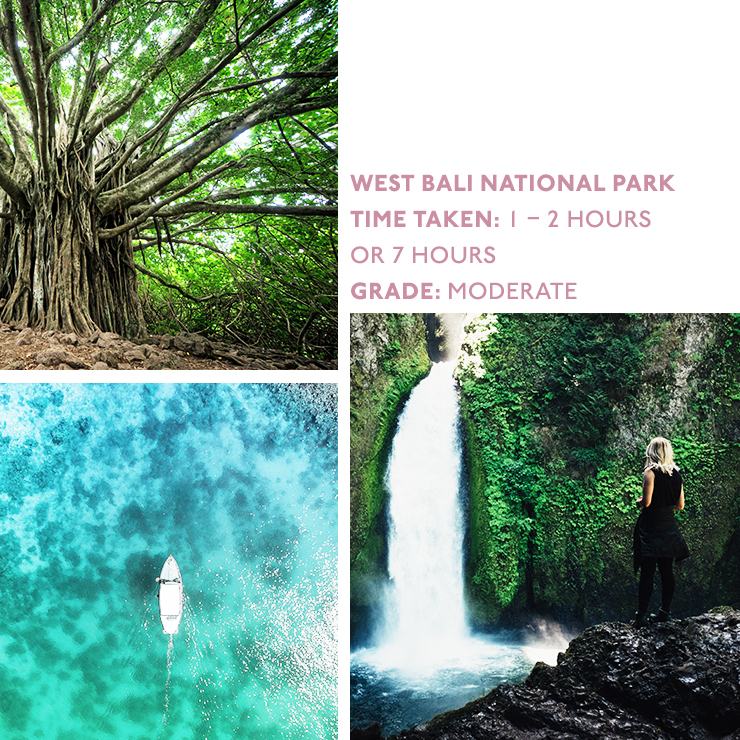 Gitgit
Twin Lakes Jungle Trek
You can walk around Bali's twin lakes in a 4-hour trek that's guaranteed to have you working up a big old sweat in no time. You'll pass temples, some awesome lake views, as well as hike through the protected jungle – oh-so Instagram worthy BTW.
Time taken: 4 hours
Grade: Moderate
Banyumala Twin Waterfalls
While this walk is only a 20-minute descent, it can be covered with puddles, slippery surfaces and large rocks. These twin waterfalls are in Singaraja and are picture perfect, and have a gorgeous swimming area, which after the short walk down to the pools in Bali's tropical heat are more than ideal. There's quite a steep 4-5km drive to the waterfalls, so wear proper shoes, and trust us that it's definitely worth it.
Time taken: 20-minute trek down to pool
Grade: Easy
East Bali
Mount Batur Sunrise Trek
Don't be put off by the fact you'll need to leave your hotel at around 1:30am in order to see the incredible sunrise on Mount Batur. This trek will see you walking up the ancient volcano complete with head torch (FYI it is dark at 1:30am), but the sun rise over Bali makes it all worthwhile.
Time taken: 3+ hours one way
Grade: Moderate to difficult (but oh-so worth it)
Candidasa
Guugan Hill
This moderate trek will take you hiking past lotus ponds and up to a temple, offering you pretty insane views of Bali along the way. The trek isn't too long at all, but be prepared to walk up heeeaps of stairs (do not say we didn't warn you). Easy solution? Just keep #bootygoals in mind as you power it up those stairs.
Time taken: 1.5 hours one way
Grade: Easy to moderate
Candidasa Day Trek
If you're up for a whole day of light to moderate trekking, check out the hills of Candidasa. It is recommended that you find a guide at your hotel (or along the way, you're sure to find lots of friendly locals) since the paths can get a bit confusing. The trek starts and finishes in the village of Tenganan, with views of lagoons, beaches, rice fields and rainforests to keep you motivated.
Time taken: Whole day
Grade: Moderate
Ubud
Campuhan Ridge Walk
This easy walk isn't technically a hike, but no one needs to know this when they see your vacay snaps of breathtaking AF green hills in Ubud. At the top of the ridge you can even indulge in a chilled fresh coconut – and let's be real, an icy drink at the end of a walk is the real reason we do any sort of physical activity anyway.
Time taken: 1 hour round trip
Grade: Easy
Want more? Check out The Best Hikes In And Around Sydney.
Design credit: Sarah Law