When Friday night drinks get messy and extend all the way through Saturday kick ons, we find ourselves on Sunday facing a moral dilemma. Do we pop a Panadol, have a plate of scrambled eggs and sleep away that pulsating hunk of tofu in our heads? Or do we do it like our ancestors did and treat ourselves to the hair of the dog itself? Being a massive advocate for the Bloody Mary here at The Urban List HQ, we think that the latter is a much more enjoyable way to spend the Sabbath, so we've rounded up the joints offering the best Sunday sessions in Melbourne.




REPUBLICA
Republica is on a beach. Republica also has those orb chairs that are in Google HQ. Republica therefore is a fantastic place for a Sunday session in Melbourne. With live music happening from 2pm, treat yourself to a cocktail or an icy cold cider on their huge deck, so you can tourist/penguin watch while you quench yourself. With a huge menu on offer featuring great seafood (yummy oysters BTW) and wood fire pizzas, Republica is the perfect place to hang out on a lazy Sunday in St Kilda. (Editor's note: Upstairs at Captain Baxter is also prime for a Sunday session, and is where you will find at least 90% of Melbourne's beautiful people on a sunny day).

Republica | 10-18 Jacka Boulevard in St Kilda

COLLEGE LAWN HOTEL
Famed by uni students for its sprawling beer garden and train-station proximity, the College Lawn Hotel is one of those places which, after your initial taste, you'll find yourself at every Sunday. This is a Sunday session for those who missed out on a big Saturday night, as the beer flows all day and all night and the crowd is super rowdy. There are nooks, crannies and wide open spaces, as well as all your favourite classic tracks – expect the Wild Horses, baby.

College Lawn Hotel | 36 Greville Street in Prahran



Mood lighting at Black Cat. Image Credit: Facebook.

BLACK CAT
Having been a Fitzroy local for close to thirty years, the Black Cat is a hipster's delight come Sunday. With a slew of comfy couches, a DJ spinning fresh funk and soul 'til the am, and a solid mojito going 'round, you will be substantially chilled when/if you decide to leave. You can't miss the wall-to-wall windows, groovy local art and the pleasurable sound of the happy Fitzroyalty.
Black Cat | 252 Brunswick Street in Fitzroy

THREE MONKEYS
If you've got a little Rastafarian raging inside you, may I suggest you soothe that funk, soul brother at Three Monkeys every Sunday. Reggae Sundays are the main port of call here, so expect a lot of dreads and a lot of smiles at this super chilled Sunday session. They've got some great nosh on the menu, as well as good vegan fodder, so bring some mates for the ultimate chiller Sunday session at Three Monkeys.

Three Monkeys | 210 Chapel Street in Windsor

THE GRACE DARLING HOTEL
Collingwood's darling, The Grace Darling, is top of the list for my personal Sunday session spots. With a Sunday roast and a happy hour that extends way longer than it should for the sake of locals livers, whether you're chilling street-side and perving on strangers, or nestled in a nook in their antique-filled, vintage pub space, this is the place to indulge in some unadulterated happiness.

The Grace Darling Hotel | 114 Smith Street in Collingwood



The Grace Darling - one of our faves! Image Credit: Facebook.
NAKED IN THE SKY
I am convinced this rooftop may just be the greatest in Melbourne, period. Above the lovely vodka bar, Naked for Satan, is Naked in the Sky – the bar in mid-air serving you fresh oxygen, tapas and a salted caramel vodka shot. Way up there (geddit?) on our list of the best Sunday sessions in Melbourne. There's always a crowd here, so get in the elevator queue before 8pm if you want a good spot. Once up there it's up to you to get yourself some tapas (cannot go past the eggplant chips with blue cheese), a frozen grapefruit granita, and sit on the balcony amongst the rainbow-coloured fairylights.

Naked in the Sky | 285 Brunswick Street in Fitzroy

THE STANDARD HOTEL
The Standard is famous for its beer garden and is a super Sunday session option. Light-filled and covered in ivy, it is one of the best places in Melbourne to hang out for hours and hours with pints and pints. If you've come for something lazy, may we recommend the Standard Burger, with egg, bacon, tomato, beetroot, onion, lettuce, cheese and chips, teamed with an icy froth courtesy of Carlton. If you've come for something fast-paced, it gets super crowded on the weekend, so strap your elbows to your sides, ladies and gents.

The Standard | 293 Fitzroy Street in Fitzroy

BIMBO DELUXE & LUCKY COQ
Four-dollar pizzas all day Sunday – do we even really need to say anything else? Doesn't matter if you're a Fitzroy fanatic or a Prahran party animal; with two locations and the same run down, chilled out vibe, Bimbos & Lucky are the spots to do it cheap on a Sunday. Lucky Coq's got cocktail jugs and a free BBQ from 4pm, with a live blues band. Bimbo's will have you flipping out to some live art shows and freaky electro. Both close relatively early, so don't expect to go all night.

Bimbo Deluxe | 376 Brunswick Street in Fitzroy
Lucky Coq | Corner Chapel & High Street in Prahran

THE ESPY
Not only is The Espy one of Melbourne's most famous live music venues, it's also swinging on Sundays. Watch the sunset over St Kilda's beachfront if you're hanging out in their front courtyard, or play some pool out the back in the dungeons. Live music starts around 5.30pm and goes until late, so prepare yourself for some delicious drinking and dancing come Sunday.

The Espy | 11 The Esplanade in St Kilda



Nothing like a killer St Kilda sunset to heal the back-to-work blues. Image Credit: The Espy Facebook.

PRUDENCE BAR
If you need a quiet drink in the comfort and warmth of welcoming arms, Prudence is your sure-fire stop for a Sunday session. Their little nook in North Melbourne, full of polished oaks and velvet covered seats seems semi-regal, but you'll be super relaxed when you see a long list of cheap drinks, fairylit courtyard and smiley locals. As for food, if you order from the Vietnamese joint next door, they let you eat it inside the bar, yay!

Prudence | 368 Victoria Street in North Melbourne
BELGIAN BEER CAFE
When you're nostalgic for Oktoberfest, bring your sorry self to the Belgian Beer Cafe for a play. Sunday sessions at this riverside spot involve 33 icy cold beers on tap and a special English hand-pump going, which ain't so icy cold (as I found out). Whether you're upstairs for lunch or downstairs swilling with your friends, this is a great place to knock off on Sunday.

Belgian Beer Cafe | 5 Riverside Quay in Southbank

THE RETREAT HOTEL
Brunswick's babydoll is the Retreat Hotel; crumbling and magnificent, it draws the quirky and the quaint alike for one of Melbourne's best Sunday sessions, northside. The front bar is reserved and cosy, while there's a huge astro-turfed beer garden out the back. But, on Sundays, everyone's treating themselves to the bandroom smack bang in the middle, complete with great music and a red velvet curtain. Prepare to stay until you hear birds chirping and your legs have well and truly gone to sleep.

The Retreat Hotel | 280 Sydney Road in Brunswick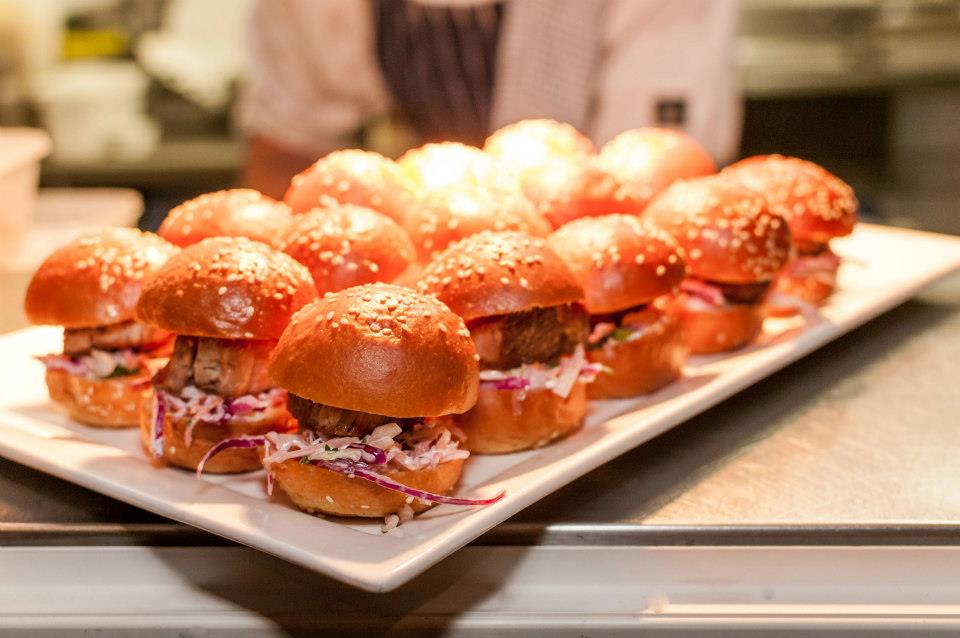 Get in my belly! Pork belly sliders at PA's help the booze go down. Image Credit: Facebook.

PRINCE ALFRED HOTEL
The Prince Alfred is that rare combo of a pub that is homely and a locals' favourite, but still harbours an air of sophistication. Hanging out on Bay Street, a Sunday session here treats you to quality wine, craft beer and exceptional live music. As well as that, on Sunday they rock an Aussie-style Pub Cha menu, designed for snack attacks – think pork sliders, fish tacos, chicken wings. Droolin'.

Prince Alfred Hotel | Bay Street in Port Melbourne

UPDATE: We've compiled Melbourne's Best Sunday Sessions, from low-key to luxe, too. Or looking for somewhere cool for Friday drinks? Check out Melbourne's quirkiest bars here.

Main Image Credit: Pinterest