'Tis the season for a freezin'! Ahh the snow—a winter wonderland that brings numb fingers, the most glamorous snow goggle-tans and a heck of a lot of fun.
But those of us who aren't coordinated enough to balance on two planks whilst travelling downhill are left to amuse ourselves, and there is only so much Insta scrolling, newspaper reading and tea drinking one can do.
From cross-country snow adventures to luxe spa treatments, we teamed up with Visit Victoria and tripped from Beechworth to Dinner Plain to give you all the reasons why winter in the High Country is magical for anyone and everyone.
#1 Village Luxe Accommodation
Nestled in the foothills of Victoria's High Country, The Lodge at Plane Trees Estate in Stanley—an old timber mill turned luxury lodging—is the ultimate place to kick back and relax. This dreamy accommodation is run by jam-making, raspberry growing local, Genevieve, who along with JaJa (the most adorable sausage pup) greets you upon arrival and will tend to your every possible need. Harnessing local materials and an existing bush cottage, The Lodge is lined with old bridge timbers from the Nagambie bridge, connecting it to the area and filling the space with a story.
With a natural pool (you have to see it to believe it), a garden designed for getting lost in, and an open fire to cosy up to, it's the ultimate snow-commodation.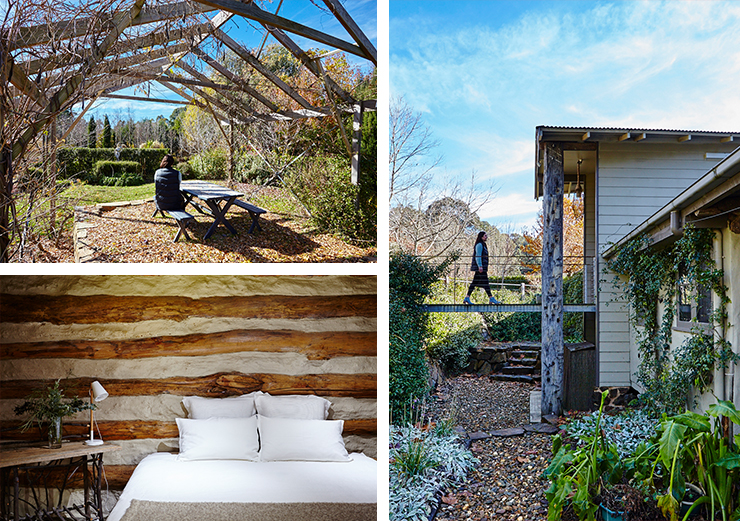 #2 Warm Up With A Brewery Beer
What started out in the shed of Ben Kraus' dad's house in 2005 has now become one of Australia's best craft breweries and a must-visit when in the Beechworth region.
The small batch, hands on brewing techniques at Bridge Road Brewers make these naturally brewed beers liquid gold on the tongue. For those with an interest in the beer science, take the brewery tour or just grab a tasting board and take your tastebuds on their own ride.
Match your beer board with some of the master-pizzas coming out of the kitchen, with traditional Italian flavours like apple and blue cheese and double smoked ham keeping your stomach oh-so-satisfied.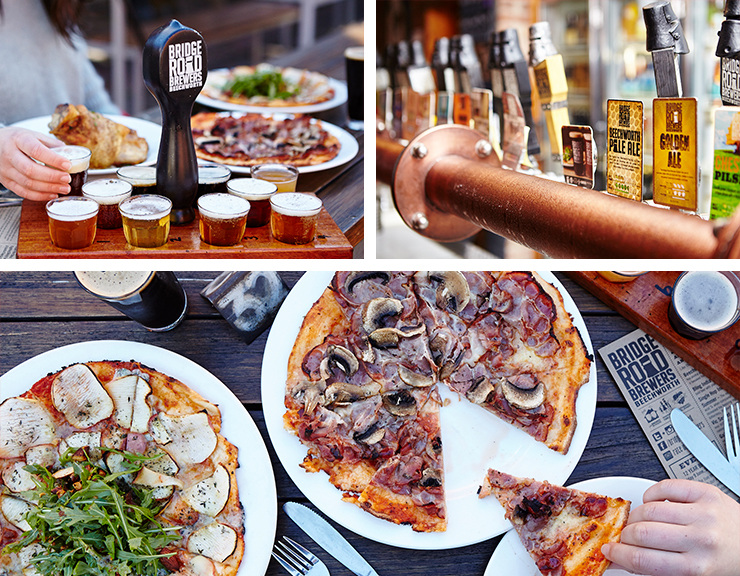 #3 Have A Taste And A Tipple With Beechworth Barrel Tours
The equation: five hours + five courses + five wineries = the wine and food tour of your dreams.
Sally (chef and owner of Taste Trekkers) and Scott (part of Beechworth Barrel Tours in partnership with Taste Trekkers) put two and two together and combined their passions to create a wine tour of a different kind. On the first Saturday of every month, Scott and Sally entertain a group of 10 on an intimate and hands-on experience, accessing wineries around Beechworth that are usually unavailable to the public.
Kicking off the tour at Project 49 with a coffee, it's obvious that Sally and Scott just 'get it.' Two wine tastings at each vineyard, along with Sally's taste sensations (which she throws together in the boot of her car!) make for a progressive long lunch and a wine tour of epic proportions.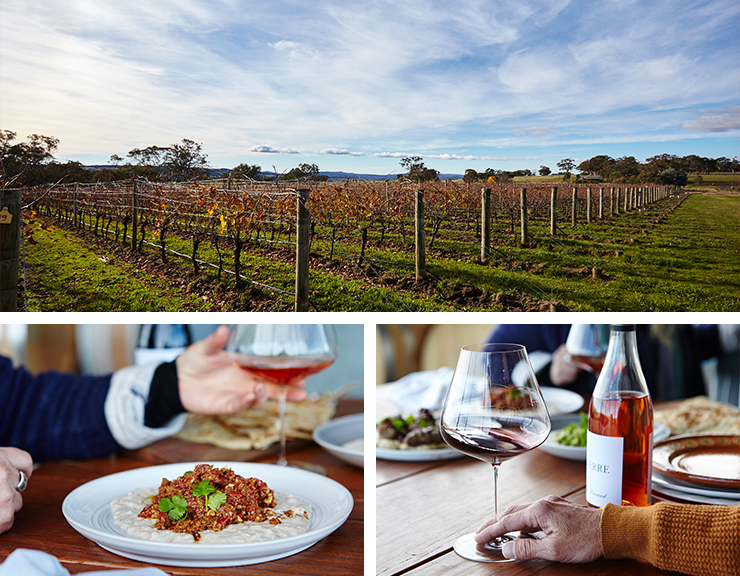 #4 Wind Down At The Spa Beechworth
After a long day of lounging around, why not keep yourself in a zen state with a spa treatment……..or five?
The fully sustainable spa uses local organic and natural products specially sourced from traditional indigenous ingredients, whilst fittingly housed in a building surrounded by 100-year-old gardens.
Their new treatment range "Bush" will have you smelling deliciously of Australia, and with an extensive treatment list it will have even the most wound-up chilling down. Salt-scrub, stone massage, mud wrap, whatever your pick, this is the place to treat yo'self!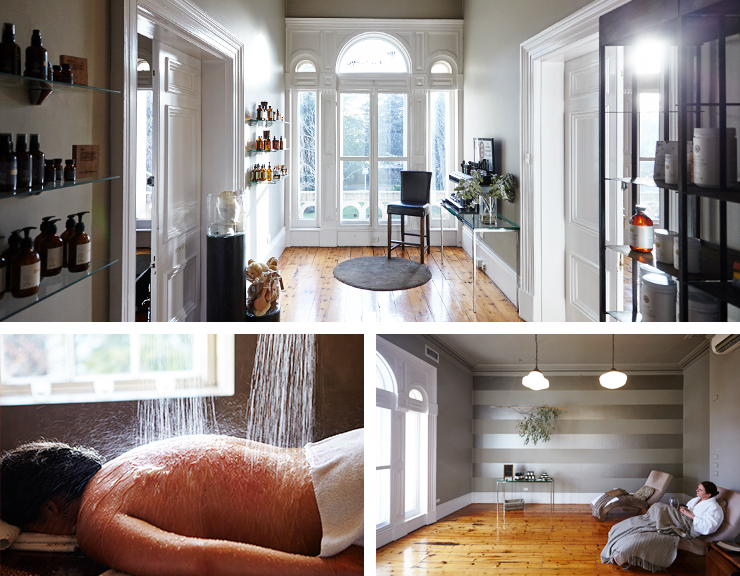 #5 Tuck Into Toasty Tapas At The Press Room
An open fire, a local Gin negroni and a plate of roasted patatas bravas…..go on, name a more iconic trio. Housed in the 1891 historic Beechworth printery (hence the name), The Press Room has that "dinner with friends" feel, with hosts Mike and Heather making you sink so deep into your chair it's almost impossible to pry yourself out. With a Spanish inspired tapas menu using local and seasonal ingredients, it's the perfect place to thaw out those frozen fingers.
#6 Take Aim At Alpine Laser Skirmish
If you're thinking laser tag in a dark warehouse filled with empty barrels, think again. Build yourself a snow bunker, dig yourself a snow trench, or take cover behind a snow-man—its time to get down and dirty. Played on outdoor courses in the snow or on grass, this is next-level laser skirmish. With courses in Dinner Plain or Mount Hotham, get your team into gear and start firing.
#7 Chill Out While Warming Up At Onsen Spa
What better way to warm those toes than with a soak in a steaming hot spa? With a Japanese inspired outdoor Onsen (fancy for "hot spring"), you can be amongst the snow while staying toasty. Float around the indoor or outdoor spas of Dinner Plain, enjoy a massage or body treatment, or even just put on one of the white robes and swan around. Whatever your method you'll be chillin' out in the best possible way.
#8 Have An Alpine Nature Experience….Literally.
Donning a pair of Winter Manolo Blahniks (snowshoes), get ready to have your mind blown by this boutique snow adventure on Mount Hotham. Leaving at sunset, weaving through the snow gums until you find a hidden eco-shelter, get ready to be completely immersed in the alpine environment. A warming glass of wine by the fire is followed by a lesson in French fondue making in the warmth of a tipi. The cheese may be imported (from the French Alps, of course) but the experience is 100% Australian made and 100% incredible!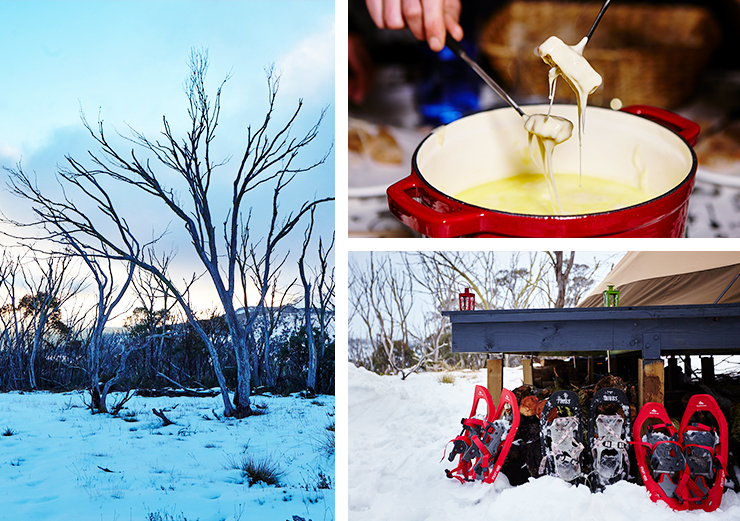 #9 A Winter Feast At Hotel High Plain
Open fire. Tick. Relaxed vibe. Tick. A menu that'll have you salivating. Tick. Stone's Throw (housed inside Hotel High Plains at Dinner Plain) is the warm welcome you need after a day in the snow. Specialising in produce from regional Victoria, tuck into some delicious alpine fare accompanied by an extensive wine list.
And if you're looking for a midday meal, the new Cobungra Burger Bar (in-house at Hotel High Plains) is well worth a visit. It's hard to go past the Ol' Faithful or the Colonel Weirdbeard, but whatever your pick, it'll have you fuelled for a big day of alpine adventures.
#10 Curl Up In A Cosy Cabin
In the Alpine village of Dinner Plain, you'll find it hard not to spend all day curled up by the fire with a cup of tea in the cosy Cloud 9 Alpine Lodge. Waking up in one of the five guest rooms with an idyllic view of the mountainous snowy vista, the delicious smells coming from the kitchen—manned by hosts Ian and Sangyong—are almost the only thing to get you moving from the cosy cocoon of a toasty bed.
Image credit: Michelle Jarni for The Urban List
Editor's note: This article is sponsored by Visit Victoria. Thank you for supporting the sponsors who make The Urban List possible. For more information on our editorial policy, please click here.