Once again we're reminded how fast the year goes when we look into our calendar and see that the Royal Melbourne Show is back. When we were shorter we screamed with delight at the thought of petting zoos, the toothless carnies and the rides, oh the rides! Mum and Dad would busy themselves amongst the market stalls, the cooking demonstrations and the live music, and you'd come back with a stomach ache from waaay too much sugar only to find them avoiding you in the Brew Bar. My strongest memory from the Show is that ride that makes you stick to the wall and 4 out of 10 people throw up afterwards - the Gravitron haunts my dreams to this day. *shudders*
However, the undisputable best thing about the Royal Melbourne Show, and possibly the entirety of the culinary year, are the showbags. Year after year we'd stock up on the sugar filled goodie bags and bring them home to either eat in one go (cue flashbacks from the Gravitron) or store them in your cupboard and forget about them until the Show came round the next year. We then got a little older and realised we couldn't eat sixteen kilos of Freddos and the boss couldn't help but notice we were wearing a Wonka hat to work. So, in came good judgment and #cleaneating, and showbags began to gather dust in our memories, only to emerge this year between September 21st and October 2nd.
Why should kids have all the showbag fun? Image Credit: The Rolling Road.
We figured that we didn't want to sacrifice the novelty of showbags though, because undoubtedly when you're navigating the showbag pavilion with your children, your siblings, or the younger version of yourself, you're going to get a bit of FOMO and want some for yourself. So, we've rounded up the best of the "grown up" showbags, so you won't feel too guilty lining up for forty dollars worth of Kit Kats.
Hepburn Springs Bathhouse Bag | $200
Okay. We all know that Hepburn Springs is home to the hot springs and possibly the best place in Victoria to get a shiatsu, sip on something that's "totally good for you" and loll about sculling sparkling water. So the fact that they've brought a $200 showbag to the Show is not surprisingly decadent, it's rather inspiring. From seaweed collagen face cream, goats milk and mineral water soap, lemon myrtle body exfoliant and sandlewood face oil - this bag is straight out of a GOOP blog post. Get yourself looking positively Gwyneth-like with this one ladies!
Deli Fridge Bag | $25
Dell Pantry Bag (just a few more bits and pieces) | $35
Not all of us have the time to trip out to the country and pick strawberries, or fly interstate to pick up some specialty flour for our loaves. This year, some of the most prominent figures in the Australian gourmet food industry have hustled up their best products to make the Fine Food Deli Bag to accommodate for those of us who'd "love to have some cool food" but really can't be bothered walking past Coles. You've got a Rustica Sourdough rosemary and vine fruit bread teamed with Benny's Berries sweet jams, Charlie's cookies, The Gourmet Nut Company's French vanilla almonds, Riverdale organic lemon cordial and even some Murray River rock salt. Your pantry's looking sexier already.
Bertie Beetle Blue | $2
Bertie Beetle Gold | $3
Bertie Beetle Bonanza | $10
Bertie Beetle 50th Anniversary Edition | $15
Whoever went to the show and didn't get a Bertie Beetle bag is obviously either a) someone incapable of happiness or laughter b) lied about actually going to the Melbourne Show and subsequently ordered Bertie Beetles online. This year marks the 50th anniversary for that chocolate flavoured bug of ecstasy and I suggest we all indulge as God knows where else you can get these delightful sweets from.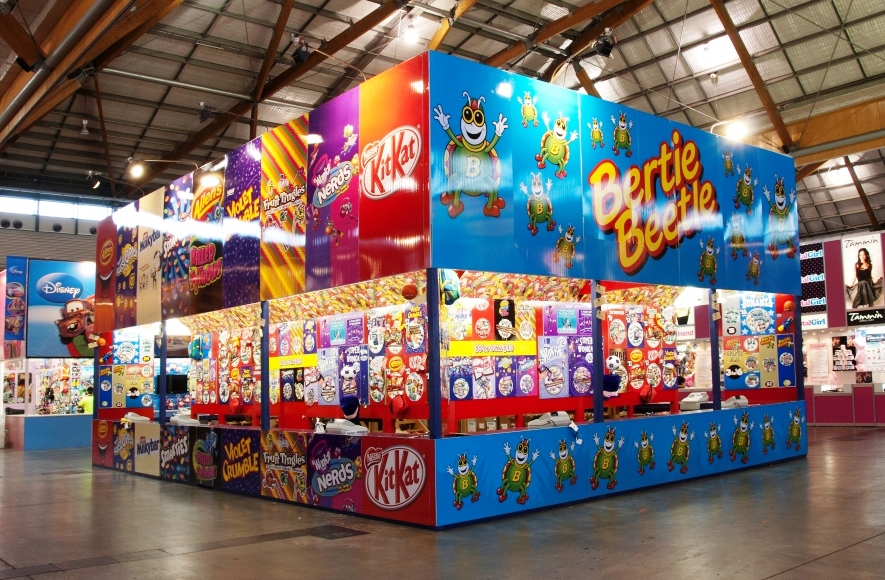 The iconic Bertie Beetle showbag stand - a winner every year! Image Credit: Chicane Marketing.
Women's Health Bag | $25
The Women's Health Magazine showbag this year is absolutely bonkers. I don't know if they've just gone crazy in regards to getting everyone "pumped and fighting fit" for Summer, but if you pick up this bag you're getting over $250 worth of Women's Health approved fun for $25. There's a gym bag, two magazines (current and back issue), beauty products, lo-cal Wok Ready noodles and plenty more. There's also a bunch of vouchers for Strike Bowling, skydiving, Boost Juice, Baskin Robbins and more so you can fall from a plane, get your three serves of fruit, finish it off with a waffle cone and bowl someone over when you land safely. There's also a Men's Health Bag if you're with a protein shake enthusiast from the opposite sex.
Boosey Creek Five Cheese Bag | $40
Boosey Creek Cheese Lovers Bag | $55
Winners of the Australian Dairy Award for "the silkiest camembert", Boosey Creek Cheese have brought their delicious wares to the Melbourne Show. Not many people have the time to get to Boosey (although it is tempting to take time off work for the sake of a place synonymous with Australian drinking culture) so sink your teeth into their spiced gouda, bitey blues or of course, the famed camembert in their "The Lot" showbag. You also get a cooler bag to keep those babies fresh for the Melbourne Show recovery drinks you've planned come dinner time.
September 21st - October 2nd
Melbourne Showgrounds
Epsom Road in Ascot Vale