The Presets' frontman, Julian Hamilton, is a busy man. With the exciting arrival of baby number two, he is not only juggling his growing family but touring The Preset's latest release, Pacifica, around the country and the globe. In amongst producing, writing, touring, and being a dad, it is Julian's job to cook for the family. Julian's partner, Janice Petersen, co-hosts World News Australia nightly on SBS and so the evening cooking responsibilities fall to the man of the house.
Julian is an avid chef who loves cooking (just don't say passionate) and he has shared with us his very own minestrone soup recipe, which you can check out below. Additionally, we find out Julian's favourite places to eat in New York and LA, and there is a little music chat of course...
TUL: Outside of music, I believe cooking is one of your passions? What is it about the act of cooking you love?
Julian Hamilton: I love cooking, but passionate is a big word. Too big I think. I'm always a little dubious when people say food is their passion. Usually, it's someone in a Sunday newspaper lift-out showing off their expensive home coffee machine and collection of olive oils. A flamenco guitarist can be passionate; a tango dancer should be passionate; Almodóvar movies are passionate. But food and passion is a little weird for me. If you cook a soup for your family, put love into it, for sure—but passion? Nup. I don't buy it.
TUL: Got it. What are some of your favourite dishes to whip up?
Julian: It's difficult to pick a favourite. I guess whatever I am hankering for at the time. Sometimes it might be something slow, like an ossobuco or a curry, or a kedgeree for breakfast (a classic British breakfast dish with fish, curry rice, and hard boiled egg). Or sometimes, something super-fast, based on whatever ingredients are fresh and lying around. Finely shaved radish with olive oil and lemon—easy and awesome. John Dory fillets fried in butter and sage—hell yeah. Or barbecued sardines for breakfast on a sunny morning. Too hard to pick a favourite.
TUL: Is there a particular dish that is your specialty? Can you share the recipe or your tips?
Julian: I made a nice minestrone the other day that at one point I thought I had ruined, but it ended up being the best mistake I could have made.
Julian's Minestrone Soup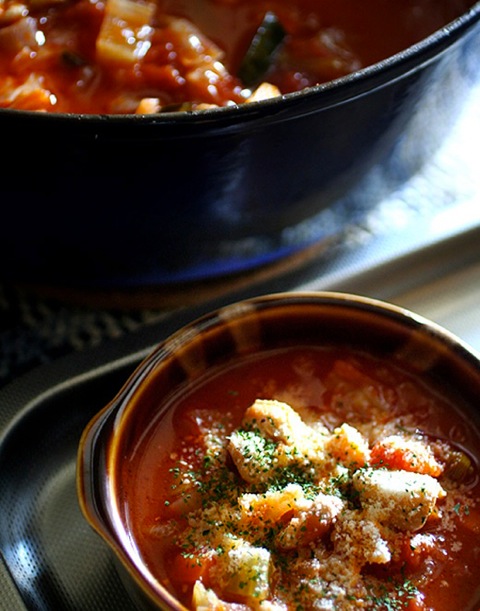 Step 1. I start with sweating down diced onion, celery, and carrot (save the celery hearts—these are too tasty to waste in a soup and should be eaten separately for lunch with lemon juice, salt, and olive oil).
Step 2. After 5 minutes, add chopped garlic and some pancetta in 1cm dices. Sweat it some more.
Step 3. Add 4 litres of vegetable stock (I make veggie stock all the time and freeze it in small containers. I hate wasting food and if there are ever any veggies in the fridge that are looking like they won't get eaten, then it's stock time! Cooking vegetable stock is almost my favourite winter-weekend activity).
Step 4. Chuck in a bay leaf, and a Parmesan cheese rind (we keep these too, in the freezer. They are perfect in a minestrone). Add a tin of tomatoes, or half a bottle of tomato passata.
Step 5. Bring to the boil and simmer for an hour. Or, do what I did, and accidentally simmer for 3 hours. Come back to the pot, freak out when your soup is gone and there is 3 inches of thick looking pasta sauce stuff at the bottom of your pot that is about to burn. Then relax - because this is going to be great. Fish out that cheesy rind and the bay leaf and chuck away.
Step 6. An hour or so before dinner, add 2 litres or so of water, and a handful of French lentils, a handful of risoni, bring to the boil and simmer until your wife gets home. When she gets in pour her a glass of wine, and another for yourself.
Step 7. Then add some tinned, drained Borlotti beans and simmer, while she tells you about her day at work. This should hopefully take about ten minutes. Then your minestrone is ready and tasty! Serve with chopped parsley, salt, pepper, and a drizzle of olive oil and crusty bread.
TUL: It must be hard finding the time to cook between touring, producing, and, of course, being a dad. How do you manage it all? Is cooking a family affair?
Julian: I cook pretty much all dinners during the week. My girlfriend gets home too late in the evening from work. Sometimes my daughter will assist me by peeling onions and garlic, so, sure, it's a family affair. I guess I deal with it the way all parents do—just try and be clever with my time and choose things that I can whip up quickly.
TUL: You have been across the world recently touring Pacifica. Has there been a standout moment on the tour?
Julian: We had some great shows this time. Of course there are the bigger ones in NY and LA that are always fun. It's usually the ones I'm not expecting to be huge that end up surprising me. Denver, Colorado was off-the-hook. Totally mad. And Phoenix was pretty wild. There was a bit of a threesome going on in the front row, which was nice.
TUL: America is often on your tour routes, do you have any must-go-to restaurants in the US? (I know it is a big place . . . )
Julian: My favourite is Prune in NY. I always have the bone marrow, with a parsley salad and a half bottle of Nuits-St-Georges. That is my death-row dish. But there are so many good places across the States, of course. We love Umami Burger in LA. The La Esquina Taqueria in NY is amazing. Pink's Hot Dogs in LA kill it. There was a great Po-Boy shack in Laurence, Kansas that did mean Oyster Po-Boys called Terrebonne. I love Po-Boys. I was speaking with Kim [Moyes] today and we concluded that I have FOMOOPOBO (Fear Of Missing Out On Po Boys).
TUL: I am obsessed with 'It's Cool' from Pacifica. This is probably a near impossible question to answer but . . . do you have a favourite song from the album?
Julian: I'm so glad you like that track. We love it, too. It's kind of about my daughter. I literally wrote the lyrics whilst I was nursing her as a 4-month-old baby. Favourite song? Too hard to choose. We had 40 or so ideas, and we chose 10 to finish for the album, so I guess they're all favourites.
TUL: Last question. What music do you listen to when cooking?
Julian: Everything, well almost everything. I usually never listen to anything current. I spend all day making beats and hi-fi production. I walk out of my studio sometimes in a daze, like I've been beaten up.
So when I cook I like to listen to older music - Reggae, Dub, Hip Hop, Calypso, Hi Life, Jazz. Music that doesn't command my attention too hard, or tear my head off. My favourite label at the moment is Honest Jon's from the UK. They have put out some beaut compilations recently of rare Congolese music, or 1950s Afro Cuban stuff. It's all really great.
There's also a fantastic website called Awesome Tapes from Africa, which, as you can probably guess, is all this amazing and rare African music found on tapes in flea markets and put online. I'm always discovering great stuff there. And if I want to get really modern I can always throw on a De La Soul or A Tribe Called Quest record from the '90s.
Minestrone image credit: The Last Order