The tenth month of the year has rolled around, and while some of you may be undertaking some 'Ocsober' in early prep for the silly season, most of Melbourne is gearing up for the much loved beer-fuelled German festival – Oktoberfest.
Here at The Urban List, we love an excuse to sip delicious frothies and munch on brezel and bratwurst for an entire month, so we did some sleuthing to discover which Melbourne venues are supporting Europe's best and booziest tradition. We've rounded up the best places to hit up if you want to get amongst the lederhosen and pigtails this Oktoberfest.
Balaclava's Bavarian streak will be shining through in the form of German beers, tunes and snacks. On October 12th, there will be ten German beers on tap, as well as ten Australian brews that have a German influence. There'll be beer, bratwurst, and some great local acts pumping out the tunes. Sidenote: they've also got bocce – win!
The Local Taphouse | 184 Carlisle Street in St Kilda East
03 9537 2633 | Facebook | Twitter
On October 12th and 13th, Red Hill Brewery will be teaming up with Phat Brats for a weekend of Red Hill German beer on tap, sausages and ooooooompah music. Munch on a Weisswurst with beer-braised onions, pickle relish and sweet bavarian mustard with a side of pretzels, while sipping your beer in the beautiful Red Hill sunshine. As well as the booze-laden festivities, there'll be a best dressed competition where you can win a box of their German style beers. Best thing about it is you don't have to book – just rock up for a huge day of fun.
Red Hill Brewery | 88 Shoreham Road in Red Hill South
03 5989 2959 | Facebook | Twitter | Instagram
Mutti's is an Austrian-German restaurant that will be well and truly dedicating October to the celebrations. This is the place to come if you want to get a little fancy about your beer drinking. Indulge in their pork crackling with cauliflower crumble, apple sauce and dark beer jus, or maybe some homemade beer cheese dumplings. All that, plus some of the finest Euro beers and wines on tap. We're sold!
Mutti's | 118 Elgin Street in Carlton
03 9349 5008 | Facebook
Established in 1968, Hofbrauhaus is considered the epicentre of German culture in Melbourne. For their biggest month of the year, they've got all of the standards – beer, German nosh, schnapps and live music, but there'll also be daily prizes for the best Oktoberfest outfits, schnitzel eating competitions, traditional Bavarian games, and daily specials which can be seen here.
Hofbrauhaus | 18-28 Market Lane in Melbourne
03 9663 3361 | Facebook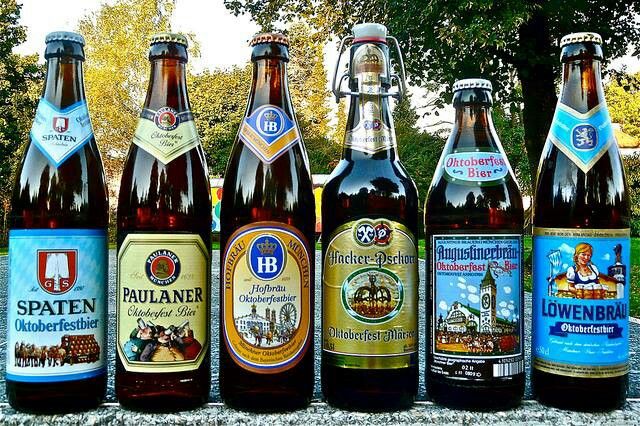 This Oktoberfest Village Melbourne is taking over Ormond Hall to bring to you the Bavarian Beer Hall. There'll be DJs playing a mad mix of traditional tunes and fresh mixes, all your favourite German beers, and, most importantly, sausages from the Mutter Krause food truck. It costs $15 to get in, but you get a free stein with that!
Village Melbourne | 557 St Kilda Road in Melbourne
03 9529 3111 | Facebook | Twitter | Instagram
Truly dedicated to Ocsober but don't want to miss out on the German fun? Hit up the Queen Victoria Market's Bratwurst & Co, who'll have you salivating over their famous brat on-the-go. Take away a grilled bratwurst in a fluffy roll with toppings ranging from spicy, to cheesy, black pepper, chorizo, or chicken and mushroom, with your selection of mustards, sauces or sauerkraut. It's too much goodness to handle.
Want to read more about the Queen Victoria Market? Then don't miss our Vic Market Guide!
Bratwurst Shop & Co | Shop 99-100, Deli Hall, Queen Victoria Market in Melbourne
03 9328 2076 | Facebook
This is Oktoberfest at its most extreme. The Cuckoo Restaurant is one of the world's most renowned smorgasboard restaurants, and they'll be pulling out all stops for Oktoberfest this year. Situated in a gingerbread-looking cottage in the Dandenong ranges, there'll be live music, staff in traditional garb, yodelling competitions, heaps of beer and lots of fun. Make sure you book though, that smorgasboard is always a sell out.
Cuckoo Restaurant | 508 Mt Dandenong Tourist Road in Olinda
03 9751 1003 | Facebook | Twitter
Though not technically an establishment, Oktoberfest Burlesque is turning Fitzroy's Town Hall into a huge party theatre. Combining the otherwise isolated themes of beer and burlesque, the hall will be stocked full of German beer, pretzels, sausages, roving beer maids, in addition to cabaret, burlesque, circus, and theatre performances. If you check out the website they've also got a roving pub tour, in case you want to catch the action before the big night. It's going to be a night to remember, so make sure you book your tickets here.
Oktoberfest Burlesque | Fitzroy Town Hall
October 4th - 26th