All right, bear with us for this one, because there's a lot to take in.
As you probably know, The Espy in St Kilda closed down in May 2015 (partly due to noise complaints from the fancy new apartments nextdoor. One of the worst examples of gentrification humanity has ever seen—don't get us started.)
For a couple of years, The Espy languished on St Kilda's beachfront—abandoned, unloved, slowly crumbling, hosting low-key concerts for mice, spiders and roosting pigeons. That is until the guys from Sand Hill Road bought the old girl in March 2017.
If you're not familiar with these legends, they're the community pub group responsible for Garden State Hotel, Waterside Hotel, The Terminus, Prahran Hotel, The Bridge Hotel and about a billion other excellent venues. They do for pubs what Dr Dre did for Eminem.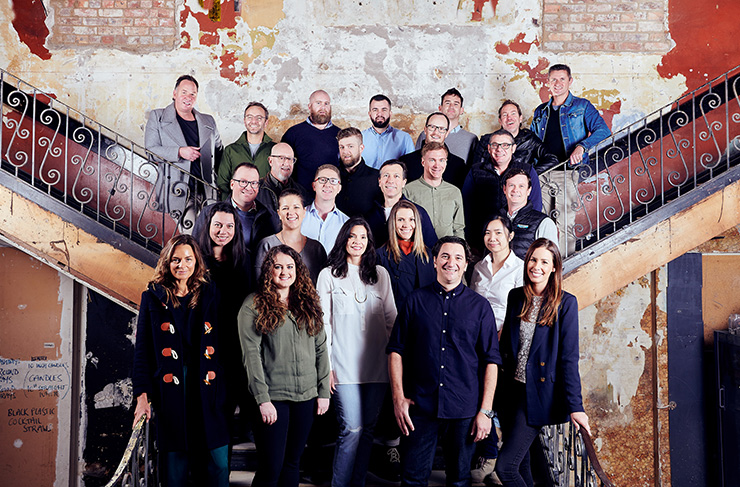 The Sand Hill Road crew.
In other words, you couldn't ask for a better crew to handle The Espy's massive reno and re-launch.
We got to sit down with the Sand Hill Road guys last week, and there was A LOT to absorb. All going to plan, the new Espy will open in November 2018. Here's just a top-line taste of what you can expect.
LIVE MUSIC 7-DAYS A WEEK
There'll be three stages at the new Espy, hosting live music every single day of the week (with gigs often running simultaneously). You can expect the usual assortment of visiting acts, electronica and garage rock, but the Sand Hill Road team are also keen to encourage other styles, especially soloists, buskers and three-piece bands. They're expecting the venue to fit 900 music-hungry patrons.
THIS WON'T BE GARDEN STATE 2.0
It's hard to emphasise how much effort the guys are putting in to preserve the cultural history of The Espy. They've taken out all the original fittings and kept them in storage (ready for restoration and refitting). They've hired a London set designer from the West End to distress the new paintwork. The carpet, tiles and the historic Gershwin Room are gonna look just like you remember. The crew even travelled to Europe to source thousands of antiques (glazing, fireplaces, porcelain, sinks etc) to keep things legit. The brief for Techne Architects (who are looking after the build) was literally "kick-arse Victorian grandeur".
TWO RESTAURANTS & 60 CHEFS
We told you this was big. Executive chef Ash Hicks is looking after The Espy's food, and it sounds insane. Downstairs you'll have the classic Espy Kitchen (casual flame-driven dining, with charcoal grills, asado fire pits, rotisseries and woodfired pizzas). Ash is even planning to have hot-dog carts outside The Gershwin Room for patrons who get peckish after a gig. Upstairs is something totally new: Mya Tiger. A Cantonese restaurant with plenty of roasted duck and cocktails to match.
A GHOST IN THE ATTIC
When the guys took over the building, they found something amazing on the top floor: the forgotten rooms of Alfred Felton, an arts patron who lived at The Espy in the 19th century. The guys are turning these rooms into an upstairs cocktail lounge called The Ghost Of Alfred Felton. Think experimental cocktails from Kevin Peters (Sand Hill's bar manager), views over the Bay, old-school bar service and 200-300 bottles of boutique spirits. That's on top of the multiple bars on the lower levels, plus an open-air beer garden.
NEW PODCAST STUDIO
Head starting to spin? Ours was too. Especially when Director Andy Mullins told us they're installing a podcast studio into The Espy—two transparent, soundproof booths that'll encourage boutique broadcasting. RRR and other stations can come in here and interview visiting artists, and the studios will even be available for public use. Better yet—the studios are surrounded by bar booths, where you can plug your headphone jacks into the wall and listen to what's being recorded (!!) "We want that 'On Air' light to be on all the time," says Andy.
ESPY BATCHED COCKTAILS
Bar manager Kevin Peters has big plans for The Espy. For one thing, he's only going to use block ice throughout the entire 900-punter venue (can you even imagine how much ice that will be?). He's also plotting to unleash a new range of batched bottled cocktails (similar to The Everleigh Bottling Co.) Classic flavours to start with (Negronis, Manhattans etc) and getting more experimental over time. You'll be able to buy these from the bars in-venue.
LEVELS YOU'VE NEVER SEEN BEFORE
There were always forgotten rooms and other levels of The Espy the public never got to see. The Sand Hill Road guys are planning to open everything up: the basement stage, a new garden terrace overlooking St Kilda Pier (with a sweet view of the historic Espy frontage), Mya Tiger upstairs, The Gershwin Room, the front-bar stage, the new top-floor cocktail bar. It's going to feel like eight venues in one.
"We're not trying to please one market, that's not The Espy," says Directory Andy Mullins. "We're going all-out to create a world-class cocktail bar, and then only 27 stairs away have 800 people looking out to the ocean, drinking beers and smashing pizzas or heading into a gig at one of the stages inside. Different types of people, there for different reasons, day and night. That's always been The Espy—a melting pot of Melbourne."
Holy bejeezus this thing's gonna be big. We'll be updating you with more info as things come online over the next four months. In the meantime, draw a big red circle around November in your calendar. St Kilda is gonna go OFF.
The Details
Where: The Espy, 11 The Esplanade, St Kilda
When: Expected launch is November 2018
For more info, click here.
Image credit: Ben Tyers