The Final Step Coffee Stop is the first step on owner/operator Ben Whitaker's journey to make positive social change through hospitality. Hailing from the small town of Alexandra in Central Otago, NZ, Ben helped his parents set up a cafe business over a decade ago, before crossing the Tasman to Melbourne and setting up shop in South Yarra in 2009.
Located on Murphy Street, The Final Step is a small (15sqm) unpretentious coffee shop with a mission to 'provide the most enjoyable coffee possible, in a warm and welcoming environment'. But in recent times, there has been some shift in the daily grind, so to speak. Today, Ben's driving motive is to generate sustainable social change through his cafe, where every cent of the profits go towards funding the 'Food for Thought' (F4T) program – designed to feed underprivileged children in Buenos Aires, Argentina.

It was while working as a primary school teacher in a fairly low socio-economic area of London a few years back that Ben began on this path. Ben was part of the 'Breakfast Club' that provided hungry children with nutritious food to fill their stomachs and fuel their brains so they could start their day in a happy and healthy way.

It is this 'Breakfast Club' model that Ben will be bringing to the F4T program in the 'La Fe' slum in Buenos Aires. Children will arrive at the program facility after school at 12pm to be fed heathy, nutritious food, and be engaged in creative, stimulating activities.

Ben decided that it was imperative to establish the Social Opportunity Group (S.O.G) in May this year, as a vehicle to drive and facilitate F4T. This incorporated Association consists of three integral members based in Australia, with Ben and program partner Valerie on the ground in Buenos Aires.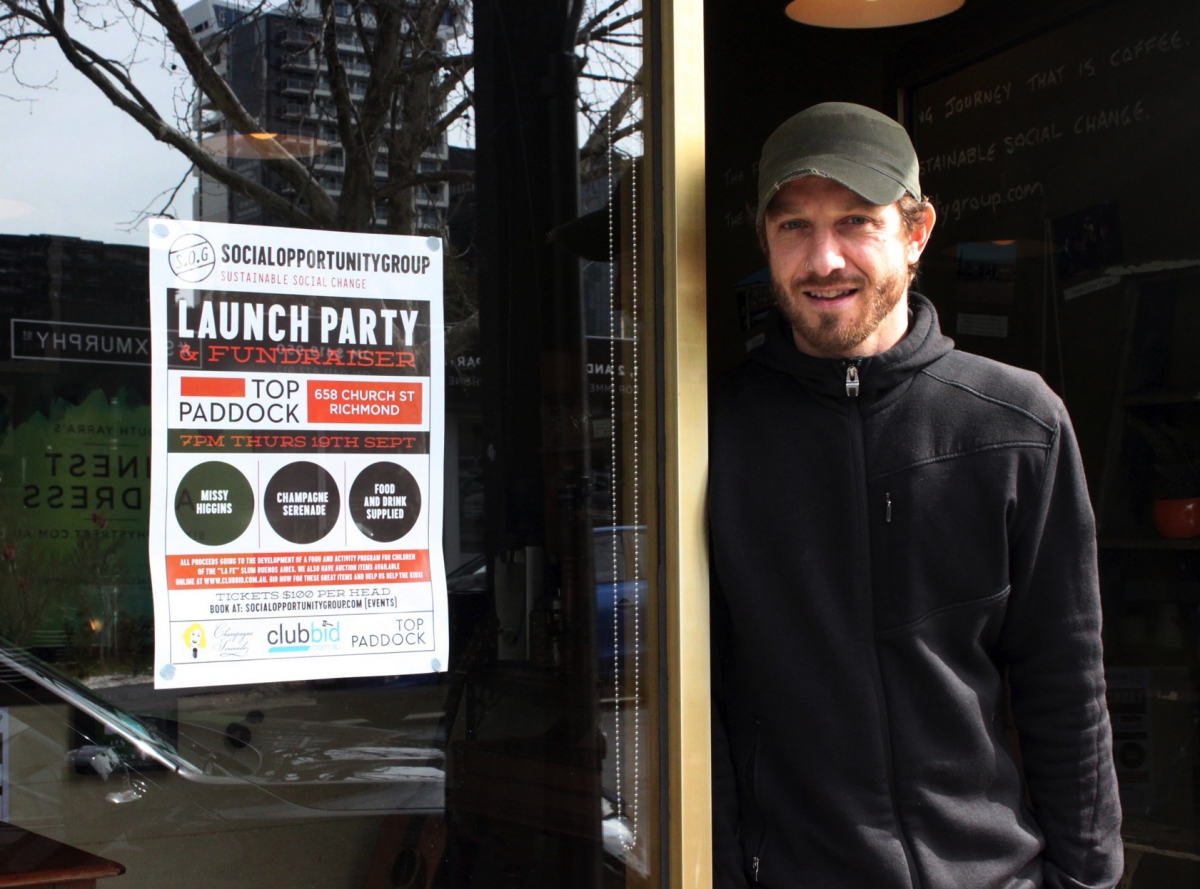 Ben Whitaker promotes the S.O.G cause at his South Yarra cafe, The Final Step

Support from family and friends has been a very heart warming and important part of the process for Ben; his mum recently set up a local Soup and Bun evening to raise initial funds for Ben's transfer to Buenos Aires, where he will be based moving forward with the project. Many other generous Melburnians have come on board to not only give donations, but to also volunteer their time at The Final Step, making coffee and educating people about the cause. Local businesses have donated products and services, including coffee aficionados and roasters, Dukes, who are regularly donating coffee beans to support the cafe as it continues to sustain revenue for the international project.

The fundraising will come to a head at the S.O.G launch party and fundraiser event at Top Paddock on the night of Thursday 19th of September. This is your chance to get on board and celebrate Ben's incredible efforts thus far in getting this project off the ground. Tickets are $100, which includes food and drinks on the night, with a special performance by Missy Higgins and popular Melbourne comedian JMAC acting as MC. All proceeds go towards the Food for Thought project Ben will be heading up in Argentina from October.
S.O.G Launch Party & Fundraiser | Thursday 19th September, 7pm – 11:30pm
Top Paddock | 658 Church Street in Richmond
Tickets are $100 and include food & entertainment (including Missy Higgins) | Purchase here
Visit S.O.G website & Facebook
Donate here