We almost feel bad for you guys. Here you are, just minding your own business, probably nibbling a celery stick and doing some low-key ab crunches, when we drop the news that Geelong's Cake Bar is doing ALL YOU CAN EAT cake tomorrow.
There isn't much more to say really. For $45 you can rock up tomorrow and do a pretty good impression of Bruce Bogtrotter in Matilda.
There'll be classics there like Pavlova (stop it) and Victoria's Secret Sponge (saucy), plus Cake Bar specialties like Kit Kat Triple Decker Chocolate Cheesecake, Caramello Koala Chocolate Mousse Cake, Milky Bar Cake (!!!) and Ferrero F#@%!&G Rocher Mud Cake. We're not editorialising there—that's really what they call it.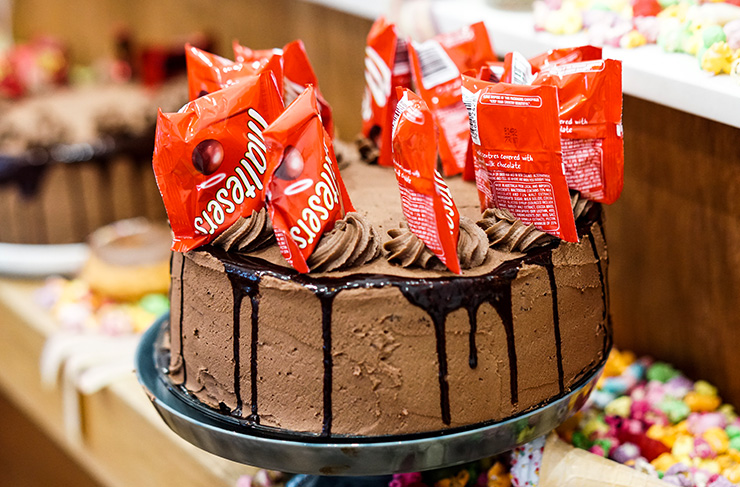 Your $45 will also snag you a cheeky cocktail, which should help keep your oesophagus clear for more cake. Cake Bar also stocks some solid craft beers and wines from local labels like Blackman's and Jack Rabbit.
The doors open at midday tomorrow, and it's gonna keep going until there's no cake left in the shop. Seriously, that's what we've been told.
You might want to book a night in Geelong for this one...that car ride back up the highway is not gonna be fun.
The Details
What: All the cake you can eat
Where: Cake Bar, 154 Moorabool St Geelong
When: From 12pm, Saturday 7 July
For more info, click here.
Can't make it down to G-Town? Pidapipo are now slinging giant gelato cakes. Looks like everyone's kicked a goal.
Image credit: Cake Bar