A passion for AFL comes highly recommended if living in Melbourne, and it's mandatory if you were lucky enough to be born here. Moreover, the team you support affects the circles you travel in and the people you associate with, it influences how other people view you, and characterises your suitability as an employee or potential spouse. It's THAT serious, and I for one won't let my kids ruin their collective futures by allowing them to choose for themselves.

Now, before you all cry foul and accuse me of being an overbearing father, I have my reasons.

My dad is a Carlton fan and my mum a Swan, and they gave me the freedom to choose my own team. So fate decided my path. As a four year old in 1985, I was drawn to the colours red and black. Decision made. I became an Essendon supporter for life. My younger brother became a Tiger via a similar process, and my youngest brother also chose Essendon. He's obviously the smarter of the two.

This diversity spawned friendly rivalries in our house, but it also drove a wedge and restricted our ability to band together as a family against a common enemy. It was an unenviable situation and I wish for better this time around. Football is a family affair.
I used to love going to the footy with my dad. I remember my first game, the sheer size of the cauldron that was Waverley Park and the roar of the crowd – it was an exhilarating experience. I recall kick-to-kick on the ground after the game, or in the mud-filled carpark. But despite the good times, we only ever managed to go to one or two games a year, always Carlton v Essendon matches and never as a whole family, which is something I see now as an opportunity lost.

Today, I see whole families together at the football. Fathers with sons and daughters, riding the highs and lows together. One in, all in, and that is what I want for our family. My wife is also an Essendon supporter so I am taking the opportunity to make our son a Bomber, and will inflict the same teaching upon his future siblings. I am creating a family tradition.

Our boy is only six months old and I have already started the indoctrination process. I've dressed him in the colours, taken photos, and proclaimed; "You are a Bomber, my son." I've sat him in front of the TV to explain the finer points of the game, and the next logical step was to take him along to see the spectacle live. So that's what we did.
A warm winter's day under the roof at the docklands beckoned recently, and despite the siren scaring the hell out of him, inducing some early tears, he really got into it.

Unfortunately, our Bombers were atrocious and got flogged. On the up side, he was asleep by then and he's too young to remember the result anyway. But the result wasn't of ultimate importance. We were there as a family, he enjoyed himself, and I have the photos to prove it.

Looking forward I have about four years, based on my own experiences, to brainwash him completely. I'll continue to badmouth the Pies, Tigers and the Blues, I'll extol the virtues of supporting a Melbourne-based club, and if by some miracle the Dons win the 2017 flag, the job will be finished for me.

I'm also sure I'll need to run some interference down the track. It's been shown that young school friends are the number one influence, after family, when choosing a team to support. If I have to screen potential friends and manufacture play-dates based on footballing preferences, then so be it. And if he tries to switch allegiances because one of his snot-nosed school friends tells him to, I can produce the photographic evidence and say: "Bad luck my son, that ship has sailed."

So that's it. Mission accomplished. My boy is a Bomber, and he'll be better for it, trust me.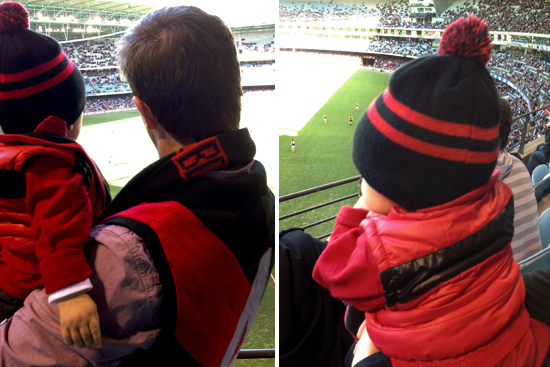 Am I being a selfish parent, or do you approve of the family bonding approach?

Image Credit: Unambitious Us