This is a big one, guys. Body Worlds, the internationally acclaimed exhibition of (slightly gruesome) real human bodies, is arriving in Australia for the first time...and it's coming to Melbs.
You might have spotted this one in James Bond's Casino Royale. It's been touring overseas for quite a while, racking up huge audiences (46 million people across 130 cities at last count). Right now it's in Auckland, grossing people out and teaching them the finer points of human anatomy.
Each of the bodies has been donated by its, err...owner, for the purposes of public education. To get them ready to show like this, every body underwent a year-long process of 'plastination'.
It's meant to show the complexity, resilience and fragility of the human form, without things like skin and clothes getting in the way. You usually have to be a surgeon or a 19th-century gravedigger to get this kind of close-up look, so it should be pretty cool.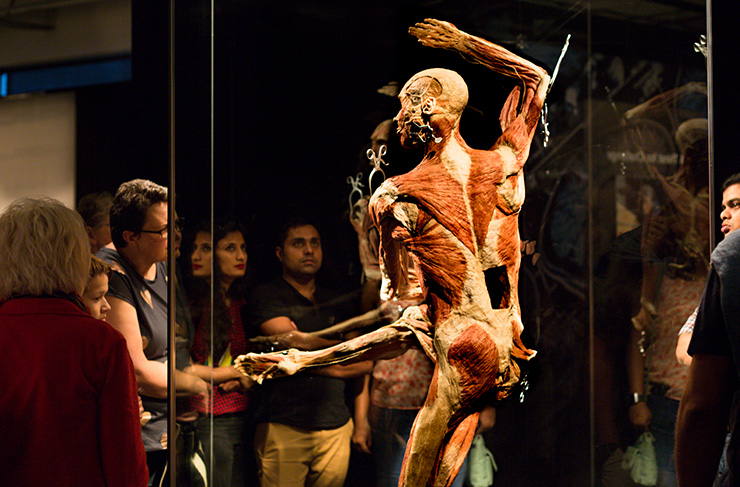 So where can you see Body Worlds Vital? It'll be setting up shop at the Melbourne Showgrounds and running from 13 August – 18 November. Tickets are already on sale over here.
It's easy to think, "Oh yeah, just another 'mind-blowing' exhibition...we get them all the time". But think about it: each of these was a real person. Like a moving talking person with friends and family and deadlines...
We can feel our skin crawling already.
The Details
Where: Melbourne Showgrounds
When: 13 August – 18 November
How much? Tickets start at $30 for adults (very small kids get in FREE)
For more info, click here.
Need some travel inspo? Here's 10 off-beat places to visit in America.
Image credit: Body Worlds