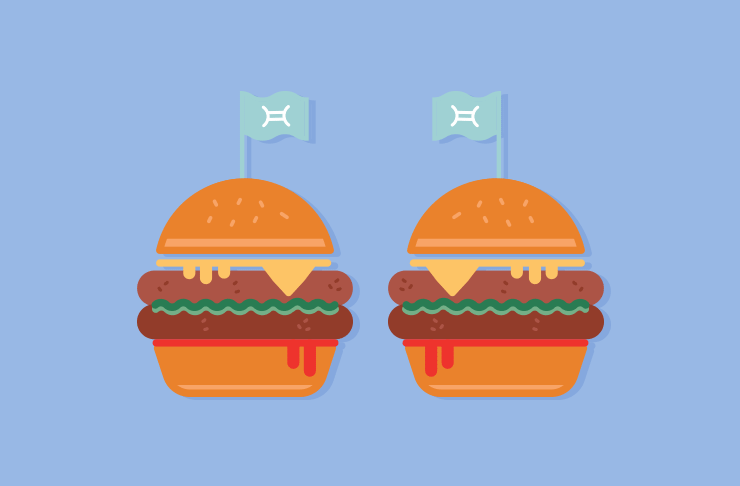 We get it—the only thing getting you out of bed these days is possibly a hot shower. But believe it or not, this week the Universe is playing nice and it's our duty to tell you we've got plenty of good news to go 'round.
Here's what you're *really* in for this week. We think you'll be pleasantly surprised.
Gemini
All is right in your atmosphere and the Universe wants you to set aside time to do all those things you never get enough time for. Nevermind this week's to-do list, but just for now.
We've got a list of dining institutions in Melbourne you should have eaten at by now. Get cracking.
Cancer
Recently your higher powers have been busy mapping out your future. As for you, all you need to do is sit back and just keep on keepin' on.
Meanwhile, we've been mapping out other important things, like all of the best burgers in Melbourne's west.
Leo
This week Saturn is entering your fifth house and is working some out-of-this-world wonders. It's only a matter of time until you see why we're saying you're gonna start believing in magic soon.
Speaking of magical things, Melbourne Central is gonna be majestic AF this week with the Unicorn Festival landing soon.
Virgo
The planets in your galaxy are slowly readjusting in an upwards fashion. What does that mean for you? A raise in your financial department. Gee, thanks Universe! This week you're gonna be splurging some cash money on some of life's finer things.
We know you probs wanna put that extra dosh towards a house deposit, but why waste time when we've got a list of 50 of Melbourne's best smashed avos you need to start checking off.
Libra
Been on the hunt recently for a new relationship? A new pair of boots? Well, this week your House of Love is on fire and there's a significant other coming hot onto the scene real soon.
Interested in some further research? Here are the best and worst love matches based on your star sign.
Scorpio
Sometimes it's not hard to believe that your parents are from another planet, despite the striking resemblance. But this week as Mercury's orbits pick up the pace, you have to start respecting your elders or your planets will be completely out of cosmic alignment. Yeah, you don't want that.
Not sure if you've noticed but there are some pretty odd things your parents are obsessed with… and here's 40 of them.
Sagittarius
You're a total mess, but that's probably 'cause you haven't had your minimum coffee dose for the day. You know what they say, no coffee, no work-ee. It's never too late to get that final caffeine hit in (despite what they might say).
Not convinced? Here are 10 reasons why you should never give up coffee.
Capricorn
This week you need to avoid being hangry to stay out of the bad books with your coworkers (and also so that giant meteor doesn't collide with Mars). They mean well, it's not their fault you're just forever hungry.
Pick yourself up a doughie from Oakleigh Doughnut Co for some sugary sustenance (here's to health!), we already know you're gonna keep going back for more. Soz not soz.
Aquarius
We have good reason to believe that your mate's long-term relationship is actually going to stand the test of time. Yep, you're gearing up to be a bridesmaid soon. Bet you didn't know that was included in this week's reading/your five-year plan.
Here are 21 things you're gonna have to deal with as part of the bridal squad. But free and unlimited booze? It can't be that bad.
Pisces
This month many brave and determined individuals have attempted a dry July. If you're in that club, this is where you stop reading. But, if you're not one of those sober people, having a vino (or two) for making it past the half year mark is definitely on your cards.
But if you actually are in the midst of a Dry July (and you're still reading), maybe you'll be able to vouch that some of these things actually do happen when you try to ditch wine for a month.
Aries
This week is all about honesty. The Universe is opening up its cosmic gates of truth for you and you need to make the most of it, there's something they want to share with you.
Actually, we've also got a little secret we wanna let you in on too. We've found Melbourne's best secret vegan option and it's delish.
Taurus
Splurging – it's something you do more often than you would care to admit. But this week, you need to own that splurge. Rep that bank statement.
There's never been a better time for you to demolish some of the honeycomb cronuts at Rustica. Remember, you're not here for a long time – you're here for a good time.
Looking for something to do this weekend? Here's everything happening in Melbourne right now.
Image credit: Gabrielle Stjernqvist