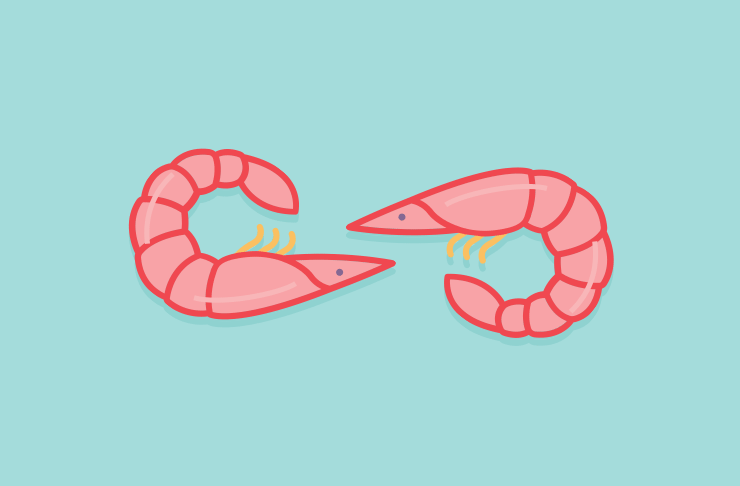 There's so much to be excited about in March—Labour Day is around the corner along with Panic Day, Ear Muffs Day and Submarine Day (yes these are all real). But the real day we want this March is Beauty & The Beast day, as in the day that movie we all can't wait for is released. To prepare for all the Disney fun soon to come, check out a Disney zodiac. I can hear your groans of discontent and squeals of delight from here. To that I say conceal, don't feel to the former and let it go for the latter!
Pisces
What's way more fun than a room full of puppies? 101 Dalmatian puppies! Let loose your playful side this week and puppies are sure to follow. Disclaimer: we cannot guarantee there will be puppies, but nobody ever got anything without asking for it first.
Where you need to go this week: Melbourne's best spots for finding puppies.
Aries
There's likely to be a lack of logic in the world of Aries come March 13 as Mercury crosses your path. Probably not a coincidence Aries is halfway to Ariel, you're about as logical as Ariel deciding to trade her voice for legs and thinking nothing could go wrong there. Or using a fork on her hair.
Where you need to go this week: Eat some seafood by the sea.
Taurus
This Thursday you're going to get more stubborn than Princess Jasmine when it comes to picking a husband. As Mars enters the Taurus sign your best bet is to hang onto any long-term goals and keep chipping away there. If anyone tries to get in your way or offer yet another unsuitable prince set your tiger on them (or your Chihuahua).
Where you need to go this week: Have a Middle Eastern feast.
Gemini
The best week of March has arrived for Geminis. There is love, money and boundless opportunity on the cards. Think of yourself as Cinderella at the ball about to be swept off her feet. Just remember to leave a good impression so lover boy can find you later. Do kingdoms have Google Maps?
Where you need to go this week: Skincare fit for a princess.
Cancer
If every planet were a colour you're about to groove to the colours of the wind. By the time the weekend rolls around you'll be feeling the effects of space-love from every angle, even those new planets NASA found. Paint with every colour and share your masterpiece far and wide.
Where you need to go this week: Freshly painted nails anyone?
Leo
Can you guess which Disney character you resemble? I'll give you a hint - Nants ingonyama bagithi baba (there comes a lion), Sithi uhhmm ingonyama (oh yes, it's a lion). Leo's don't take it well when they aren't treated like the king or queen they know themselves to be. Take heed from Simba, everything the light touches may be yours but if you act recklessly you could lose something much more important—like your dad.
Where you need to go this week: Visit the king of pubs.
Virgo
You've always been a hard worker and know that shortcuts usually mean kissing too many frogs and feeling the aftermath. The end of this week sees those traits come to the forefront with a full moon. You'll be solving problems and nailing mental pursuits just like Tiana when she had to find her way out of an amphibian mess.
Where you need to go this week: A problem solver's dream venue.
Libra
It might feel like you've fallen down a rabbit hole this week and landed in the centre of the universe. The start of this week has people talking 'bout your reputation. You're just a girl finding her way in this big confusing world and before you know it someone says 'off with her head'. Don't take it to heart, they're just jealous of everything you have to offer.
Where you need to go this week: Have a bubble tea party.
Scorpio
The moon has been checking you out and it likes what it sees. If you're a night owl akin to Sleeping Beauty make the most of this fortuitous sojourn with your lunar lover. Expect good moods, domestic harmony, feelings of comfort and no evil witches around to pinprick your happiness.
Where you need to go this week: Make the most of beauty sleep.
Sagittarius
Calm down Saggi's, last week's big battle is over and there's nothing too crazy on the cards or in the stars this week. You can expect a sprinkling of stressful days ahead but that's nothing to write home about. Our advice—we can't all be Belle, and not every Beast is secretly a gem. Your idealistic nature can lead to bad choices if you let it overtake what's right in front of you.
Where you need to go this week: A hidden Collingwood gem.
Capricorn
Have you ever wondered how confusing it was for Li Shang when he was falling for Mulan dressed as a boy and wondering if he swung that way only to find out she was actually a girl this whole time? You're in for a confusing ride too this week. While your star sign is desperate to be in harmony with every planet, your ruling planet has other ideas. Embrace the washing machine of emotion you'll be in for and have faith in things becoming clearer in their own time.
Where you need to go this week: Grab breakfast like Mulan.
Aquarius
Mirror, mirror on the wall, you are the fairest of them all. Venus is the planet of luurve and its sharing its power with you. Try using fun nicknames – like Happy, Dopey, Grumpy, Sleepy – to keep up with all the people scrambling to be noticed by you.
Where you need to go this week: A bit of snow-spiration.
Still stuck for something to do this week? Here's everything you need to know about.
Image credit: Gabrielle Stjernqvist