So you've got friends coming to town? Where to take them? How to entertain them? Fear not, my friend, I've been in this sticky situation a thousand times, so I've compiled a list that's got something for everyone—from your awkward cousin to the hot guy you met overseas. Enjoy!
Brunch Spots
Crux & Co: For the café that's got it all—design AND flavours.
Mammoth: For the adventurous friend that wants to try the most 'out there' brunches that Melbourne has to offer.
Three Bags Full: For the ultimate eggs benny head here. It's a very 'Melbourne' experience.
Grub Food Van: For a great people watching spot and one of the best breakfasts going around.
Industry Beans: For the design-savvy, this is the spot for you—every detail has been taken care of.
Shopping Precincts
Emporium: If you really have to go to a shopping centre, opt for the fancy-pants version that you'll find at Emporium. Big-brand wise, it's got everything.
Chapel Street: Wander up Chapel for a quintessential south-side experience. Tip: broadly speaking, the further north you go, the more expensive things will get.
Brunswick / Smith Street: Head here for a shopping experience that's not too cookie-cutter. Perfect for your slightly grungier friend.
Gertrude Street: Got a design savvy pal? Head here, even if it's just for a window shop.
High Street Armadale. For the serious 'labels' shopper, who wants to shop for 15 coffees along the way, High Street in Armadale should satiate her shopping habit.
Activities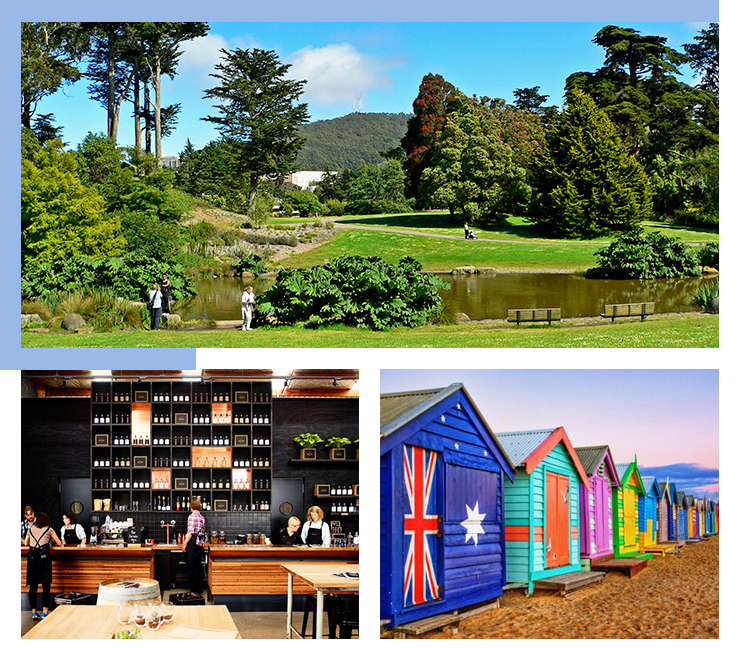 Royal Botanic Gardens: Head to the botanical gardens and wind your way through the maze of paths. No need to have a map or a plan, you'll eventually reach the centre lake where you'll be able to grab a drink before navigating your way out again.
Brighton beach boxes: For all the snaps! Bonus points for sunny weather and swimming ops.
Healesville road trip: If you're keen to get out of the city, head up to Healesville. Stop in at Four Pillars Gin for a few tasters. Lunch at Giant Steps is a must and if they're a friend from overseas, a stop in at Healesville wildlife sanctuary will be a highlight.
South Melbourne Market: For lazy browsing and all the produce, head to South Melbourne Market (check open days before you set off) There's some really great shopping there and for the seafood lovers, stop in for a tray of super fresh oysters.
Walks
The Tan: For something very pretty, but still central, a lap around the tan is both scenic, a great way to see a few aspects of the city and the perfect opportunity for a chin-wag.
Yarra Bend: If your friend is wanting to get back to nature, head up to Yarra Bend (perfect following brekky at Three Bags Full) You feel like you're a million miles form the city and the path is great quality. Enjoy Collingwood Children's Farm as you pass through.
Laneways: For the truly urban experience, head into the CBD and wind your way through the laneways. Start at Degraves and work your way into the centre of the CBD, aiming to see as much street art as possible.

Drinks
Marion: If you're north side and wanting a chic little wine bar to enjoy a glass or two before dinner, Marion is an excellent choice.
Embla: For a wine bar that will tempt you to stay for dinner, Embla is the go. Tip: Get there early.
Arbory Bar: Warm evening and want to be near the water? Arbory is exactly what the doctor ordered.
Rooftop Bar: For an impressive view of the city, one of the coolest bars around and a jug of sangria, head to Rooftop.
Madame Brussels: For quirky vibes, a themed venue and all the Pimms in the world, Madame Brussels is the answer. Perfect to get you in the mood for the Aus Open.
Moondog Brewery: Drinking north side and looking for something that's got a bit of a 'hidden gem' vibe about it?
Jungle Boy: For serious street-cred, duck through the fridge door at Boston Sub to find Jungle Boy, the bar that'll shoot you straight to the top of the hosting ladder.
Dinner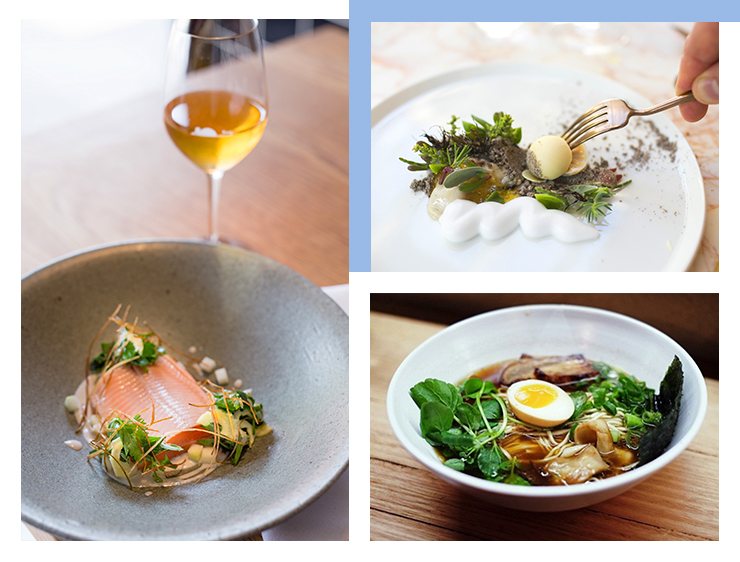 $: Shop Ramen is a perfect insight in to 'true' north side Melbourne. Ramen is the order of the day, but there's a few different options and they're all next-level delicious
$: ​Fratellino's is the perfect Melbourne Italian, without having to head to Lygon Street.
$$: Town Mouse is our firm go-to for relaxed-chic dining. Good for either lunch or dinner, don't be afraid to sit at the bar. Whatever you do, make sure you get the cabbage.
$$: Anchovy is a South East Asian answer to Town Mouse's Modern Australian cuisine. It's laid back, but still has a definite air of class about it. The seafood is excellent.
$$$: IDES is perfect if you're looking for something a bit out-of-the-box, it should definitely tickle your fancy. The menu changes regularly, so keep an open mind.
$$$ Lume is the ultimate theatre-cum-meal. Each dish will delight in its unexpected ways and flavour surprises. Word on the street is that the wait staff have had acting lessons.
$$$$$: If you're feeling really freaking generous and you've all got cash to splash, Dinner By Heston is your one-way ticket to impressive hosting.
Late Night Drinking
Le Bon Ton: If you're north and looking for a homely venue to kick in to the wee hours, Le Bon Ton is a safe choice.
Sister Bella: If you're wanting to really amp up the 'Melbourne' experience, head down a laneway and behind a dumpster to get to Sister Bella.
The Toff: If you're early enough, grab yourselves a booth and enjoy table service with some of the best cocktails around, if not, simply prop yourself up at the bar—it's a pretty one.
Image Credit: Arbory