Australia's southernmost state, Tasmania—a heart-shaped anomaly separated from its nearest neighbour, Victoria, by 500 or so kilometres of Bass Strait—has a 'reputation' for being a little offbeat. If states were actors, Tasmania might be doe-eyed Zooey Deschanel, the unequivocal Head Hunchess of quirky miscellany.
And harnessing all the eccentricities of Australia's only island state is Launceston's 8th annual Junction Arts Festival, a fanciful five-day (and night) buffet of performance, music and gastronomy. 2018's reincarnation is particularly fixated on local talent, with 21 of the 25 events featuring real, live, Tasmanians.
As with all multi-hyphenate events of acclaim, this thing beholds a long list of must-dos. Because we're nice and perhaps also a little bossy, we've assembled five non-negotiables for attendees.
Tamar Valley Feast
In 2018, culinary experiences are vastly different things to different people. They're either very green and steeped in health, or so experimental and deconstructed that their original utility (to feed us delicious food) is no longer apparent. Both avenues, coincidentally, are perfect for the 'Gram—but are they tasty?
Tamar Valley Feast, a food and (award-winning) wine-based gathering, will indeed be innovative and easy on the eye, but its raison d'être is to proffer high quality, honest, local fare that tastes excellent. This fare is cooked over an open fire by Tasmanian culinary wizards Hubert & Dan. One question: do you like perfect sunsets? Because this event will be backdropped by one, over the picturesque Tamar Ridge Cellar Door. And so, you might consider Instagramming the whole affair after all.
When: Sat, Sept 8, 6-11pm
Where: Tamar Ridge Cellar Door
Cost: $120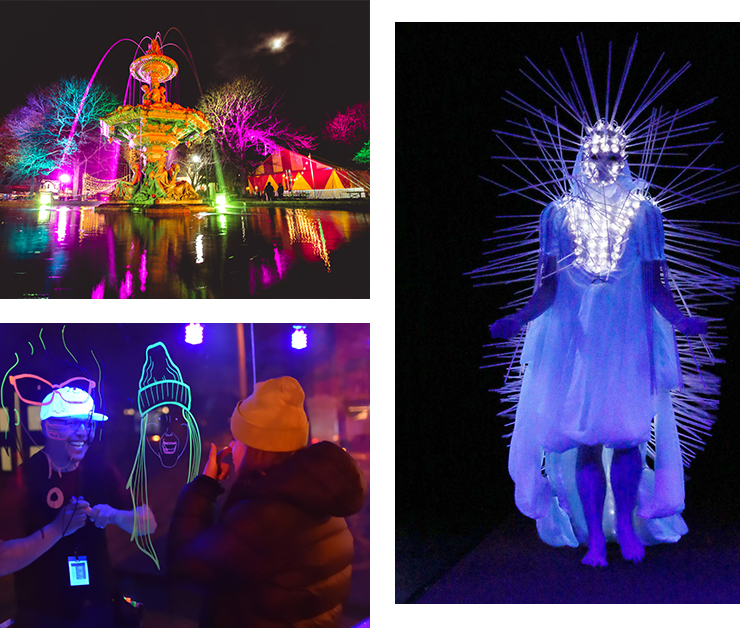 Shiny Disco Ball
Ever met a person who didn't like disco? Same. She was a bore; forget I even mentioned it. For everyone else, there's this three-and-a-half-hour limb-flailing opportunity. Dress the way Giorgio Moroder and Gloria Gaynor would've wanted, and submit to the aural tendencies of local electro-disco duo Robotikus.
When: Wed, Sept 5, 7:30-11pm
Where: Fountain Bar, Prince's Square
Cost: $15
Roundabout
World-firsts are never not exciting, and this is one of those. The brainchild of Junction Arts' Creative Director Greg Clarke, Roundabout is a fusion of dance, music and (for the Whip It fans)… rollerskating! Choreographer Virginia Ferris is behind the movement, while an original score comes care of Launceston DJ and music producer Je Bahl.
In Greg's words, "Roundabout features the Devil State Derby League, LC dance students and the Allstar Cheer and Dance Tasmania who will come together in a dance, music and roller disco spectacular around the Prince's Square's Fountain." In our words, it's set to be 360 degrees of colour and cacophony.
When: Thu, Sept 6, Fri, Sept 7 & Sat, Sept 8, 8pm
Where: Prince's Square Fountain
Cost: Free
Breathtaking
Breathtaking might just be the antithesis to frivolous Roundabout, but here's the thing: It's just as alluring. Consider it a three-pronged vocal performance in which reverence replaces roller skates, where the deeply dramatic proceedings are staged inside one of Launceston's oldest buildings, a Colonic Gothic church erected in 1825.
Among the three vocalists is Sakthi Ravitharan who performs Carnatic music, a spiritual Hindu genus from Southern India that's hyper-climactic, pivoting on intricate time scales and complex ragas. In other words, excruciatingly difficult and impressive and you daren't miss it.
When: Sat, Sept 8, 3pm
Where: St John's Church
Cost: $20
Journey of the Free Words
Contrary to the title of this attraction, you won't find quasi-beatniks perched on upcycled milk crates reading socialist poetry. No siree! In fact, there's nothing gimmicky about the Tasmanian Aboriginal production Journey of the Free Words, a richly narrativised event that Greg describes a "three-part theatrical music odyssey" performed by some of the Lutrawita tribe's most acclaimed first nations artists.
"What I love about the work being created by Tasmanian artists is the inherent wildness, diversity, originality and freshness that is often deeply rooted in a unique sense of place—both the natural beauty of the island and in its cultural history," he says.
When: Fri, Sept 7 & Sat, Sept 8, 6:30pm
Where: Junction's Little Devil, Prince's Square
Cost: $25
And since you're here, did you hear Cardi B is headed Down Under?
Image credit: Supplied.