There is a certain magic in seeing snow fall, whether it's a throwback to childhood Christmas movies, or the delight that comes from catching snowflakes on your tongue, whatever your age.
As one of Australia's premier ski resorts, Mount Hotham has the ability to capture the imagination of even the most sun loving amongst us, providing a solid base of snow for everything from tobogganing to skiing and boarding, or plenty of après ski activities for those less partial to outdoor play.
Head up on Friday morning and hit the slopes early on a single day lift ticket ($110 for an adult), before resting your feet at Zirky's for a counter lunch. Zirky's is a Hotham institution – you'll find the walls adorned with photos of the celebs that have popped in over the years, and an easygoing atmosphere perfectly suited to a casual pitstop, specifically: hot chocolate with marshmallows.
After an afternoon back on the powder, The General is the place to be on a Friday night to spend some time relaxing and catching up over good food, drinks and live music. Just watch your feet walking back to your lodge – a few drinks and ice don't mix!
Rest your weary bones at any one of the many accommodation options, from budget backpacker-esque lodges, to five star, fully fitted out apartments. There is a bed to suit whatever style of housing you are looking for – and all are very well heated!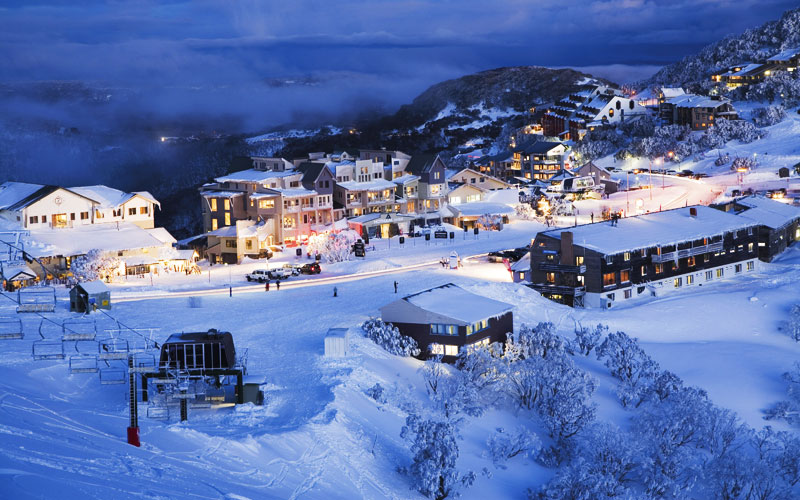 Come Saturday, jump on the bus to Dinner Plain and head out to breakfast at Mountain Kitchen, where homestyle cooking and a decent cup of coffee will set you up for the day. Pick up some yummy local produce from the pantry while you're there.
Next up, visit the Onsen Retreat and Spa, Australia's first indoor-outdoor alpine spa resort, to soothe your aches and pains. Soak away with a bathing pass, upgrade to a massage, or take a yoga class. You'll feel better, and ready for another night of après-ski!
If it's something a little bit different you are after, dine at Tsubo, also located at Dinner Plain. This modern Japanese eatery has snow bunnies trekking in from Hotham for lunch and dinner, with the ability to accommodate large group bookings one of their best features.
And, if you haven't had your fill of the white stuff, head back out on Sunday on a half-day pass, before finishing off your alpine weekend with lunch at The White Room, Hotham's only fine dining experience. Bookings are essential, but the modern menu, expertly matched wines and intimate atmosphere make it the perfect end to your snow getaway.
TUL Note: Sarah Kempson's passion for fashion might be a cliché, but it is her unique take on life that adds spark and colour to her days in Melbourne. A freelance writer and social media princess, Sarah loves nothing more than a good sale, a decent latte or an elegant cocktail.
Image Credits: Skier - Ski Travel Company | Hotham Village & Sunset - Australian Traveller