If you're flying to the USA from down under there's a good chance you're flying through LAX. Thanks to the never ending, year-round construction it's not the most exciting transit point, so we're here to inspire you to grab your bags and get out of the airport with our guide to DTLA, Culver City, Silver Lake and San Pedro.
Whether you hit one, or all of these underrated 'burbs we're sure you're going to have a lot of fun. And you won't even need a car—all of these places are easily accessible by public transport. What are you waiting for? Load up your Tap card and let's go.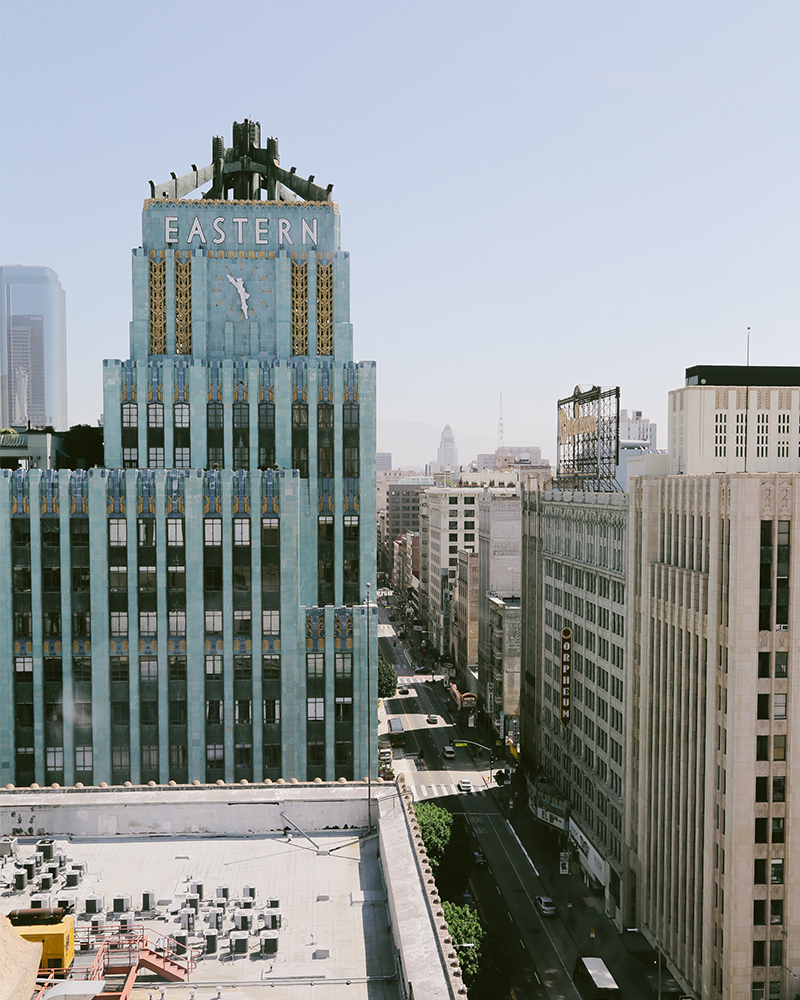 Downtown LA
Ten years ago Downtown LA (aka DTLA) was not a safe place to hang out, let alone holiday. But these days an incredible revitalisation has cleaned LA's central business district up without stripping it of all its character.
From art galleries to coffee shops and hip restaurants, here are some of our favourite places to hang out. Plus, you could knock off this list on foot with a little help from Google Maps.
Hotels
Podshare DTLA
If you're on a budget or travelling for work (let's face it, in today's gig economy who isn't?) throw down your swag and plug in your laptop at Podshare's Arts District location. It's bunk-style accommodation so don't expect privacy, but the minimalist sleeping pods are comfortable, the WIFI signal is strong and there's a quieten down policy after 10pm. Free cereal, coffee and instant ramen don't hurt either.
Firehouse Hotel Arts District
This quirky boutique hotel is just about to open in the old Los Angeles Fire Department site at the intersection of 7th and Santa Fe. The carefully restored 1920s building features nine guestrooms and a farm-to-table restaurant under the charge of ex-NoMad LA chef de cuisine Ashley Abodeely. It's set to become a destination in its own right when it opens in April 2019. You heard it here first.
Coffee
Endorffeine
This minimalist espresso bar is hidden in the back of a non-descript Chinatown arcade that you wouldn't notice if it wasn't home to one of LA's best coffee shops. They've got your caffeine needs covered, from cold brew to coconut lattes. And unlike most LA coffee houses it's owner-operated.
No Ghost Bears
It's all about upcycled furniture, millennial-pink walls, abandoned skateboards and rock 'n' roll at this hip coffee spot in the heart of the Fashion District. There's no menu, just espresso, filter coffee and pastries. All you need to get your day underway.
Eats
Fugetsu-Do
This Little Tokyo sweet shop, now run by the third-generation of the Kito family, has specialised in hand made mochi (Japanese rice cakes) since 1903; that's not a typo. You must try the domyoji—pastel-pink rice cakes stuffed with bean paste and wrapped in salty, pickled cherry tree leaves.
Nightshade
Buzzing new eatery Nightshade is the first restaurant for Top Chef winner Mei Lin and it's the talk of the town right now. It's all emerald green banquettes, indoor plants, parquetry flooring and mid-century modern bar stools. Oh, and a spicy mapo tofu-filled lasagne that will make you question where Asian-Italian fusion food has been all your life.
Drinks
Here & Now
There's a lot to love about Here & Now. A sultry train carriage-inspired bar where no detail has been overlooked, from the padded leather armrests along the bar to the phone charging points hidden underneath. The theme is a nod to the railway that used to run through DTLA's arts district. Expect whip smart service and killer cocktails.
Engine Co. No 28
Old-school watering hole Engine Co. has the best happy hour in DTLA. Actually, make that six to eight happy hours. It's $5 pints and $8 cocktails from 4pm; if you're lucky they'll spot you a bowl of crisps still warm from the fryer. It's not as trendy or fancy as some of LA's newer joints, and it doesn't need to be.
Vibes
Museum of Contemporary Art (MOCA)
Sure, LA has bigger art galleries (we're looking at you Getty and LACMA), but MOCA is worth your time. $15 gets you entry into both DTLA gallery spaces (they're easy walking distance from each other), but if you're counting your pennies Thursday nights are free. As well as touring exhibitions, the rotating permanent collection features works from some of America's greatest contemporary artists.
The Last Bookstore
You will find something that sparks joy at this 22,000 square foot emporium of literature. An encyclopedia of Russian jail tatts? They've got it. A section devoted to texts on the paranormal written in Spanish? Got that too. And there is whole wing just for books on the arts. No room in your suitcase? You can sell or swap your own books if they're in good condition.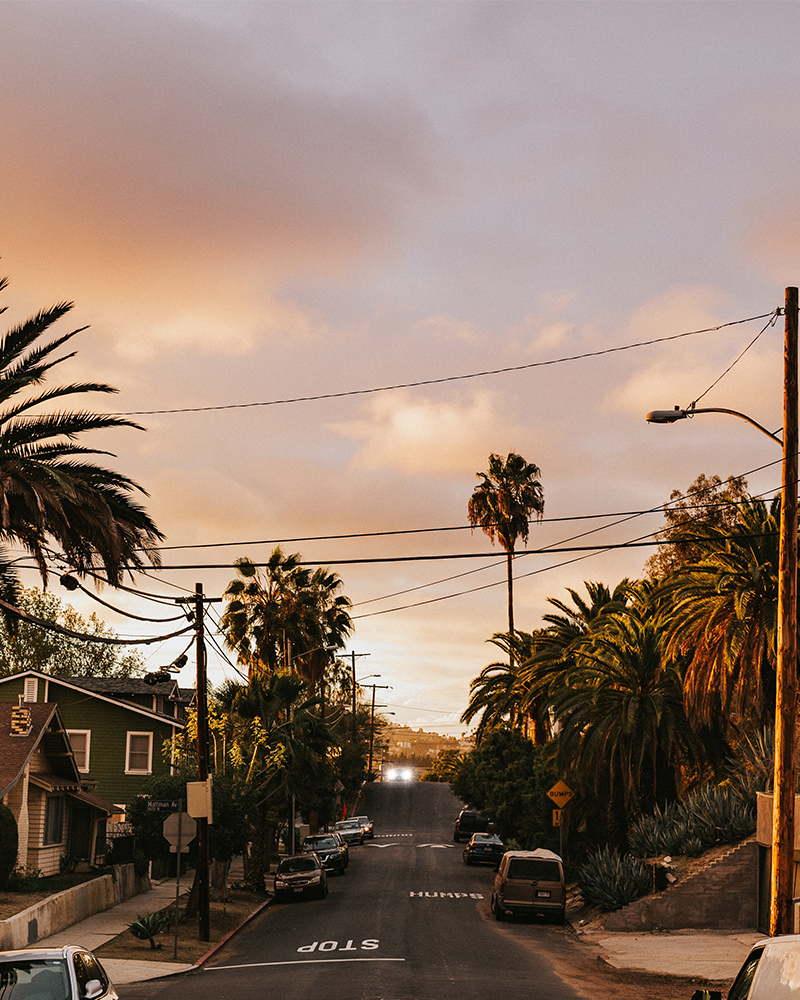 Silver Lake
Silver Lake is kind of like the Brooklyn of Los Angeles. It's got one foot in the gritty, artsy camp and another crossing over into pricey boutiques and bars you have to line up for.
Most of the action is on Sunset Boulevard and the 96 bus runs straight through from Downtown via Chinatown.
Hotels
Hotel Silver Lake
Hotel Silver Lake is where to stay if your to-do list includes Universal Studios, the Hollywood Walk of Fame or Paramount Pictures (they're all within a 10 minute drive) but you don't want to blow your budget on accommodation. Rooms are around $160 a night, which is pretty reasonable for LA.
The Villa Sophia
The Villa Sophia was built in 1926 in the image of a Spanish castle, but actually looks like a set from The Bold and the Beautiful. No wonder LA Weekly once named it the best place to pretend you're a celebrity. Along with panoramic views of the city, there are lush gardens to meander around, an indoor fireplace, a steam shower and swimming pool with a hot tub. It's a bit romantic really.
Coffee
Intelligensia
A pioneer of American's artisanal coffee scene, Intelligensia moved into Silver Lake before the hipster boom and decided to stick around. You might be familiar with the name, it's a coffee chain with stores on both coasts of the USA that calls Chicago home. The Sunset Boulevard facing courtyard is a good spot to spend an hour if you like single origin brews and pretending that you live in LA.
Dinosaur Coffee
Proving that there's no limit on wild ideas for cafe themes, Jurassic-inspired Dinosaur Coffee has third-wave brews, more than enough electrical outlets for everyone and a curved, plywood stegosaurus "skeleton" hanging from the ceiling. Fun fact: co-owner Ben Hantoot is the brains behind Cards Against Humanity.
Eats
Rick's Drive In & Out
Is this the best burger in LA? No. But a burger from Rick's Drive In & Out (it's on the corner of Fletcher and Riverside and nope, no website) is more than a burger. It's a bite of local history. As the name suggests you could order and eat from your car, but where's the fun in that? Grab a booth, order yourself a quarter pound cheeseburger, a Coke and plate of chilli cheese fries, and take a long hard look at yourself. Because you're winning at life.
Night + Market Song
Thanks in part to its bright pink exterior you will have no trouble finding your way to Night + Market Song, a natural wine bar disguised as a Thai street food joint from hot young chef Kris Yenbamroong. He was just nominated for a James Beard Award, which is a pretty big deal in these parts. The short rib curry noodles are an excellent choice.
Drinks
California Sun
If you love beer, California Sun is the bar for you. It's masquerading as a pizza place, but the fridge stocked with 140+ varieties of craft cans is the real drawcard. The help yourself system is effective (just grab what you want and settle up at the counter) and it pays to recycle; check the tally on the wall, every month they turn in all the cans and donate the proceeds to local charities.
Cafe Stella
Cafe Stella is the neighbourhood French bistro every city needs, and adjacent Bar Stella is its devastatingly sexy watering hole. With a den-like interior, marble-topped bar, moody wood panelling and Moroccan-inspired furniture, there is no better place to sip perfect negronis until the wee hours. In a word? Swanky.
Vibes
Silver Lake Wine
Get to know your grüner veltliner from your grollo with a personalised wine tasting at Silver Lake Wine. Aside from shelves stocked with small-batch wine, beer and spirits from around the world, there's always something out of the ordinary happening. It might be a pizza shop pop-up, a book launch or a cocktail party, but we guarantee it'll be worth your time.
The Silver Lake Picture Show
See a free film every second Thursday evening in Sunset Triangle Plaza at the Silver Lake Picture Show. It's one of Los Angeles' biggest free outdoor theatres and anyone is welcome to rock up (there's even a special schedule for kid's movies, because you're never too old for cartoons.) Bring your own bean bag, snacks and vino.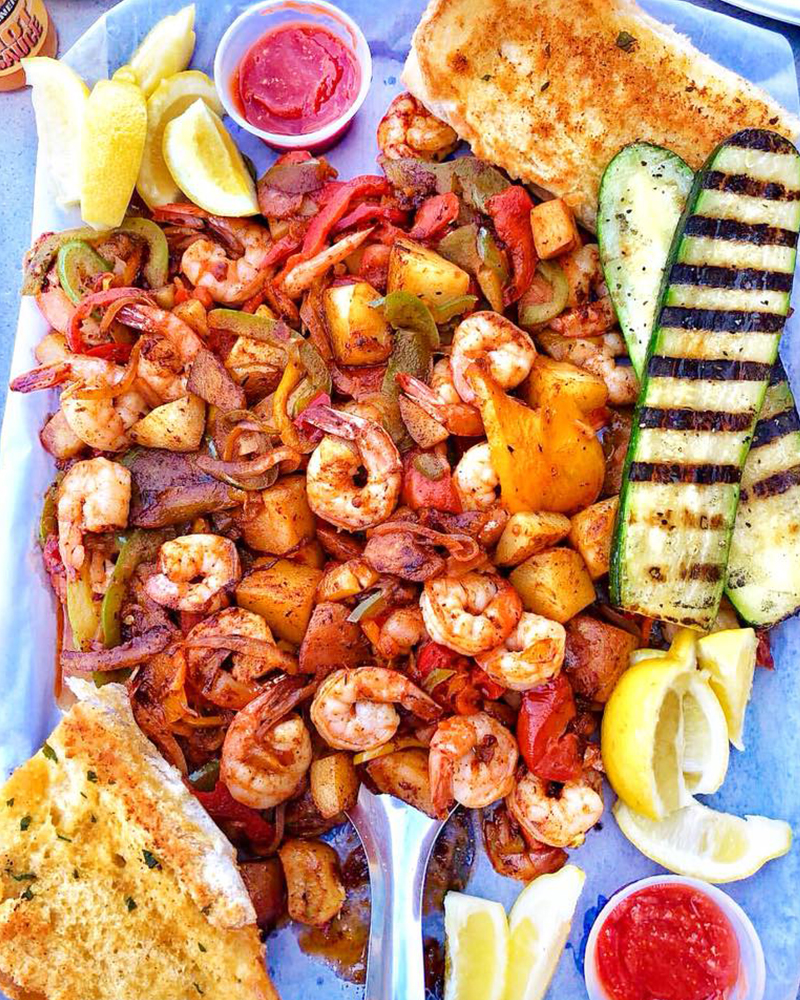 San Pedro
We want you to visit San Pedro (it's pronounced "peydro"). Okay, we agree it's ages away from anywhere else you might want to go, but this suburb, known as LA's last affordable beach town, will give you a perspective on the city few bother to find. Trust us.
Hotels
Double Tree San Pedro
We don't recommend you stay in San Pedro, you could do what you need to in a day and there's a bus line that runs express from DTLA to the waterfront. It takes about an hour and costs $1.75. Bargain. BUT if you do want somewhere to rest your head, check out the local Double Tree. Every guest gets a warm, freshly baked cookie on arrival. Now that's service.
Breakfast
San Pedro is not known for its third-wave coffee shops, so we've swapped "coffee" for "breakfast" here and soon you'll see why.
Omelette & Waffle Shop
You must go to the Omelette & Waffle Shop, a bustling old-school diner with 80 omelette combos. More, if you factor in customisable sides. You definitely want the warm corn tortilla and Mexican bean option, and say yes to the smoky tomato, onion and coriander salsa.
Corner Store
Cheery San Pedro institution Corner Store has been slinging BLTs and pastrami sangas since 1947. It's all about the kitsch, in fact it's hard to imagine much has changed in the last 70 years. Even the prices are old school, you'll be caffeinated, fed and happy for less than a tenner.
Eats
San Pedro Fish Market
Head to the San Pedro Fish Market on the docks where the seagulls are the size of geese, the beer is frothy and the seafood fresh as a daisy. Order the "world famous shrimp tray", fresh West Coast prawns tossed with green peppers, fried potato, onions, tomatoes and top-secret spices.
Drink
San Pedro Brewing
It's tank-to-tap at this inner-suburban brewery. Sample from 10 beers onsite, from lagers to IPAs and red ales, watch some live music or tuck into a burger. If you're into sport, it's a good place to catch any games that are on with big screen TVs all around.
Godmother's Saloon
It's dirty, it's dingy, and it's dark; do not tell your parents you were at Godmother's Saloon until 2am playing pool, drinking whisky and getting your grove on. Heaps of local bands play here and anything goes.
Vibes
Pacific Food And Beverage Museum
Almost every evening the Pacific Food and Beverage Museum, a grass roots organisation housed in an old shopfront on San Pedro's main drag, hosts free events in partnership with local chefs and booze producers to celebrate the culinary history of San Pedro and the greater West Coast of America.
Korean Bell Of Friendship
Grab some fresh air and take a walk through Angels Gate Park to the Korean Bell of Friendship—literally a giant bell that was donated to the city by their Korean mates back in the 1970s. Good views of the Los Angeles harbor, the Catalina Channel and the sea terraces of San Pedro hill too. And where else can you find this much public space and green grass in LA?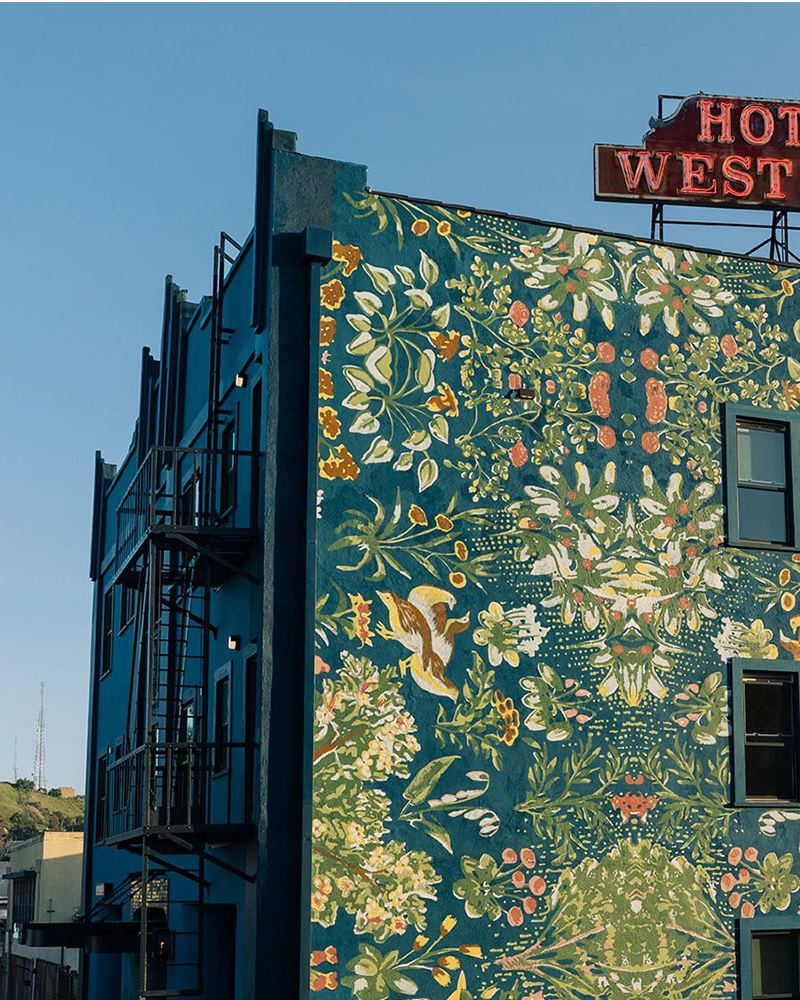 Culver City
Sort of located between Santa Monica Beach and DTLA, Culver City has some sweet public transport hook-ups (it's on the Expo line) so you've got not excuse not to check it out.
Come here for film history, ­tech start-ups and great coffee. Oh, and it's super pedestrian friendly. You can walk.
Hotels
PaliHotel
LA-based Pali Group recently opened a 49-room hotel in Culver City in a renovated 20s era boarding house (we've heard rumours that Joan Crawford used to live here). Eclectic, boutique, bohemian with a slick bistro.
Coffee
Bar 9
It's easy to walk past the semi-industrial entry to slick coffee shop and roastery Bar 9, so keep your eyes peeled for the metallic numeral nine tacked to the chain link fence. Fair trade beans are roasted onsite and the milk is proper organic, no half and half or UHT here. Plus, there are short order breakfast items like avo toast and doughnuts to get around.
Destroyer
It's mostly outdoor seating at Destroyer, a day-time only venue for Thomas Keller alumnus Jordan Kahn in the Hayden Tract (a former industrial zone that's now home to eclectic architecture and rising rents). There's a daily changing menu of Scandi-inspired breakfast and lunch items and filter coffee is served in a deep round mug wrapped in a hand-knitted cosy.
Eats
A-Frame
Food truck king Roi Choi's Hawaiian-inspired outpost takes its name from the triangular shape of the building (if you're familiar with American pancake history you'll notice it used to be an IHOP). Drop in between 5pm and 7pm for "luau hour": $8 margaritas, $4 Dos Equis and Korean-spicy wings with blue cheese sauce.
Honey's Kettle Fried Chicken
This popular dinner spot serves Southern-style fried chicken that puts a certain Kentucky-born chain to shame. Honey Kettle owner Vincent Williams has been hand brining, coating and frying higher welfare birds for more than 20 years. We reckon he's got the hang of it.
Drinks
Stanley's Wet Goods
We love a wine bar and bottle shop combo, and Stanley's Wet Goods delivers on both fronts. Sit at the bar and craft your own wine or beer flight (wine on tap!) or grab a bottle off the shelf. There's a short bar menu of salty snacks, food trucks out front on the weekends and live music on Sunday nights.
Vibes
Sony Pictures Studios
Would a trip to Tinsel Town be complete without a backlot tour? Take a step back in time at Sony Pictures Studios (previously MGM Studios) with a walk through one of the world's most famous lots. At $50 it's one of the cheaper studio tours in town but they tend to book out weeks in advance.
Platform
Platform, a shiny new indoor/outdoor shopping centre, has bought nearly 20 high-end eateries and shops to the suburb, including Aesop (great if you're feeling homesick), Blue Bottle Coffee, popular rooftop restaurant Margot (expect 360-degree views of the city and sky-high prices) and LA's favourite exercise du jour, SoulCycle.
Heading to Amsterdam? Check out these four neighbourhoods sans the red lights.
Image credit: Sasha Stories, Joel Muniz, Mark Adriane, @lafoodieguy and Pali Hotel