Quietly opening its doors in March, MADE. Beauty Space has quickly become known as THE destination for luxuriously holistic beauty treatments in Melbourne. The owner-therapists, delightful Kiwi expats and buddies Stacey Burt and Richie Angelo, have also earned a rep for being the purveyors of the best facial massage you'll ever have the pleasure of receiving. (But more on this later…)

Tucked away off Church Street in Hawthorn, beside the happily riotous colour of The Woodsfolk, MADE. is a much more subtle and zen-like proposition, kinda like a yoga class for the eyes. The small but perfectly formed front room is a harmonious balance of minimal meets earthy, organic-y chic: think polished concrete floors, white-washed brick walls and a gorgeous leafy artwork dominating one wall.
Here you'll be greeted warmly, and asked to fill out the usual paperwork while you sip on some delicious herbal tea. Running late as per usual, I could quite happily have remained here all day, drinking in the tranquility, and the tea. Instant blood-pressure fix, right here.

A few minutes later, I was swiftly led into a treatment room, swaddled in a super-soft blankie, and treated to one of the most relaxing and indulgent hours of my life. For my virgin visit, I booked in for the signature hour-long Tailor Made facial, using the glorious Sodashi range of Australian-made and owned, high-end natural products.

As per the name, this facial will address whatever particular skin concerns you present with. My winter skincare regime had fallen by the wayside, so dehydration was my main issue (heating being a necessary evil during a Melbourne winter). Oh, that and the MASSIVE zit taking up most of my chin. (Sod's law as I never get pimples – fact.) It's truly a testament to Richie's professionalism that she didn't run from the room. I kid you not, it was THAT bad.

But I digress. After quizzing Richie about how this fabulous salon came to be, and about their commitment to natural products (they fought tooth and nail to secure Sodashi – typically a five star hotel spa brand), I slipped into blissful silence.

From start to finish, this was a transcendent experience, from the steam machine's light spray quenching my parched visage during the first half of the treatment, to the application of lotion after potion, and the massage. Oh, the massage! Little did I know just how much my face was crying out to be pressed, pulled, and pummelled oh-so-gently-yet-firmly! Richie truly has the hands of an angel (and Stacey is rumoured to be just as amazing).

But what about the results? Well, you'll be happy to know I begrudgingly left my heavenly little cocoon to return to the outside world with plump, soft, glowy, hydrated skin. And now my pimple has retreated and my pride is restored, I will most definitely be going back!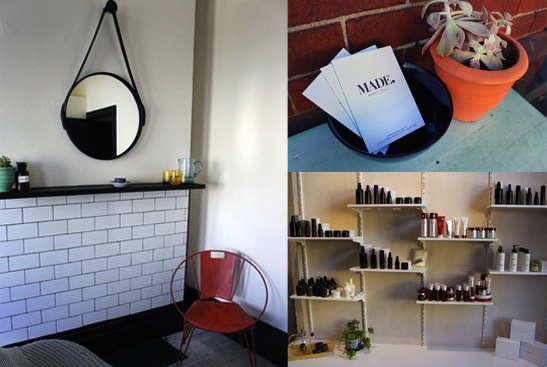 MADE. Beauty Space treatments include a variety of facials, specialised peels, waxing, brows & lashes, and manicures & pedicures (using non-toxic Miss Frou Frou polishes).

MADE. Beauty Space | 39 Church Street in Hawthorn (beside The Woodsfolk)
03 9077 8081, or book online

Main Image Credit: MADE. Beauty Space Facebook