The inimitable Ronnie di Stasio and renowned architect, Allan Powell, were celebrating in style last night as St Kilda icon, Café di Stasio (above), was rewarded with the Hall of Fame award at the sophomore Eat-Drink-Design awards.
Announced at a swish cocktail party held at Brunswick's Howler, Eat-Drink-Design recognises the very best examples of the marriage between hospitality and design, something Melburnians are passionate about. It's no surprise, then, that Melbourne venues swept the board, accounting for five out of seven of the top gongs.
As well as securing Café di Stasio's place in the Eat-Drink-Design Hall of Fame with Powell's classic vision that still stands out on Fitzroy Street more than 20 years later, Ronnie's regular collaborators, David Pidgeon, Robert Simeoni and Callum Morton, collectively known as Collegamento, won Best Identity Design for their work on Bar di Stasio next door.
Collagemento was awarded Best Identity Design for their work on Bar di Stasio.
Top Paddock scooped the Best Café Design award. Owner Nathan Toleman played a major role in the interior design. He says the award is a career highlight. "It's amazing. Eat-Drink-Design is such an important award, because so much of Melbourne's culture is based around eating and going out. It's just bringing two things that I love together, hospitality and design."
Toleman's fifth café, his design aspirations kicked off with a $50,000 budget to transform a former milk bar into Alphington's Apte seven years ago. Top Paddock was slightly more ambitious. Building from the ground up on a disused car park, with the help of Six Degrees Architects and Liquid Lines builders, Top Paddock covers 400sqm and was two years in the planning.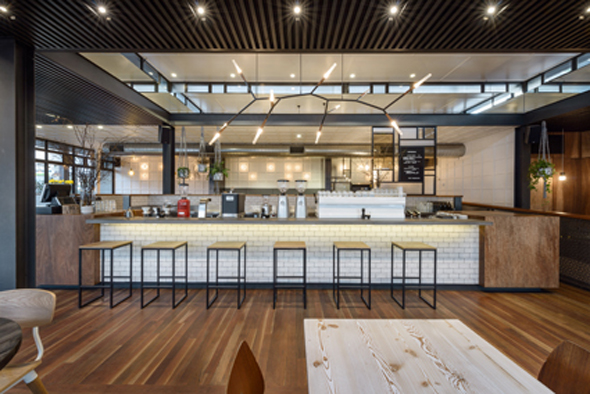 Richmond favourite, Top Paddock, took the prize for Best Cafe Design.
"We didn't want it to feel like you were sitting at a basketball court," he says. "Even though there are 160 seats, we tried to break it up into distinct sections. There are no bad seats in the house."
Toleman didn't want to go down the 'tick the box' route of café design. "There are certain things people do when they open a café: exposed brick, tick; white tiles, tick. We wanted something beautiful and timeless. It's not industrial, not Scandinavian; it's more classical. I think we've managed to capture the pulse. People feel a connection to the space."
Lighting was a major factor, using the striking work of Fitzroy-based designer, Christopher Boots. "He's been involved in a couple of my cafés," Toleman says. "His lighting is sculptural and artistic, and his light takes pride of place in the centre of the coffee bar."
Denton Corker Marshall's work on Hihou made them a joint winner for Best Bar Design.
Best Bar Design was shared by the CBD's Japanese-inspired Hihou, by architecture firm Denton Corker Marshall, and Techne's Prahran Hotel, while energetic design practice Kristin Green Architecture secured Best Retail Design for Spring Street Grocer, transforming what was a tired and awkwardly shaped office lobby into a glorious deli, opening up the space with windows onto the laneway.
The judges also couldn't go past Techne Architects' work on Prahran Hotel for Best Bar Design.
"It's really gorgeous to get this recognition," Kristin Green says. "I'm very proud of that project, and it was incredibly difficult."
While lying in the dentist's chair recently, her dentist revealed that he drops his wife off at Spring Street Grocer for a coffee in the morning and meets her for a gelati there in the evening. "He thought it had always been there, which is fabulous because it's been empty for centuries."
Gone are the low ceilings and those fantastic new windows are upside down versions of the ones over the road at Parliament House. Green says it was important to be playful with the design. "It's like foreplay for eating, recognising the artisanry. The handmade floor adds trust to the handmade sandwich."
Best Retail Design went to Kristin Green Architecture for their work on Spring Street Grocer.
For more info on the awards, go to www.eat-drink-design.com
Image Credit: Eat-Drink-Design.