All juice is healthy, right? Wrroonngg! My dear friends, not all juices were created equal, and while we're guilty of enjoying a Pop Top every now and then, there's one type of juice that reigns supreme above all others: cold pressed.
So what are people guzzling and gushing about?
To give you a bit of background, traditional juicers, also called centrifugal juicers, use fast-spinning blades to tear fruit and veg apart, the process adding heat and exposing the juice to air, cutting down on the number of live nutrients that make it into your glass. Cold pressed juicers, on the other hand, extract juice by pressing your produce, meaning no heat, less oxidisation and more vitamins, minerals and live enzymes…all the good stuff you want!
Dear readers, whether you're looking to re-boot your system with cleanse or you're just searching for something nutritious to sip on, we've got your juicy needs covered. Behold, our list of Melbourne's best cold pressed juice companies.
(Note: we're suckers for nut mylks here are TUL, so we've included a few in here too!)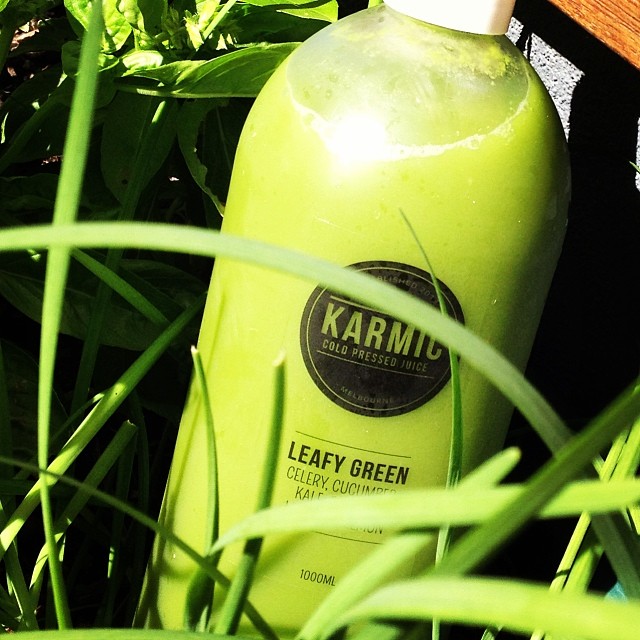 Image credit: Karmic Cold Pressed Juice Instagram.
KARMIC COLD PRESSED JUICE
Juice cleanses are what Karmic Cold Pressed Juice do best, offering a range of options suitable for clean-eating novices and lean, green cleansing machines alike. All of their cleanses comprise of the best quality, 100% cold pressed juice, with over 8kg of raw, unadulterated vegetables going into the two day cleanse…holy kale! Formulated by an accredited nutritionist, all of their cleanses have under 5% fructose, ensuring your body is running on pure nutrients, not sugar.
For a super healthy hit, you can't go past Leafy Greens, a winning combination of celery, kale, cucumber, spinach, lettuce and lemon juice – it's all green with virtually no sugar…not to mention completely delicious! Their Red Raw juice, featuring the classic combo of beetroot, carrot, celery, lemon and ginger, is another savoury favourite.
GREEN PRESS
This CBD superfood goldmine has become a favourite lunchtime spot since it opened in November last year. Green Press's cold pressed juices, freshly pressed each morning, never fail to draw the clean eating crowd.
Their most popular juice is their healthiest, the cheekily named Megan Kale, an all-vegetable, alkalising mix of kale, spinach, cucumber, celery, lemon and ginger. Another winner is the Immunity juice, a mix of carrot, orange, pineapple, lemon, turmeric, ginger and cayenne pepper – one sip of this elixir is guaranteed to banish the winter sniffles for good.
Green Press also sells incredible smoothies (their healthy chocolate concoction made it onto our list of Melbourne's best superfood smoothies), raw cheesecakes and tasty salads. Make sure you pick up a felafel while you're there – they're made from the juice pulp (no wastage, a big tick!).
TÄNKA
Although TÄNKA hasn't launched just yet, we were lucky enough to snag a sneaky sip of what they've been working on. Their organic, raw, nutritionist-designed juices won't disappoint, earning points for taste and nourishment, with a few bonus marks awarded for their cheeky juice names.
Case in point: A Little Tart, a mix of filtered water, lemon, ginger, coconut sugar with a little spicy kick of cayenne pepper. Date Night, their almond mylk flavoured with dates, chamomile, vanilla, cardamom and Celtic sea salt, is another favourite and would make for the perfect (healthy) nightcap. A little tart on a date night? Oh behave, TÄNKA!
FINN COLD PRESS
FINN's cold pressed juices, nut mylks and smoothies are a nourishing balance of function and flavour, lovingly made in collaboration with Melbourne's finest naturopaths and holistic nutritionists. You may have seen their snaps on Instagram (their cleanses are adored by Melbourne's healthiest gram-ers!).
FINN's Botanica juice – a mix of kale, nettle, cucumber, spinach, apple, lemon and ginger – is the perfect blend for those new to green juices, with the apple, lemon and ginger adding a bit of sweetness and zing. Those after a fruitier, thicker blend will enjoy their Rainbow juice, containing (as the name suggests) a rainbow of ingredients, and not too sweet thanks to the addition of basil, lemon and Himalayan sea salt.
Note: they're currently selling at the St Ali pop-up at Rue & Co…get on down!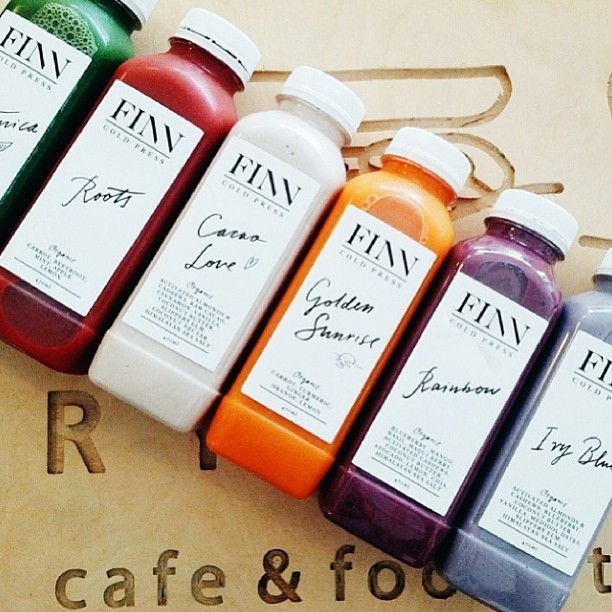 Image credit: FINN Cold Press Instagram.
THE NUTRITION BAR
Swan Street's Nutrition Bar is a clean eater's paradise – healthy eats and juicy treats galore! They offer up seven cold pressed juices, with everything from alkalising leafy green mixes to flu-fighting, fat-burning grapefruit combinations prime for the sipping.
Their best seller, Total Greens, is a deliciously savoury mix of celery, cucumber, kale, lettuce and parsley. It's possibly the greenest of green juices, and definitely not for the faint of heart! Those who prefer a sweeter, earthier mix need to look no further than Wellness, a mix of apple, beetroot, lemon, ginger and aloe vera.
GREENE STREET JUICE CO.
Owned by a husband and wife duo, this relatively new cold pressed organic juice company has already been making waves in the Melbourne clean eating scene. Greene Street Juice Co.'s raw, cold pressed elixirs are made to order from 100% certified organic Australian produce, with organic herbal extracts and superfoods added in for a total mind, body and spirit boost.
Our picks? The Bronx, a mix of carrot, beetroot, lemon, ginger, flaxseed oil, rosemary and burdock root, ticks all the flavour and nutritional boxes (and would make for the perfect hangover cure!). Notable mention must also be given to West Village, a nut mylk made from filtered water, activated almonds, coconut flesh, chia seeds, medjool dates, raw cacao, mint and milk thistle. It's a thicker blend thanks to the coconut and chia seeds, and tastes like a choc mint milkshake minus the nasty sugar crash.
Southside juicy folk, get excited – Greene Street Juice Co.'s first store is opening in Prahran soon!!
GELATERIA PRIMAVERA
Forget the gelato (just for now) and grab a cold pressed juice from Gelateria Primavera. The Spring Street gelateria (located within Spring Street Grocer) sell their juices in 250ml and 500ml glass bottles, and are also stocked at The European, Neapoli, and Gills Diner.
We all know green reigns supreme in cold pressed juice world, and their Seriously Green mix of kale, silverbeet, broccoli, cucumber, celery, apple, basil and lime certainly won't disappoint green juice enthusiasts.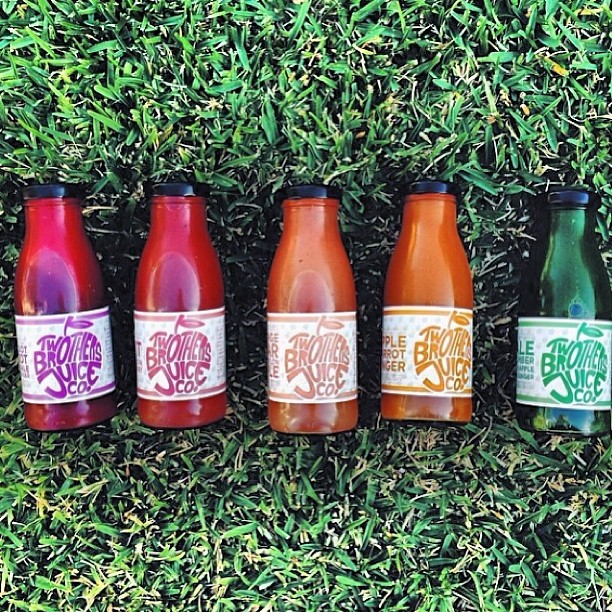 Image credit: @lilseats Instagram.
FEAST JUICE
If you like your juice with a conscience, you can't go past Feast Juice; all profits from their cold pressed juices, blends and nut mylks go to various social and environmental projects around the world. They also run a zero waste operation, using all the leftover pulp to create an organic fertiliser for enriching the soil their produce grows from.
Head to one of the cafes that stock Feast Juice and test out their Lavender+, a tasty blend of blueberry, apple, banana, avocado and lavender. Feast also earn points for their nut mylks, making almond, macadamia and hazelnut blends, with decadent flavour options like butter pecan, hazelnut coffee and French vanilla…yum!
TWO BROTHERS JUICE CO.
Northside's finest juice company, Two Brothers Juice Co., deliver their juicy goods all over Melbourne every Tuesday and Friday morning. They're the cheapest cold pressed juice we've come across so far (a measly $5 for a 275 mL bottle!) and offer a 20c reward for every glass bottle you return. Easy on the pocket and the earth (not to mention the health benefits!), what's not to love?
We can't go past their green juice, made up of kale, cucumber, celery, lemon, apple and ginger. Their earthy mix of beetroot, kale, carrot, apple, orange and ginger is another winner.
PRESSED JUICES
Last but certainly not least: Pressed Juices. Melbourne's first shop devoted entirely to cold pressed juice, Pressed now boast five shops around the city, with one in Sydney and plans for Adelaide in the works. Visit a store and prepare to be spoilt for choice – they have over 30 (yes, you read that right, 30!) juices, smoothies and nut mylks available for your sipping (and sampling!) pleasure.
While we adore their green juices (they have 5 different variations), for our tangy, slightly spicy fix we can't go past Zing 2, a mix of apple, lime, ginger and cinnamon. Their Spiced Almond Mylk – a mixture of almonds, cardamom, cinnamon, dates, filtered water, nutmeg, sea salt, vanilla bean – is another Pressed staple (and TUL favourite).

Main image credit: Dire Moon Wolf.