You might have noticed something a little different lately at Preston Market. That'd be the gigantic, wraparound black and white mural, a stylised, monochrome take on Australia's native fauna and flora. It was painted by a lady you might want to get familiar with—Minna Leunig.
The Victorian-born artist has been drawing and painting for as long as she can remember, but it's only in the last couple of years that she realised art may be her full-time calling. Her work is instantly recognisable, and it's started popping up all over Melbourne—simple line and shape drawings, most done with black and white pigments, of the animals and plants unique to Australia. Her creatures are darkly playful, and fit together on the page (or uh, wall) like some strange and beautiful puzzle.
Minna has just completed the Preston Market mural, which sits as part of the larger Preston Mural project—a massive 10-day project that involved ladders, machinery and more than a few curious passers-by.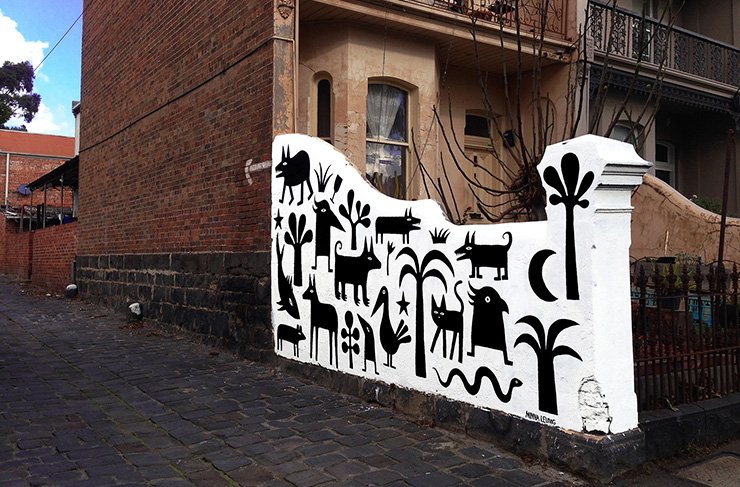 "Working right in front of the public eye was a new challenge," Minna says. "But it was worth it. These are the kind of projects I want to keep working on." There's something in the form that appeals to Minna's sensibilities: these are public pieces of art, accessible to anyone that decides to walk by.
"I love doing exhibitions and working with galleries, but I also think that art should be a part of ordinary everyday life, available to anyone in the general public," she says.
We reckon she's nailing this aspect. And her familiar creatures are popping up in a quite a few places around town. You might recognise them as one of the backdrops for the Real Australians Say Welcome project, started by local Peter Drew. Her donated poster raised $510 for the Asylum Seeker Recourse centre.
"It's such an important project," Minna says. "It's important to recognise and place value on the rich cultural diversity within Australia, and I think that's part of what Peter is trying to do."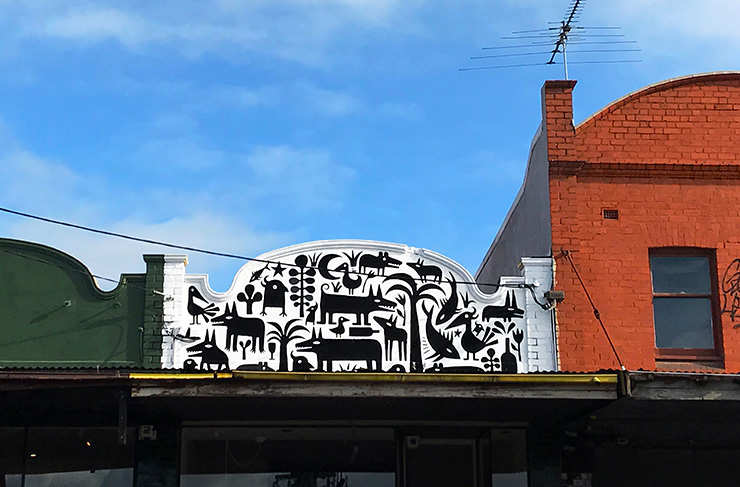 If you have a niggling feeling that you recognise that surname, you'd be right. Minna's dad is Michael Leunig, one of Australia's most famous cartoonists. But it's important not to paint Minna with the same brush. She says her dad's artwork played a part in her development, but he wasn't the only one.
"As soon as they hear my last name, people draw the connection and find the similarities between our works," she says. "They ask if I'm influenced by my dad. And I am. Who isn't influenced by their parents? But I'm also influenced by my Mum, my brothers, where I grew up, by Indigenous art, by my friends and the people I know in day-to-day life."
What's next for Minna? She's been rocking the Melbourne scene lately (in fact she's got an upcoming exhibition with Alex Hooves at Collingwood's Juddy Roller), but now she's set her eyes on taking her art international. How does she think her Aussie subject matter will be received across the world?
"I have no idea," she says. "But I'm yearning to try it out. I want to work on walls in major cities across the world."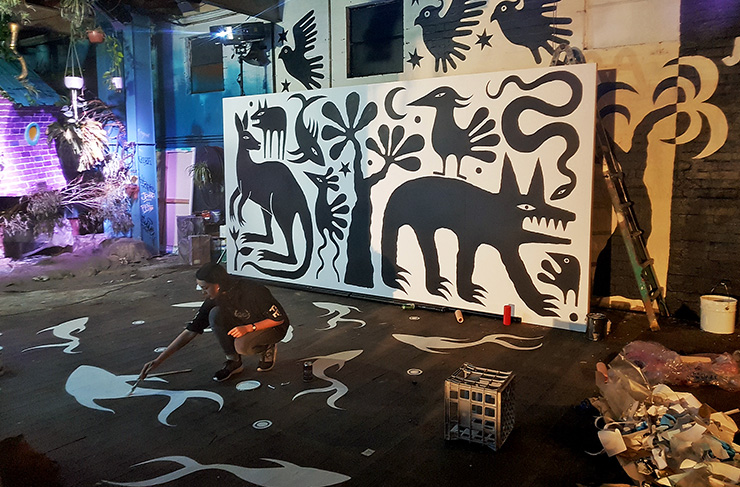 We quite like the idea of a koala clinging to a wall somewhere in New York or Berlin. The world could use more koalas right now.
You can check out Minna's work on her website.
Image credit: Minna Leunig