And we're off! The catwalks are aflood with the town's top models, and backstage buzz is booming with Melbourne Spring Fashion Week in full and stylish swing.

And, while the TUL team do love a frock, we're just as eager to get our peepers on all the hair and makeup trends for spring! From eyes to talons, here's what's hot in the world of beauty, straight from the MSFW runway.
'MSFW is different from all the other cities' fashion weeks and festivals because it isn't exclusive to the buyers and fashionistas,' says makeup artist for the Designer Series, Kenneth Higgins. 'It is a public event with complimentary daytime and twilight shows at The Hub, so it's got huge instant impact.'
As Lead Artist for Mecca Cosmetica Higgins has joined forces with the beauty emporium, and together they are nailing trends, one show at a time. Literally.
'Nails are the biggest trend for spring,' says Kenneth. 'Length, nail art, colours, decals and graphic digits are all huge.'

Once you've honed your bifocals on the hands from your front-row seat (here's hoping), Kenneth says that creamy nudes, wet-look metallic and 'gritty but pretty' makeup will be on full display in most of the week's Designer Series.

'Trends spotted on the MSFW catwalk aren't far behind in stores,' he adds. 'The looks are tailored to be wearable and achievable.'

Saturday's MSFW Designer Show 1, featuring Aurelio Costarella, Gwendolynne, Jayson Brunsdon and Dom Bagnato, drew on androgyny, 'a-la Tilda Swinton,' says Kenneth. 'Focus was all on matte, contoured skin with ethereal highlights applied in all the right places.'

And the future is far from pale post Fashion Week, he assures. 'As the season changes, we launch brighter colours in our make-up collection for Spring. September is a new colour season for Mecca Cosmetica, so it is great to see the trends from our international brands coming through to stores.'

These include the bold lip, radiant skin and a flash of colour on eyes: 'whether it be with a liner or a block of colour, it's really hot, especially for evening.'

So what's in the makeup maestro's makeup bag, backstage? 'Hourglass Ambient Lighting Powder – to refine complexion and to light the face; lots of mascara, using a variety of brands - from Nars to bareMinerals to Chantecaille; and for metallic eyes, Stila Magnificent Metals are an incredible and never-before-seen texture that can be taken from runway to real-way.'

For spring lips, Kenneth is loving matte corals, noting Chantecaille Lip Definer in Coral and Nars Satin Lip Pencil in Lodhi as favourites.

And when it comes to the canvas he is most excited to work on this week, Higgins can't go past Melbourne-born modeling dynamo, Paris Roberts. 'She is beautiful and her skin tone is incredible! Enormous green eyes with the most radiant skin.'
Jealous? Who us?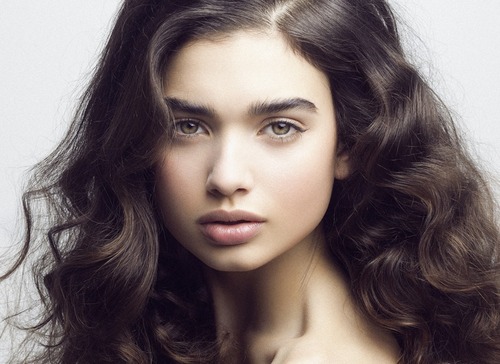 The exquisite Paris Roberts. Image Credit: tumblr