I do love a butler. Niles from The Nanny, Carson from Downton Abbey . . . Oh, how I long for a wry-witted, buttoned-up Brit to polish my silver and replenish my Limoges with loose-leaf tea as I recline gracefully in the drawing room.

So you can imagine my delight when, just as I was about to ring my hands in despair, my butler-in-shining-armour arrived, brandishing not a sword, but a desire to rescue me from a grocery list of mundane chores.

Or rather, 1 250 butlers arrived. Not exactly at my doorstep, but just a few clicks away on the wonderful world of the interwebs.

I'm talking Occasional Butler, a nifty online community of butlers and butlees (?), posting and bidding for a host of odd jobs, from the small (hanging a painting), to the large (cleaning an office building), to the weird and wonderful (more on that later). It's free for both customers and 'butlers', with a nominal fee charged by the company on completion of the job.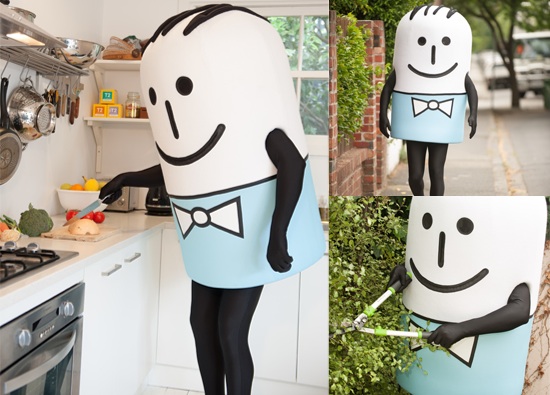 Celebrating its first birthday this month, Occasional Butler is the brainchild of a super lovely and savvy young Melbourne couple, Erz and Jodie Imam, who came up with the idea while renovating their first home.

'We had a tiny renovation budget, yet big plans. We had a shocker of an experience calling tradespeople whose listings in the Yellow Pages were no longer active, or they didn't return our calls, or weren't interested in our small jobs. We knew there had to be a better way', says Jodie.

'Our vision is for a world where, from the palm of your hand, you can get the help you need at the moment you need it from great local people.'

There is no job too big or small for Occasional Butler. Requests for cleaners and wait staff for parties are particularly popular, with Christmas seeing a significant spike in activity. Butlers were enlisted for help with everything from personal shopping and gift-wrapping, to assembling swing sets and trampolines for frazzled, time-poor parents.

And the weirdest job ever posted (and accepted)? 'Buy & deliver cigarettes to my friend in hospital'. Pepe R wanted to help his friend who was in a Melbourne hospital and needed some cigarettes, so, from Sydney, Pepe posted a job for $200 to get a Melbourne butler to buy and deliver this gift. Katherine A responded and delivered the durries that afternoon. Needless to say, Pepe was delighted. The nursing staff, possibly not so much.

Personally, I've used the service to find a cleaner and was pleasantly surprised with the ease of the whole process. And my sparkling loo.

To get the job done, visit Occasional Butler.
Image Credit (skating waiter): Pinterest