If you didn't get around to going to the People's Market whilst it was on earlier in the year (and the last), then shame on you! Are you allergic to fun? You had so much time! Never fear, though, as redemption is served on a silver platter. That's right, they're bringing the Market back to their industrial-flavoured nook in Collingwood, so we can once again enjoy the pure, unadulterated happiness that the People's Market was all about.
We can go back to impulse-buying cute trinkets and odd bobs from the craft stalls, after drinking far too many ciders from the big, communal bar! We can all lounge on the astro-turf, surrounded by the puppies and fixie bikes of neighbourhood Collingwood! We can get a taco, a vegan burger, and a dumpling, and wash it down with pink lemonade from the food trucks! We can see some more art, listen to some more live music, grab a (Proud Mary) coffee and catch up with old friends, all within the confines of a storage container!

But it's only for one weekend. ONE weekend. Two days. So there is no chance at saying 'Oh, I'll go next weekend…' because you just can't, friends, and you don't want to be 'that guy' that misses it.

Just get down to the People's Market this weekend. Do it.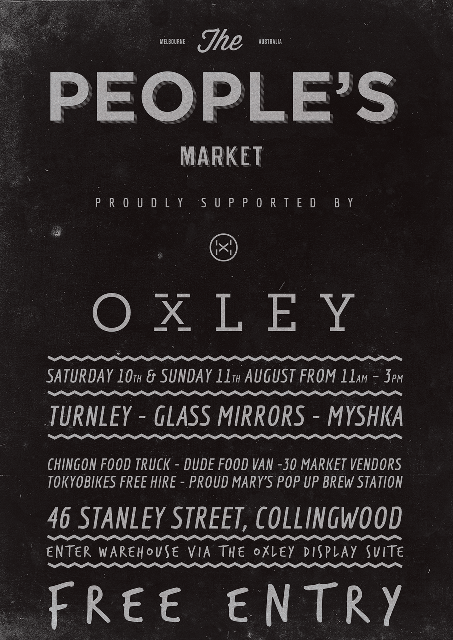 The People's Market is this Sat & Sun from 11am – 3pm
Where: 46 Stanley Street in Collingwood.
To find out more, visit the People's Market on Facebook
TUL Note: Ella Stening is a freelance writer based in Melbourne, Australia. She can be found compensating for her addiction to eating out and drinking lots of wine by writing about it all over the web. Or with her cat, Louis.
Image Credit: People's Market Facebook