It's that time of year again, guys. Pinot Palooza is on this weekend at the REB. Palooza has become a bit of a juggernaut in recent years, expanding to Singapore, Tokyo and Hong Kong (not to mention all the big cities in Aus and NZ).
We sat down this week with event organizer, REVEL head honcho (and pinot pro) Dan Sims, to get his take on what booze goes best with our favourite Melbourne grub.
"It's the grape variety that excites me the most, and disappoints me the most," says Dan, "because when it's great it's mind blowingly good. But when it's bad, it's just expensive. It's like 'chasing the pinot dragon'"
So get comfy. This is our ultimate pinot pairing sesh. Swirl, sip, swish, spit.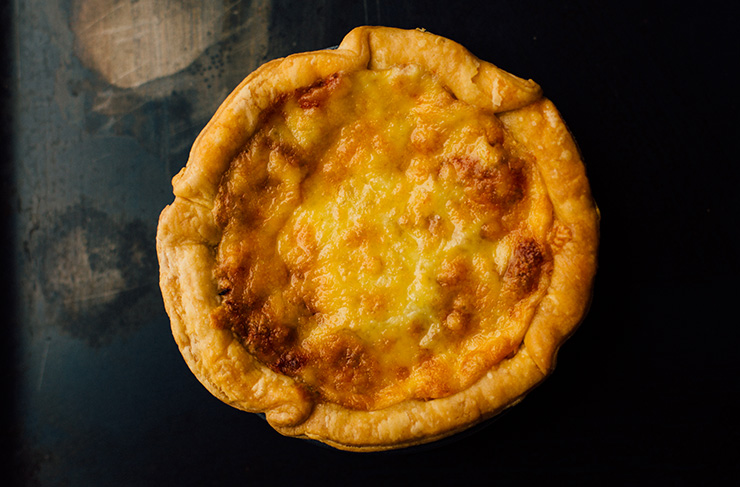 Photography: Annika Kafcaloudis
'The Bruce' Spag Bol Pie | The Pie Shop
Dan recommends: Dirty Three Pinot Noir
"A 'Dirty' wine for your dirty pie. Dirty Three has some stellar pinot's coming out of South Gippsland, with their All The Dirts Pinot Noir adding just the right amount of acid to Mr. Wilkinson's mad concoction."
Kettle Chilli Chips Fried Chicken | Phat Chicks
Dan recommends: Vermouth Spritz
"All that flavour and texture makes me want a Vermouth Spritz. Chili and spice is oh-so-nice with a touch of sweetness, bitterness, and acid. I'd try Regal Rogue's Wild Rosé Vermouth in my spritz with a dash of King Valley prosecco– it has some bright rhubarb and plum tartness that would be magic."
Dan recommends: Burn Cottage Pinot Noir
"A slathering of smoky sauce calls for something a touch more earthy. The 2016 Burn Cottage Central Otago Pinot Noir has some tasty savoury notes that will make a heavenly pair."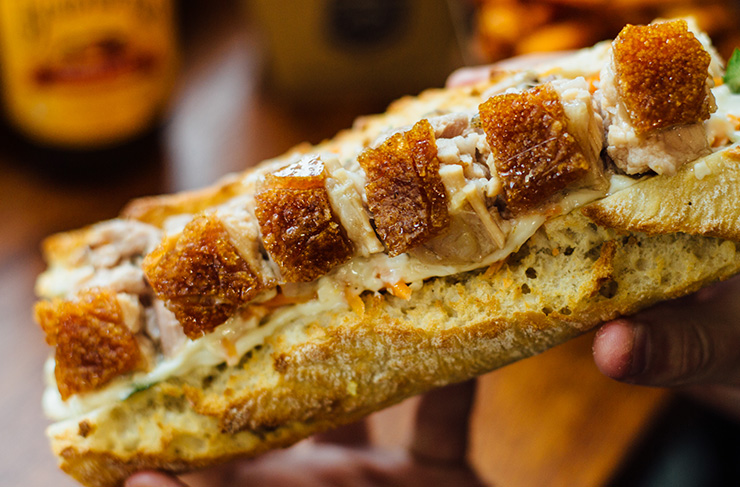 Photography: Annika Kafcaloudis
Crackles Classic Pork Roll | Mr Crackles
Dan recommends: Sailors Grave Farmhouse Ale
"Sailors Grave Winter Farmhouse Ale, is malty and berrylicious – and just in case I didn't already love it enough, it's even fermented in pinot nor barrels. Creamy cola-like, it's the perfect partner to the fatty, crunchy Crackle Pork Roll – stretchy pants recommended for this comfort-food pairing."
Fondue Grilled Cheese Sanger | Maker & Monger
Dan recommends: Eastern Peak Pinot Tache
Eastern Peake's 2016 Pinot Tache is simply delicious. Crisp, and berry forward, this wine is 100% pinot noir grapes, just in pink form. It has a touch of toasty-ness to jive with the uber-melty cheese and butter-crisped bread."
Duck Gnocchi Ragu | Tipo00
Dan recommends: Giant Steps Applejack
"A classic Melbourne duck dish with a classic Yarra pinot! The 2017 Giant Steps Applejack has heaps of black and red cherry with a touch of dark chocolate to make that duck ragu shine. It's beautiful!"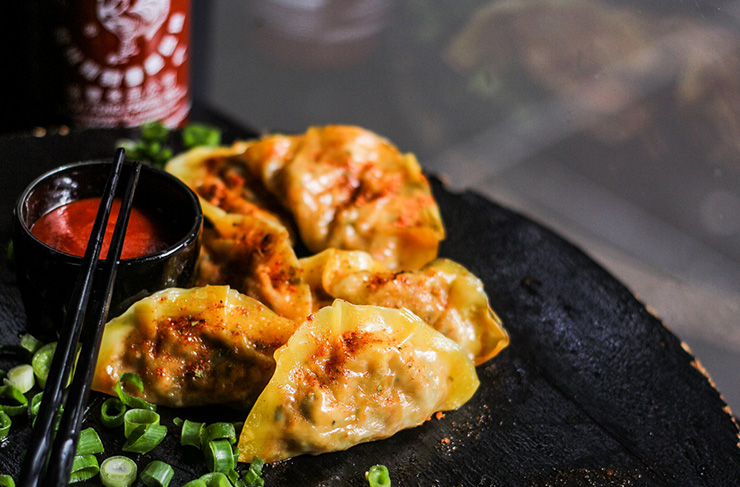 Cheeseburger Dumpling | Drumplings
Dan recommends: Poor Tom's G&T
"I'm probably a couple of drinks in by the time I get around to eating a Cheeseburger Dumpling. Poor Tom's Gin 'n tonic has a touch of strawberry sweetness that will stand well against the mustard and pickles, and cut through the greasy goodness – very refreshing."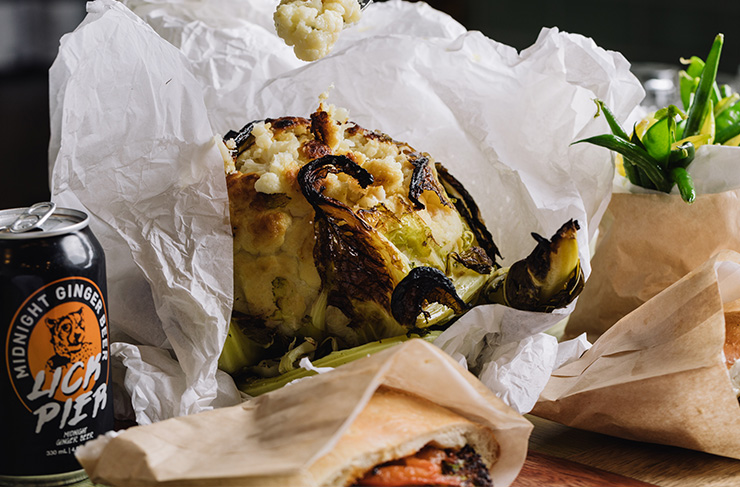 Photography: Griffin Simm
Baby Baked Cauliflower | Miznon
Dan recommends: Quealy Tussie-Mussie
"Quealy's 2016 Tussie Mussie is fun to drink and fun to say! Rich and earthy, it's the ideal pair to wood-fire roasted veggies, and it's cherry notes are prime for juicy cauliflower."
Pinot Palooza is kicking off at The Royal Exhibition Building on Saturday 6 October (11am – 6pm). Be there or be sober.