A month-long retro gaming festival taking over a huge chunk of the CBD? Yeah, we're game *cracks knuckles*
Lucky for you (and your poor housemates who put up with your Fortnight screaming at 2am), QV Melbourne is hosting a FREE Game/On event: a new program that brings everyone's fav pixelated games to life in a retro gaming festival.
Here's how it's going to work. From 31 August to 23 September, QV Square and surrounding laneways will transform into the ultimate gaming destination. There'll be lurid 80s-gamer styling, a scavenger hunt with over $10,000 worth of prizes, arcades full of every old-school game you can think of, a progressive game-art mural and heaps more gaming goodness.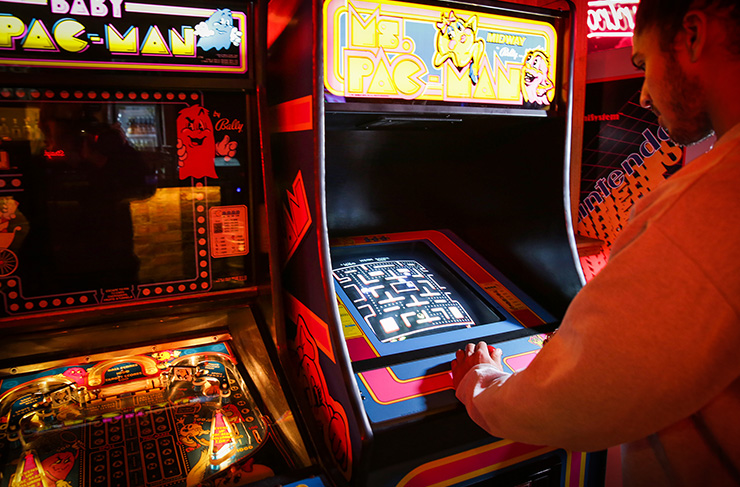 The festival kicks off on the same night as Vogue American Express Fashion's Night Out, so the guys at QV have specially themed the first scavenger hunt with prizes from QV fashion retailers, including vouchers from Republic Boutique. Heck, that's enough to get a non-gamer there. There'll also be vodka-based syringe shots to squirt down your throat and really get the party going.
The festival encourages video game fanatics to face off against each other too. There's going to be 3-minute heats of Super Smash Bros, with some sweet prizes up for grabs (think $2000 cold hard cash). This is what you've been training for, people...
Beyond the games, you can join Friday night parties from 4pm – 7pm. That's three sweet hours with a Nintendo themed candy bar, a DJ spinning retro tunes and a live art installation in Albert Coates Lane.
Game on, guys. Game the hell on.
The Details
When: August 31 – September 23
Where: QV Square
For more info, click here.
Leave the gun, take the cannoli. Did you hear? Melbourne just got a sweet new cannoli bar.
Image credit: Gareth Sobey